creative commons licensed ( BY-NC-ND ) flickr photo shared by alee_04
The suitcases are packed with winter clothes and secured. Computer gear? Check. Camera Stuff? Ditto. Guitar? Got it. Medical supplies (well what my lame oh insurance will provide)? Yep. iPod? Loaded.
Having been home a whole five days after two weeks in New Zealand, I'm off again. This time? a ROAD TRIP! Tomorrow I start on a 1900 mile journey to Kamloops British Columbia. With assistance from Brian Lamb, I have been granted a four month fellowship as an Open Learning Scholar at Thompson Rivers University (TRU).
What am I doing? From the letter of acceptance, the goal of the research award is
(1) to bring research expertise to TRU to support the reinvigoration of research and scholarly work into open, distance, and online learning at TRU-OL.

(2) to further enhance the vibrancy and diversity of the research community at TRU-OL and TRU generally
Got it? Stay tuned. I'll be working with Brian on a bunch of web site projects, probably some wiki ones, doing some PD in storytelling and connected/open courses… and whatever else we cook up.
I found Brian sitting on a strong limb of the organizational chart tree: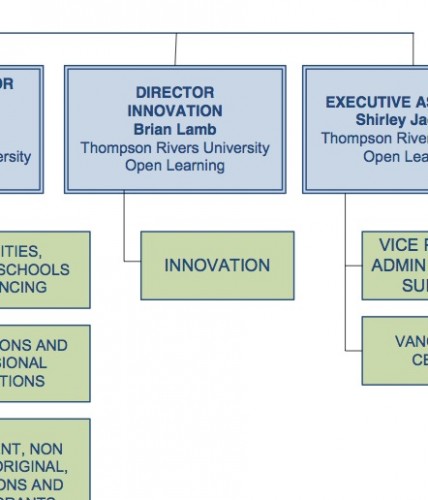 atop a box of innovation.
I'm coming show what "BC" stands for
@brlamb @GardnerCampbell BC stands for Before CogDog. I can show them where WordPress update button is. Mobile friendly is theme not core

— Alan Levine (@cogdog) October 16, 2014
Seriously, I am really honored by this opportunity and eager to work at one place rather than juggling 5 disparate projects, and have funding for 4 solid months. I'll also get some opportunities to visit a few other BC institutions, and to hang out in the Vancouver area over the holidays. I'm also slated to be on a panel presentation at the January 2015 MLA conference in Vancouver.

creative commons licensed ( BY-NC-SA ) flickr photo shared by Vicki & Chuck Rogers
Of course, I am following convention by leaving Arizona in the winter to go to Canada. Oh well, there will be beaches after.
I'm taking a week to drive up there, it's along trip, but I am hoping to not have too many madcap driving marathon days and to enjoy parts along the way.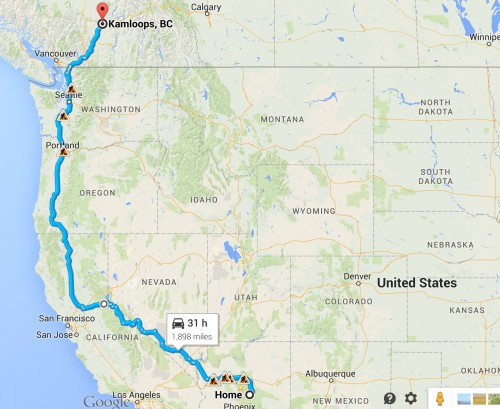 I've got plans lined up to visit friends / colleagues along the way (a.k.a freeloading) not unlike my previous travels. It's a bit sad to leave my cozy home in Strawberry, AZ, but as Arnold says, I'l be baaaaaaaaaaaaack (in the Spriiiiiiiiiiiiing).
Red Dog is ready to roll! Let's go!

creative commons licensed ( BY-SA ) flickr photo shared by cogdogblog