creative commons licensed ( BY-SA ) flickr photo shared by cogdogblog
Monday and Tuesday of this week was spent at the Shar-E-Fest conference at Wintec in Hamilton. I know I did a workshop here almost 10 years ago, November of 2004. Maybe it was the same topic as this time. This is a relatively small, grass roots conference with attendees from mostly post-secondary institutions in New Zealand. You can take your vendorhallpalooza of a conference of thousands of attendees stumbling around in a chicken induced haze; I like one where it seems like everyone knows each other, and you see a lot of hugs going on.
I had 4 speaking slots on the agenda (hah, I had prepared for 3), and those will be mostly just linked. I also want to jot down notes from things I got from other sessions and connections.
My opening keynote was Being On/Of The Web (slides, urls, and audio available). In some ways, this a continuation of the one I did at UMW Faculty Academy in 2007, par celebration of the web, part nostalgia to where it began, part a call to create, own, take the web.

creative commons licensed ( BY-SA ) flickr photo shared by 4nitsirk
I'd done a few of variations talks in 2014, marking the 25th anniversary of the invention of the web. Usually, I do some flashbacks to 1989 news events, but mine were all North American relevant. So I did some research, and ran them by Stephen Harlow, who is a native kiwi. He suggested one more that was mint; the very first news show for Paul Holmes featured an American who did not behave so nicely:
https://www.youtube.com/watch?v=kKEMpg_Ck_M
I said I hoped, as a visiting American in 2014, to be more cordial.
At the end of the day, did a version of True Stories of Open Sharing, pretty much the sequel to the morning one.
On Tuesday morning, I gave them the DS106 Files, and blitzed through some 70 slides of ds106 love. People love ds106. They should.
For the ending of day session, I did my first round of workshops with the Storybox. This needs to be a post or twelve on its own, but my plan is to do a stop with it at every location (as it is I did 4 this week).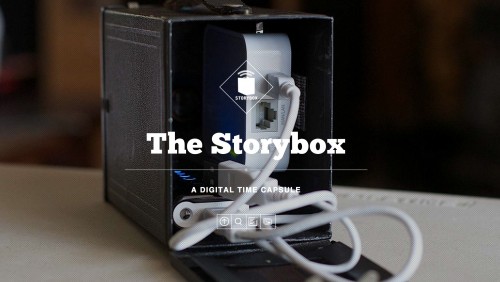 In addition to creating a new iteration of the StoryBox, in a cool new/old container (This is a Piratebox), I have completely redone the interface of the web site it offers when you join it. In fact, you can see most of it in action on my revamped site http://cogdogblog.com/storybox (and yes, this is another site running the Treble theme).
The only thing you do not get on the web version is the ability to upload content, and for now, the Media Explorer online shows only the started media I out on there (but I do think its infinite wall is pretty sexy cool).
But explaining it comes laters. You can page through the slides I use in a workshop (and do listen to the Pirate Box song Leslie Linballe recorded for me 3 years ago). What I am doing in these shorter sessions is setting people out on a media acquisition quest with stuff they can then add to the box. I do not do much front load explaining, I am even running the slideshow off of the StoryBox.
These sessions have gone lively. First of all, when you send your participants out of the room with their cameras/phones to go record media, they do get lively. I have made up a series of prompts as I do think it helps to have something as a bit of a guide
Just look at their body language!

creative commons licensed ( BY-SA ) flickr photo shared by cogdogblog

creative commons licensed ( BY-SA ) flickr photo shared by cogdogblog
So far, after the four sessions, I have accumulated over 300 photos, videos, and audio recordings. In most of the sessions, there has not been enough time to do the next step, the exploration and the remixing/creation of new meaning. I should have this opportunity Monday, when I have a longer session at The Auckland University.

creative commons licensed ( BY-SA ) flickr photo shared by cogdogblog
I did find the room of Education Solutions this week, but that's another post.
On the other side, I got some great ideas. resources, insight at the Shar-E-Fest sessions.
I found Steven Bright's use of the System Usability Scale relevant with my nostalgia of the web, since that is a tool that goes back to the early computer days of DEC. My rating of Google Hangouts ended up with a score just short of Good.
Aaron Steel provided useful examples and rationale for using Google Docs as a means of giving students early feedback on writing assignments, and how it can change their perceptions of writing when it gets more than just assessment commentary.
Malcolm Roberts reminded me that portable apps as still not only viable, but I had never even considered his suggestion of installing them on a Google Drive.
Nigel Robertson and Tracey Morgan lead a very active and hands on session on digital literacy. The activities, some as low tech as paper slips in an envelope, led to stimulating discussion, and some discovery of the uses of the padlet tool.
And for the blown away department, Abigail Willemse showed the results of ANZ 23 Mobile Things, a free, open, online course aimed mostly at librarians, on mobile technology, that had over 700 participants. Beyond the value of her presentation, I give triple dog dare points to good use of images in the slides.

creative commons licensed ( BY-SA ) flickr photo shared by cogdogblog
Victor from Otaga Polytechnic was eager to share nostalgia for old tech, he showed me his Casio Programmer calculator he had recently discovered in his garage. He put in new batteries, and it lit up. I'm expecting to see some code coming out of there, Victor.
And Stephen Lowe completely blew me away with his talk on stereographic virtuality reality — I had never heard of Google Cardboard— it turns ordinary cardboard into a VR headset (as a holder of an equipped Android phone):
We want everyone to experience virtual reality in a simple, fun, and inexpensive way. That's the goal of the Cardboard project.

creative commons licensed ( BY-SA ) flickr photo shared by cogdogblog
Learn more from Stephen's blog http://possiblyb9.blogspot.co.nz/p/stereoscopic-vr.html
And then a closing talk by Swiss educators Max Woodlti and Priska Fuchs show shared some extremely innovative teaching approaches at both the University and secondary school levels.

creative commons licensed ( BY-SA ) flickr photo shared by cogdogblog
That was just the first two days of this week… Outside of this we had good beer from George Brewery in Hamilton and an amazing spread of food at Little India. There was great conversation over dinner with Bob from Manakau Institute of Technology. And lots of spicy food.

creative commons licensed ( BY-SA ) flickr photo shared by cogdogblog
And by the end of the second day… no rest, right after the conference, Richard and I were off to the Hamilton airport (where you actually JUST WALK ONTO THE PLANE!, no security checking, no scanning, or disrobing) and flying south to Wellington.
To be continued…