Here I thought I caught up on my back blogging from the trip to New Zealand, but I have yet to talk about the digital time capsule that appeared at every stop. In this post, I'll give a bit of review about what happened, what was collected, in a subsequent long scrolling gibberish one I will go over the modifications I made to the interface.
The new web site for the Storybox has this new interface; the only things you cannot do there are (a) upload media (b) See the media that was collected on this trip (a much smaller set I assembled prior to the trip is online) (c) Access the services like the image board and the wiki.

creative commons licensed ( BY-SA ) flickr photo shared by cogdogblog
That's the idea, to create an internet that is ephemeral, the PirateBox technology creates a local wireless network, where all efforts to connect to the web are redirected to the web server on the box. To me, it plays a bit with the problem of information on the web that is everywhere, in this case it is hyperlocal.
Among my workshops and presentations on the Shar-E-Fest tour (September 29-Oct 10, 2014), I asked to do a Storybox session at every stop. So there were seven of these. For the most part, I had an hour or less (maybe 30 minutes), so most of what I could do was to present the idea, and send people on a little "hunt" to acquire media, and add back to the box.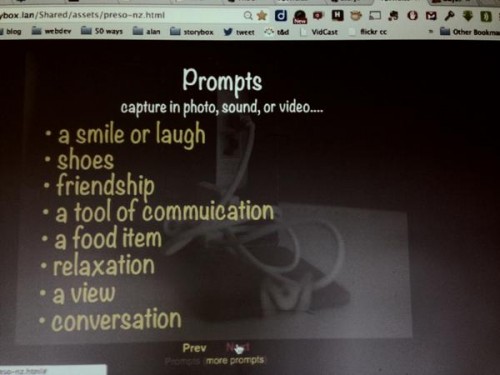 As was pointed out by WG in the session at Waikato, just having these prompts pretty much made a limited frame on the media collected, so it's not truly representative as I suggested that the idea is to capture a sense of "now" in this place. Because all the places where institutions of higher education.

creative commons licensed ( BY-SA ) flickr photo shared by cogdogblog
But the purpose really was to try and get a pool of media and then ponder what might be done with it.
I did let people know that because there is no information stored in the image besides its file name (usually cryptic if it came off of a mobile device) (and thus some metadata might be in the images if the mobile device adds it)– that they were more or less granting me permission to use their image w/o any kind of attribution.
When you look at the media, they are pretty much quick throwaways- like snapshots. I'd estimate upwards of 90% were acquired at the sessions.

creative commons licensed ( BY-SA ) flickr photo shared by cogdogblog
For some summary, the Box now includes 390 pieces of media – this was the breakdown per session:
Sept 30, 2014 at Shar-e-fest (84)
6 audio/video files
78 photos
Oct 1, 2014 at Open Polytechnic (38)
3 audio files
32 photos
Oct 2, University of Victoria Wellington (101)
97 photos
2 videos
2 sounds files
Oct 3 University of Waikato (32)
25 photos
4 audio files
3 videos
Oct 6 The University of Auckland (26)
22 photos
4 videos
Oct 7 Northtec (59)
51 photos
7 videos
1 audio
Oct 8 AUT (44)
41 photos
2 videos
1 audio
Or by types of media:
Images (316)
Audio (30)
Video (28)
Documents (12)
Remixes (4)
I was responsible for most of the audio (you can only upload photos and videos with an iOS device) and a baseline of what's listed was what I seeded the directories with.
The thing I was most pleased with was the infinite wall media browser I was able to build as a StoryBox Explorer – this is running in just Javascript. I created a series of scripts that generated the thumbnails and created the HTML to supply the media viewer (more on this in the techie post).
To show how it works, I created a screen cast of the way the Explorer works:
There was never time to do the next level activities I hope for, to create new content from the Storybox media. I had just started getting a wiki running on it that is a viable platform for creating new content from the media; it needs a bit more work on the content side. More on that sometime in the future.

creative commons licensed ( BY-SA ) flickr photo shared by cogdogblog
People was naturally taken by the Brownie Box camera enclosure, and learning about the parts that are inside. Like me, I sense many see some sort of potential here, but just are not quite sure what to do with it (?)

creative commons licensed ( BY-SA ) flickr photo shared by cogdogblog