List crossing. Attending (and presented) yesterday at the Modern Language Association Conference here in Vancouver. I mingled with more rhetoricians then I usually do. I got to meet Sean Michael Morris and Jesse Strommel of Hybrid Pedagogy fame.
My session yesterday was part of a panel on Visionary Pedagogies for the Twenty-First Century: Teaching the Humanities with Digital Technology, and the story of how that came to be is… well serendipitous. Here I am with co-presenters Gabriele and Petra:
I glossed over paying attention the full names in our few months of e-mails. Petra 's husband had a little godfather thing going with MOOCs; I remembered reading her post from her 2014 MLA session (you cannot beat a good title).
It was last year that I met Gabrielle in a discussion forum in The History of Education MOOC (which as you might see, as an open online course you cannot see content without registering) (open as in not). I am sure I was complaining about the format or talking about DS106. Anyhow for some reason Gabrielle invited me to be part of the panel and talk about DS106. Once I saw it was in Vancouver, I was definitely in (and this was before I know I'd be in British Columbia for the TRU fellowship) (talk about serendipity).
My overly pun ridden talk title was "Assignment Riffing: What Happens in DS106 Does Not Stay in DS106". I hope to talk about how the culture of DS106 is described by people modding the creations/ideas of others (remember the Bag of Gold thing?) but also the very nature of now some 20+ iterations of ds106 riffs off of itself as a course that is more than a course (of course). I opened with the meme posters many people generously helped out with for the Daily Create TDC1069:
It turned out, as usual, a lot to cram into 20 minutes. So I talked really fast. Like that helps. I built out shiny web site with everything for the presentation and more at http://go.cogdog.it/ds106-mla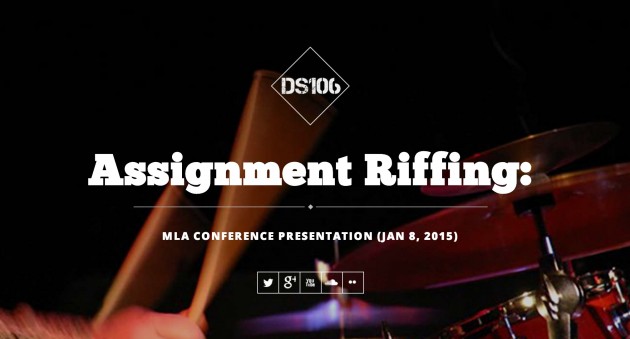 This presentation expands our session's conversation beyond the course, unit, or a particular institution.

Unlike MOOCs (of c and x variety), the open digital story course ds106 uniquely stands as more than one course, but as overlapping ones from multiple institutions with a cloud of open participants. Its Internet radio station and Daily Create challenges offer opportunities outside the course. An open assignment bank not only gives flexibility to choose assignments, but also invites participants to add new ones, a living example of the "adjacent possible" in a course. It may appear ludicrous to house assignments for editing images of famous paintings to include fat cats, creating poetry from titles of songs, or putting fast food in the hands of internet pioneers, but the media created are not the end goals in ds106. Participants open their apertures of creative interpretation, incorporate works of others in a constructive fashion, and narrate their creative process. A frequent spirit of spontaneous "riffing" occurs, not unlike that of improvisational jazz musicians, that ripples far beyond the confines of one course.
and thus slides…
and thus recorded audio…
One slide sequence deleted included the montage of "characters" who have been a part of ds106 – Ol Hatchet Jack, Talky Tina, Anna Cow, Gifadog…
And another was a montage trying to show the Bag of Gold riffing (I even had I sequenced to the original video).
I did have some fun in talking about the DS106 Daily Create; ironically this was the day marking its 3rd anniversary. I put out a special challenge to Petra and her husband to complete "A MOOC and a Duck Walk Into a Bar…".
.@jmaxsfu There is a beer in this for me from @dkernohan if @petradt and her husband do #ds106 dailycreate http://t.co/5Jc6cAdTlT

— Alan Levine (@cogdog) January 9, 2015
(Yes I had a follow up tweet fixing the URL). (Because typos).
But I think I will earn my beer from Mr Kerohan
@cogdog @dkernohan You're on! Gimme a few days maybe, but your friend better get ready within awesome microbrew!

— Petra Dierkes-Thrun (@petradt) January 9, 2015
We did have a rather nicely partly full room, at least 50? And It was great to see John Maxwell from SFU sitting in the front row (thanks for being our photographer).
In her talk on "Fostering Global and Digital Learning with Google+ Hangout as a Communication and Knowledge Sharing Tool" Gabrielle shared her experiences teaching German and film studies via Google hangout, using it as a way for students to practice their conversational German, both for her students at Denison and on a collaborative project with students in Bulgaria.
She talks fondly of a time in her class where students were re-enacting a romantic scene. One player was a male 19 year old student and the other was a woman taking the class who worked in the registrar's office; she says other students had tears in their eyes when he expressed his love (in German), forgetting their every day roles (I speculated how rare it was for a student to express love for the registrar).
In "How to Do Things with Books and Screens: Literature and Digital Pedagogy" Petra presented on her projects running a literary role play in twitter of The Picture of Dorian Gray and just this past year of a twitter role play Mary Shelley's Frankenstein on Halloween. She also shared some of the fascinating projects that came out of a class Literature and Social Online Learning that combined computer science and humanities students.
I recognized the REwrite project from coming across my radar somewhere; it was run during NaNoWriMo as a means of retelling Jane Austen as a choose your own adventure game. See more examples about this class in a news feature New Stanford course brings Silicon Valley to the humanities classroom.
There really felt like good interest/energy in the room (if you dod not know this, and most teachers should, body posture in the audience is pretty clear). There were questions about (and my memory is fuzzy) questioning about how much "content" was covered ("the approaches are innovative, but…"). Someone asked about how work like this is assessed. And there was a question about the overhead of having to teach both content/ methods, and dealing with shifting technologies.
All in all (at least for me). It was a great experience. I also had a chance to catch an always energetic talk by Jon Beasley-Murray as part of the panel on Rhetoric of Crisis and the Politics of Cuts. While he has been known to say:
Too often, at talks, I find myself bewildered as to why and how people seem to think they're making sense.

— Jon Beasley-Murray (@jbmurray) November 25, 2014
I felt not much bewilderment. In From Here: MOOCs and Higher Education Jon pulled zero punches in a brilliant juxtaposition of the University of British Columbia's branding message of "From Here" and how visually, metaphorically, it was disassociated from any place we might construe as where teaching and learning happen.
For once I pretty much put away my devices and listened in to the various viewpoints questioning the overplay of "crisis" in education. What I got was- it's not much of a crisis (it's "stress"? "turning points"?) — unless it's happening to you. According to David Downing, Pennsylvania has much figured out, and funding higher education and keeping it being taught by full time and/or reasonably compensated adjuncts, is quite doable. Heather Steffen made also a clear showing that the situation is hardly new.
Some good Q&A (I do like the MLA leaves a more than token amount of presentation time for discussion) about the role of students, making the message clear, how some educators who have parents who think higher education is a crock, and of course, lots of talking about neoliberalism. I've never seen a neoliberal, but they are out there. Not at MLA.
And then to top it off, I bumped into Petra again in the hallway, and got to meet Sean Michael Morris and Jesse Strommel and joined them and a group of more folks for dinner.
Quite a day.