My next talk for the TCC 2015 conference (the 20th one) has me digging in the catacombs of web history; I was looking trough my files for what I had from my talks in 1996.
I have a fairly complete archive of stuff I did from my stints at the Maricopa Community Colleges (1992-2006) and the NMC Years (2006-2011). All my Maricopa web stuff has been dismantled and I have no idea what's left on NMC's sites. But I always kept copies of all my stuff.
The oldest is from the July 21-23, 1994 Association for Applied Interactive Multimedia Conference called Providing Structured Multimedia Learning Environments- Mosaic for the Internet, perhaps the Ordovician Era of the web.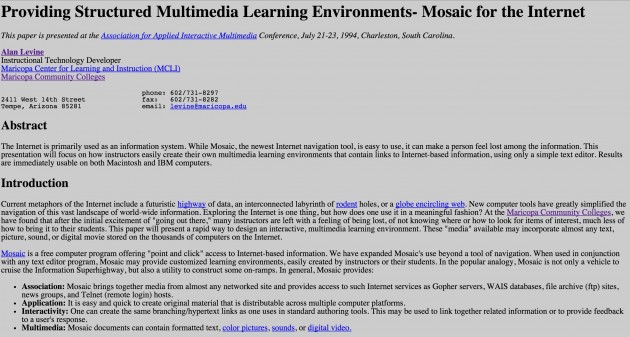 Current metaphors of the Internet include a futuristic highway of data, an interconnected labyrinth of rodent holes, or a globe encircling web. New computer tools have greatly simplified the navigation of this vast landscape of world-wide information. Exploring the Internet is one thing, but how does one use it in a meaningful fashion? At the Maricopa Community Colleges, we have found that after the initial excitement of "going out there," many instructors are left with a feeling of being lost, of not knowing where or how to look for items of interest, much less of how to bring it to their students. This paper will present a rapid way to design an interactive, multimedia learning environment. These "media" available may incorporate almost any text, picture, sound, or digital movie stored on the thousands of computers on the Internet.

Mosaic is a free computer program offering "point and click" access to Internet-based information. We have expanded Mosaic's use beyond a tool of navigation. When used in conjunction with any text editor program, Mosaic may provide customized learning environments, easily created by instructors or their students. In the popular analogy, Mosaic is not only a vehicle to cruise the Information Superhighway, but also a utility to construct some on-ramps.
There's a trajectory of different technologies I tried through the next 10 years — and no longer are accessible because of tools such as old Flash, WWWBoard (an old web discussion board), UseMod Wiki, MovableType, Shockwave, Macromedia Breeze. I am surprised the stuff I did using CoolIris still works.
But all the stuff I did starting with that 1994 paper in HTML– it Still Just Works 21 years later.
Below are some of the moldy oldies I have re-instated on my own archive.
Highways, Webs, and Rodent Holes (September 1994)
When I was talking about this new fangled stuff around the Maricopa system. The "rodent" holes represent that I was still talking up gopher.
Thinking and Talking IT* (February 1996)
This was my first external invited "gig"; my colleague Donna Rebadow, a wildly outrageous faculty member at Paradise Valley Community College and I were invited to Vancouver, BC for a series of talks and workshops a Douglas College.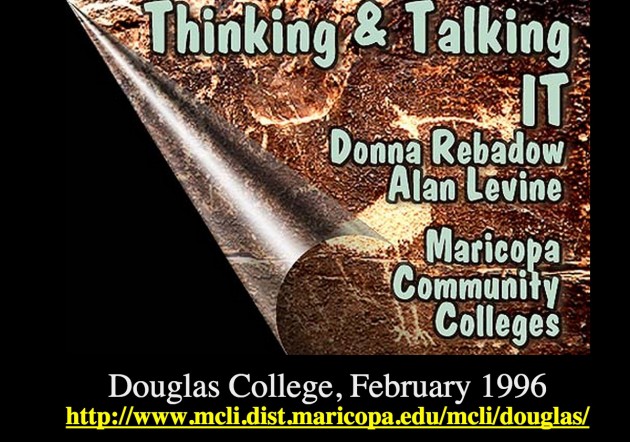 That petroglyph image on the splash screen was one I took at Painted Desert National Park with a pre-digital camera.
Going Beyond Home Pages (March 1996)
was a talk given at the Arizona State University 1996 Microcomputers in Education Conference. I was pitching Macromedia Shockwave and CGI scripts as the avenue for bring interactivity to the web.
Instructional Technology: All the Answers* (June 1996)
This was an invited presentation at a retreat for the Oklahoma Association of Community Colleges, Instructional Administrators. I'm recycling material, sue me.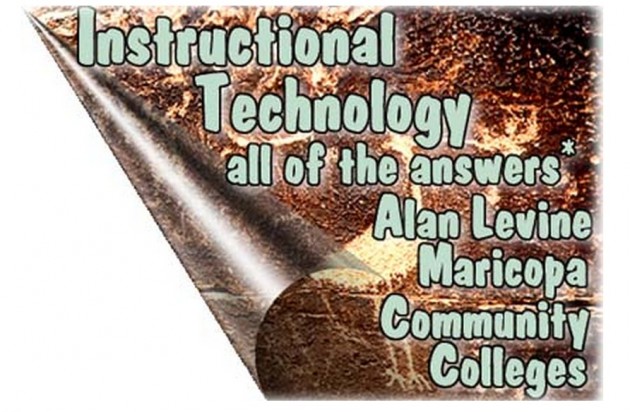 Technology & Learning: Magic, Mirage, or Reality? (May 1997)
I teamed up with Donna again for an invited gig at Miami-Dade Community Colleges. They were rather vague with what the wanted, the asked from something that would get people excited about web technology. Afterwards, when we asked our host if it met their expectations, Roberta said a memorable line… "That was entertaining". Donna and I were never sure if this was good.
I'll stop there as this is the era I hope to cover in my TCC presentation. Plus, I only have like 35 more to add.
---
Top / featured image credit: cc licensed (BY-SA) flickr photo by yilmaz ovunc: http://flickr.com/photos/visitturkey/3389957559