The word came via Bryan Alexander's blog last night that a great spirit of curiosity, interest, creativity has left this world, note of it too on his daughter's blog.
George has gone through numerous health challenges; the photo above was from the time in 2011 I was doing my long odyssey trip and visited and stayed with him and his family in Alexandria. You may notice he is holding Geoduckie.
He had suffered a stroke(?), heart attack (?) that year, but I would not know know it from his energy. He took me to George Mason University where I got to do a bit of talk about my StoryBox.
He took a great interest in ds106radio and we had fun that evening doing a live broadcast, George talking, laughing, and DJing eclectic music from his iPad. Here's a benefit of being a bit compulsive on archiving, I have the audio from this evening.

DOWNLOAD AUDIO
George may be among the last of the Renaissance type people from the 1960s and 1970s; always curious abut new ideas, willing to listen to yours, drawing from an inner depth of mixed technical, literary, and art experiences.
He took an interest in computer technology sometime in the 1970s, but not as a technologist, but as someone in the humanities. He has a Digital Humanities person decades before someone slapped a moniker on it.
He shared some readings that night from a paper he wrote in 1983 on Electronic Newspapers from proceedings of the 6th Annual International Conference on Computers and the Humanities.
When i asked him about his history in the field, he did not miss a beat when he quipped
I shoveled tar for Al Gore.
Like numerous others I got to know online years before I met George, I lose the trace of where it happened. I spent yesterday digging through my various archives; the oldest email form George is a note from March 2007 that he followed me on twitter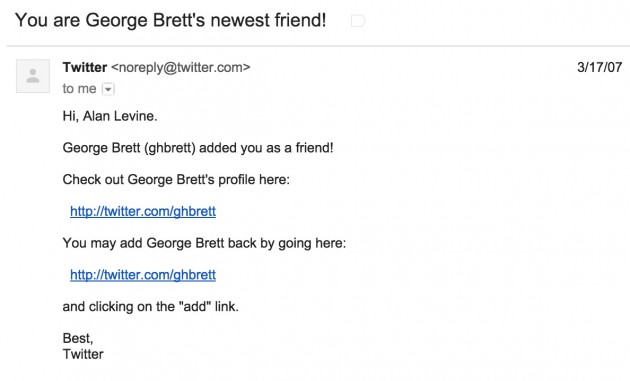 I thought I was fairly early on twitter, starting in January 2007; no surprise to see that George has opened his twitter account in August 2006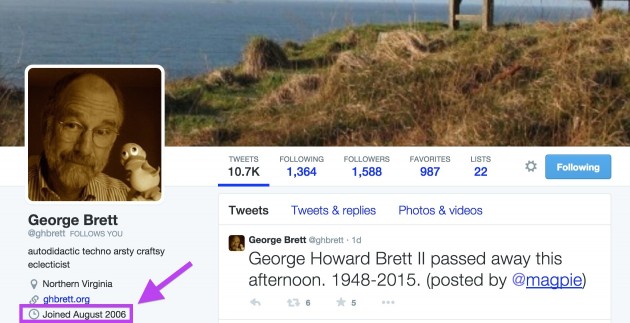 You may notice Geoduckie there in his profile.
As you can see, his daughter had tweeted the news of George's passing through his account. It must have been before July 2014 (when I quiet Facebook) that I heard George had slipped into unconsciousness; his daughter has sent up an update in Facebook through his account.
The experience with George that stands out for me goes back to 2008. George was working then for Internet 2 and organizing a Internet2 Spring Member Meeting in Arlington, VA. George asked me (via twitter DMs), because of my Second Life work at NMC, to be part of a panel on gaming/virtual worlds (nice archiving, a video is still there).
There were some big names on that panel– Ben Fineman of Internet2, Mark McCahill (Duke University), Michael Rowe (IBM), and Martin Siegel (Indiana University).
I was not there in person. George was willing or even suggested that I participate live via Second Life. I was the dog on that panel:
That's my CDB Barkley dog avatar talking to George in Second Life, who is also operating the laptop in Virginia (notice Geoduckie by his side). Me? I was at home in Strawberry, Arizona. I know al of this from my own bloghistory.
What about that Geoduckie who accompanies George? He is the main subject of George's flickr photos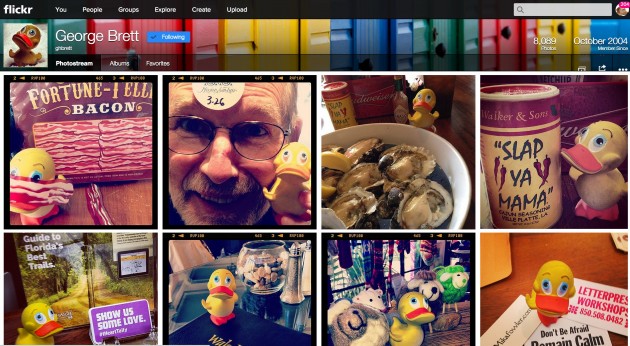 And even has his own @Geoduckie twitter account
NASA hunting for rubber ducks http://bit.ly/IhEf — They're using my cousins for scientific research of ocean currents from Greenland.

— geoduckie (@geoduckie) December 22, 2008
I know I asked George for the full story in 2011, but I have such poor recall. My hunch/guess is it comes from George's early interest in geolocation technology. As part of groundtruthing locations, George likely chose the rubber duck as a regular subject for his location explorations.
Like this one from February 2007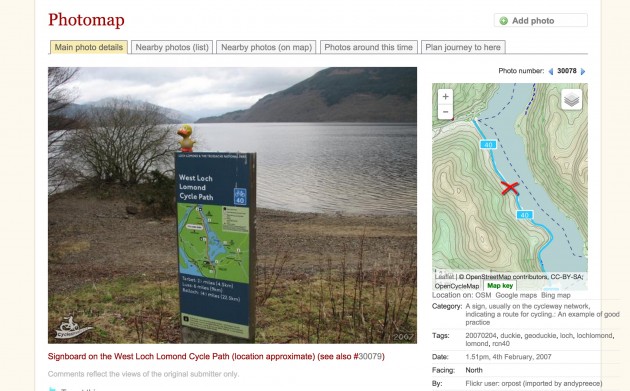 George was active online a year and more ago. I have a helpful pair of comments on an October 2013 post about a fellowship idea. I had referenced a quote I use a lot from Tim Berners-Lee about his vision for the web. George responded with:
Oh, re: Sir Tim's quote. I always like Mark McCahill's rationale for Gopher. He was part of the Computer Support Team at Unv of Minnesota. The team wanted a simpler Help Desk data base to deal with re-occuring questions. Gopher was hierarchical and extendable, as well as somewhat searchable, so they were happy. Mark always said they wrote it to make their jobs easier — end of story.
In February, 2014, just a year ago, George shared a really valuable resource for a Google+ Community I set up for Web Storytelling resources.
He responded with an expression of care to a post of mine last year about impeding eye surgery.
I can see in his twitter stream he was sharing resources April 3, 2014, he was curating links in ScoopIt.
Workshop on 'mind mapping' ups efficiency – Gulf Today | @scoopit http://t.co/5lM0ji3Q31

— George Brett (@ghbrett) April 3, 2014
After that, George's tweets were a lot of favoriting of You Tube videos, many of them spiritual and songs of grace.
A last tweeted video (November, 2014) stands out:
I liked a @YouTube video http://t.co/rSL4fAEQBt 1936 Olympic rowing by Riefenstahl

— George Brett (@ghbrett) November 15, 2014
I was not familiar with the story of a 1936 Olympic rowing event; yes I do know that was the bizarre setting of Hitler's Germany as hosts. In the comments I find reference to the The Boys in the Boat the story of the American crew of rowers who beat the highly favored German Team.
I have no idea what was behind one of George Brett's last tweets, but I believe, like all of my too brief George experiences, that he is teaching me something about courage, about life.
Thank you George for everything you stood for. A man of grace, kindness, and curiosity.
And a playful spirit.
And Ducky.
UPDATE (later on Feb 8, 2015)
@cogdog thank you Alan. 2011 was a pulmonary embolism; GeoDuckie was mom and dad's mascot when they went geocaching. Thank you.

— Megan Brett, ABD (@magpie) February 9, 2015
---
Top / Featured image credits cc licensed (BY-SA) flickr photo by cogdogblog: http://flickr.com/photos/cogdog/6176690500