Since Coursera so kindly seems to share courses it thinks I might find useful, as a CogDogBlog Snarkity Service, I have sent them an email with a few course recommendations. They seem to know very little about other open courses, and what came before (and after) them.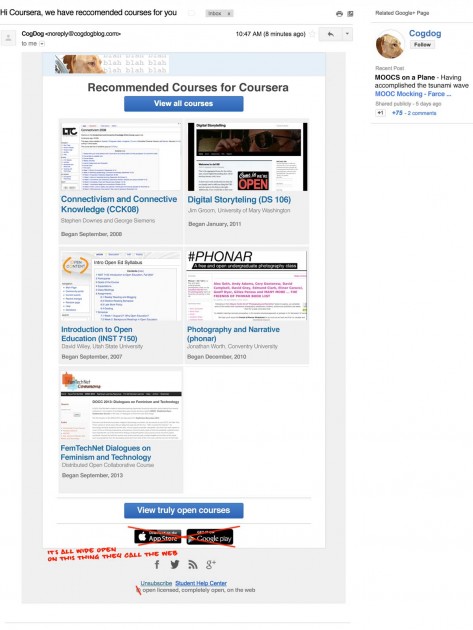 Also in flickr…
This was constructed completely in Photoshop after gluing together some screen caps. The text in chrome seems to be all Helvetica. As much as possible, the screen captures were of the oldest relavant pages I could find for the sites.
You are welcome, Coursera.
---
Top / Featured image credits: cc licensed (BY-NC-SA) flickr photo by otherthings: http://flickr.com/photos/cassidy/352549326
The post "Some Course Recommendations for You…" was originally zapped with 10,000 volts and declared "It's ALIVE" by Dr. Frankenstein at CogDogBlog (https://cogdogblog.com/2015/03/course-recommendations/) on March 2, 2015.