The business dudes keep wringing that twitter cannot succeed while not growing its number of users, so strike up the Google is Buying rumor.
Meanwhile Rod Serling smiles in the corner, smoke curling up from his cigarette. I just spotted a growth spurt. Did anyone say twitter needs more human users?
Some mornings when I am bored, I peek at the Tweetdeck notification column (I turned off email notifications years ago). It seems odd when some floorwax company or SEO shark follows me or some normal looking account retweets something from 3 years ago. Sometimes I just get curious and peek. I'm curious.
This account favorited a tweet. Nothing special, weird name, human face.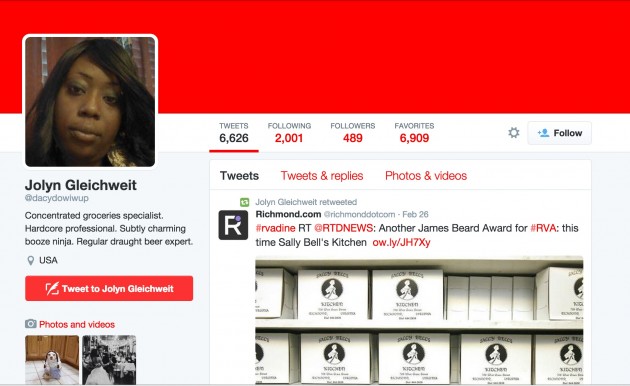 Jolyn's bio is like a bit of a rapid fire spray, but he, it sounds just like someone playing with their identity.
Concentrated groceries specialist. Hardcore professional. Subtly charming booze ninja. Regular draught beer expert.
Jolyn has 6,626 tweets, she follows, 2,001, has 489 followers, and has favorites 6,909 tweets. Just a regular twitter user.
The thing that seemed odd was her twitter stream. I got tired of scrolling, but everything in Jolyn's stream was a retweet of stuff 1-5 months old. All retweets.
Weird.
Normally that would draw a meh, and I'd return to my serious work.
But the next account in my notifications for retweeting something I posted in February was eerily familiar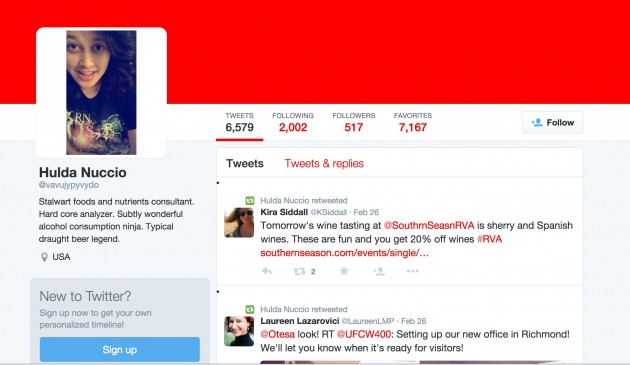 Hulda looks kind of sweet. Her twitter handle looks like alphabet soup. Look at her bio:
Stalwart foods and nutrients consultant. Hard core analyzer. Subtly wonderful alcohol consumption ninja. Typical draught beer legend.
Just to put them side by side, compare to Jolyn's bio
Concentrated groceries specialist. Hardcore professional. Subtly charming booze ninja. Regular draught beer expert.
Hulda's numbers match Jolyn's, she has "created" 6,579 tweets, she follows 2,002 and is followed by 517, and has favorited 7,167 tweets.
And just like Jolyn, everything I could see in Hulda's stream was a retweet of someone else's tweet, all 1-5 months old.
So here is the growth curve of twitter, bots creating accounts, bots retweeting, heck, who knows how much out there came from a human being?
Maybe I just stumbled into someone's social media experiment.
It just makes me ponder all the growth growth numbers numbers numbers pressure that must drive twitter now.
If I am the last human being left, I will turn the lights out when I go.
You bots, just keep on tweeting.
Say hi to Hulda and Jolyn for me. They are swell. And into draught beer.
---
Google claims the top image is licensed for re-use. The post it came from gives no such indication. I tried to understand. Who the ****** even knows or cares about attribution? Does anyone even read this stuff? Oh, yes, everyone left in the internet is a bot. Hi, bot.