In my workshops and materials on finding images licensed for reuse, I do explain how google image search can be used to filter out results that are licensed for reuse.
I use this quite often myself, in fact I recommend making a browser search shortcut to make this easy to do.
But be wary of the results. Google provides no information I can find on how they actually determine that an image it presents as licensed for reuse is actually licensed for reuse.
This was what I found this morning when I wanted to blog about something (now I am not doing it because I am blogging about Google's faulty search results) and the image I wanted was two robots talking to each other.
My image search, set to be filtered for images licensed for reuse was on robots talking to each other worked quite well – in fact the first image was exactly what I wanted.
I should be done- I can download it knowing and trusting google… But I like to provide attribution so I go digging to find the source of the image. The link google provides for "View Page" is actually an archive of blog posts in an Innovation category from Enterra Solutions. There looks like a lot of post thumbnails using similar style graphics.
It takes' some scrolling, but I find the entry that actually contains the image I found on google, a post titled "Robots Talking to Each Other".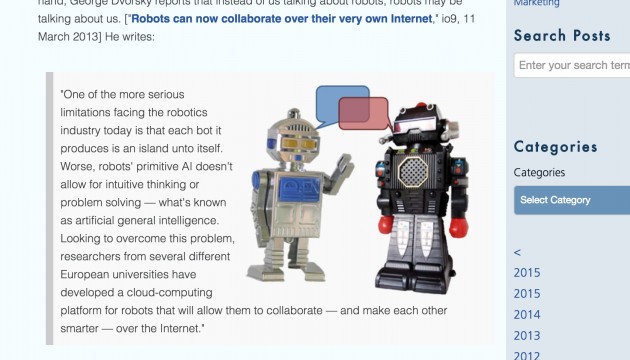 The Enterra Solutions blog provides no attribution for the image, no link to the source. There is no indication of a creative commons or any kind of license on the page, nor any meta data in the HTML source.
There is no license for reuse of the image.
But Google has their butt covered. Way at the bottom of the result screen that shows the image is a small statement in tiny grey text:
Images may be subject to copyright
Or
Even if we say this image is licensed for reuse, heck, we might be wrong, so it's your fault if you get in trouble. Good luck with that.
But hey, right next to that is a Send Feedback link. Maybe they listen to problem reports and take corrective action. Maybe the moon is made of cheddar cheese.
So I can let them know there is a problem…
This is pretty neat, after clicking the highlight button, you can indicate the areas of the page you are reporting on. I like that.
I then explain it a bit more clearly in the problem report form:
Wow, maybe they are really going to deal with this? They might fix this problem (and how about the millions or more of other likely mis-identified licensed images??)
After all that… Nada. Bubkas.
I feel so… so… truly… valued.
Maybe it is just a bug, a code mistake. My code frequently does things wrong. Google is big and what they can do to even give me these results is near miraculous.
But this is hardly the first time I have had this experience.
My suggestion for those using Google to find open licensed results? It still is valuable, especially if you use your keyword ninja search skills. But I will not use any image unless it is from a site that clearly indicates the licensing — Wikimedia Commons, Flickr, Deviantart, or Pixabay. The results from google are usually dominated by these.
But if the source image comes from a blog (even mine) or some niche site, I would pass. It's just not worth the hassle.
Unless, of course, you are among the 99% of internet uses you just think anything google hands out is fair to grab. But if so, you would not be down here at the bottom of this post.
Caveat Google.
---
creative commons licensed deviant art image by Alora-Of-Hearts. This image site clearly states the re-use license directly on the site.