It's been almost a year since I caught up with Darren Kuropatwa, last was a year ago following up visiting Gimli Manitoba for the Riding the Wave conference. At request of Donna Fry, we teamed up for a live web session on Digital Storytelling last night for the Ontario School and System Leaders Edtech MOOC (OSSEMOOC).
The ketchup theme was simply a silly name name I suggested for the Google Slide deck we worked on to put our ideas together, as we saw this a chance to catch up. Bad pun, and a metaphor. It was quite fun just to talk on Google Hangout as we both worked on the deck at the same time this past weekend.
We had an idea to open with a bit of going back to our first intersections, that was between our blogs in the mid 2000s. This sounds crazy, but I plugged Darren's URL into the Wayback Machine, and clicked randomly on a snapshot from April 2006, and of all things, the first entry is a post mentioning me.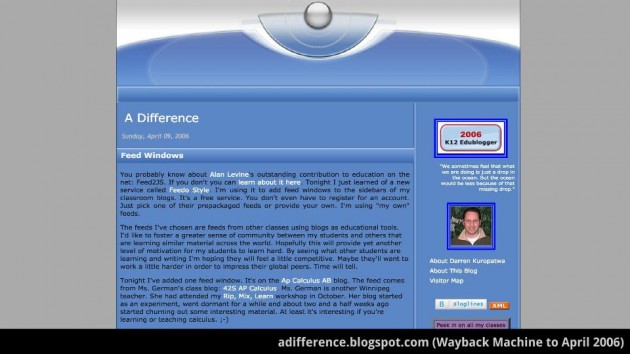 We talked about our places of entry into storytelling, and use of metaphors in communication and creativity. I mentioned that last year at the Riding the Wave conference I got for the first time to be a participant in one of Darren's workshops. If you have been in one, you know that you will not just sit there, he will have you up and about the room doing something. I love seeing the results of the thing he does with a picture frame, having people generate images to show they are storytellers
And then, rather in a camp fashion, I said, "Why don't we do something like that now?" This was our plan– well Darren suggested it and he had to pull it off– we would ask people to create a short (~15second) video, send it to his dropbox via email, and he would create a video on the fly to be ready by the end of the session.
The prompt comes from the Derek Sivers video "Obvious to You, Amazing to Others"
which gets at that barrier that keeps a lot of people from sharing their work or trying a creative act– the comparison of their own self perceived quality to that they see in others.
Usually when people do these short video prompts, the normal approach is to talk to the camera. I think that can be a barrier in itself, seeing our face on a camera. So my suggestion was to turn the camera on an object that they could use as a metaphor for something obvious to them in their teaching practice.
We each did one ourselves ahead of time to try it out and to at least seed our pot of videos. I blogged this prompt Monday and we picked up maybe 3 more.
The response was great during the session; I forget now but maybe another 9 came in ?? Darren did get it edited, but the YouTube upload was slow, but afterward he tweeted the final video
Besides educators from Ontario, we have videos in there from colleagues in Mexico, the UK, Australia, the US. It's a small thing, but there sure is a lot to be said for the act of making something together. The idea of finding a metaphor and just stating it, without explaining it, is a simple activity that ought to have applications elsewhere.
For what it's worth, the slide deck we used
Darren and I had only had a virtual connection until 2011, when my cross Canadian road trip stopped in Winnipeg. I was hosted for a few days by Chris Harbeck, and finally got to meet Darren as well as Andy McKiel
The connective story grows because the next leg of my trip was the long road in Ontario around the north side of the Great Lakes. A tweet out into the air asking for suggestions that to see and where to stop landed me a long list of suggestions from Donna Fry, including getting to meet her too in person in Thunder Bay.
This is the kind of stuff that happens when you share what's obvious. Isn't that itself obvious? Sometimes people form the internet invite you into their homes (and hearts) and even share you their interesting liquid hobbies
Thanks for ketching up, Darren!