As I said in the opening, the idea for this session proposed for the DML Conference was totally my idea, so if it flopped, I am happy to take the blame and if it went well, I give credit to the co-presenters.
Fortunately it was the latter, Laura Gibbs, Ben Werdmüller, Erin Richey, Jonathan Worth, and Tim Owens.
The idea for The Open Show: Connected Learning Without Expensive Acronyms was to share the work of colleagues who have all gone about creating environments of connected courses more or less grass roots low budget, nothing you will likely ready about in the New York Times. It's a rail against Big Solutionism and a celebration of inventiveness and multiple approaches.
With its own history and inherent decentralized design, the internet ought to be the truly equitable participatory platform, one that will not be just another television. Yet potential is never guaranteed by technological design; the nervous system does produce our human character. Today's technological solutionism prevents us from seeing what McLuhan recognized: technologies are extensions of people (he said "man") — "tools that extend human bodies and capacities." A learning ecosystem that is unbounded and distributed, that makes mistakes and corrections, that evolves through participation — that learning ecosystem is one that ought to extend our human capacities.

This session brings together the experiences of people who have been immersed in open learning via designs that mimic the distributed/connected network of the internet itself, where the fundamental organizing units are the students/participants, learners who manage their own digital spaces. The course then becomes one of many spaces fueled by the flow of individual actions. When we shift the locus of learning outside of an institutional platform, students gain agency over their experiences, something that meshes with the larger world they operate in beyond school.
For the presentation, I asked my colleagues to break the mold of conference panels as a series of mini 10 minute slide deck presentations. My inspiration was TV.
The technology I grew up immersed in was network television– Warner Brother cartoons on Saturday mornings, 1970s sit-coms in the evenings. Currently I choose not to have any at home, not because of an aloof "TV in such crap, I would prefer to sit around reading Chaucer" attitude. There is no broadcast signal, and I just feel like I can live w/o cable. Everything I know of TV I do via the internet.
But when I travel I do enjoy having a TV as some sort of window into a theme park world. So my inspiration to format the DML session was those TV news of talk shows where people sit around a table, each tossing in ideas, disagreeing with each other. Not quite as far as this show
https://www.youtube.com/watch?v=KUfaDO2SafA
My suggestion was for the group to not to slides, because quite often the stuff people show in slides is stuff that can be referred to online. What if we out all of the info on a reference web site? Tim Owens ran with that and so we have Reclaim Hosting to thank for the best vanity domain name possible for our materials- connectedlearning.tools.
All of the planning and conversation took place in a google doc.
And with Tim's help we used a platform none of us were talking about- the site is hosted on github pages using a jekyll theme, freelancer. I spent a few evenings going round and round with tinkering with the design and structure, and it was in that way great way to learn how these things work.
So we have a reference for each of our approaches: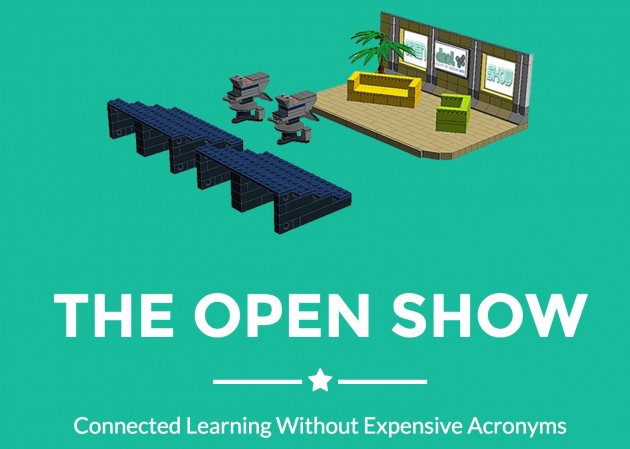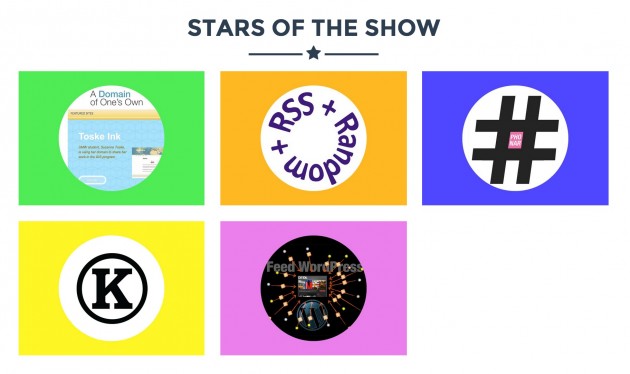 Each includes examples, history, and screen casts showing our respective approaches.
Originally for the panel, I did have planned a 5-10 minute intro of each of our projects; but in talking it over the night before with Jonathan Worth, we agreed that even that leads back to the usually presentation parade of panels. Instead, we improvised a series of launch point topics, and asked panel members to use those to bring in examples from their work.
And that was how it rolled. The starting point was asking about what we even mean by connected learning and how our tools enabled, supported it. I asked the audience to not wait to the end for questions, not even to raise their hands, but just blurt them out (well they still raised hands). People like Rudy, who was first out with a question of what he as a secondary school educator, should be providing his students in terms of skills so students would eb ready for this kind of higher education experience.
It went great, the room filled, and the open discussion format between panelists and audiences went on for a good hour. I did ask if people wanted to see some demos, and most wanted to have Ben and Erin show Known and Tim did a quick overview of discourse.
Alas, there is not audio recording. There were too many quick details to get setup for a session where the format was pretty much open ended. I did have a live broadcast out to ds106 radio but it was likely hard to hear all in the room.
But there was some documentation by the audience, thanks for the visuals, Cat Greim
https://twitter.com/catcookgreim/status/609078551099396096
and Amy Burvall
What tool do you use to connect all your affinity spaces? #openshow #DML2015 pic.twitter.com/HKJNi1Ir1D

— ?????????? (@amyburvall) June 11, 2015
What happens if you are in an open course and bad stuff happens? Advice via @Jonathan_Worth #DML2015 pic.twitter.com/cIdkgXgUGn

— ?????????? (@amyburvall) June 11, 2015
But a big La La LA thanks to Laura (who I got to meet for the first time), Ben and Erin (ditto, plus they rode the bus here from the Bay Area), Jonathan (always brilliant), and Tim (always great to hang out with and find weird drinking spots) for being part of the off the rails idea.
---
The graphic for Open Show site based on flickr photo by .SilentMode http://flickr.com/photos/drewmaughan/9637596345 shared under a Creative Commons (BY-NC-SA) license