This is just making sure there's a post in the category in the feed that connects to the Teaching with WordPress thing going on at UBC, being led by good colleagues and friends there.
I've been using WordPress since April 2005, when it was version. Why do I know that? Because I have a blog post marking the migration from a few years of running a blog on MovableType. Here is how snazzy it looked (thanks Internet Archive Wayback Machine):
Admission. I do code. And I like it. I am not a super sophisticated programmer and am sure many on StackExchange would rip my code to shreds. But I can do stuff to make WordPress do what I want it to do, rather than me having to figure out what it will let me do.
I bet in 2005-2006 I was mostly publishing and doing a bit of trying plugins, but once I started working for NMC in 2006 I was already starting to bend themes. One of the prouder ones I did was a hacking of a theme to build a site for the NMC Pachyderm Project— this one standing out in mind because I was showing it in a (Moosecamp?) session on it at Northern Voice in 2006, and this guy named Matt Mullenweg was in the audience.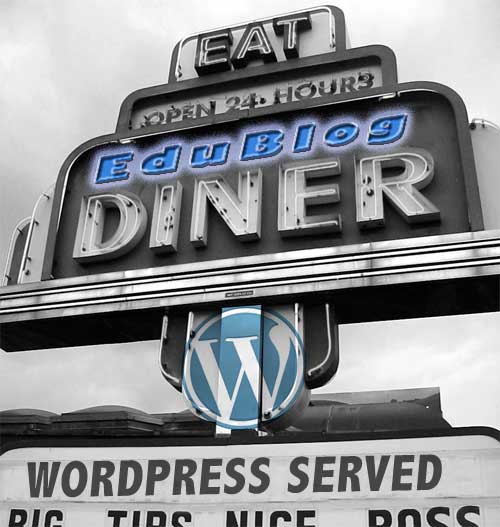 That probably led to be invited in 2008 to talk about WordPress in Education at the main Wordcamp in San Francisco.
And so on.
I would like perhaps the focus not to be so much "Making a Course Site" in WordPress which sort of leads to LMS like thinking. There's a lot more broader things one can build that are not just course sites, not just reverse listed chronological posts adjacent to a sidebar. In fact, I think I've only done a handful of course sites.
I've been more interested in using WordPress as a tool to help people make other tools, this was the focus of my recent time at TRU working on SPLOTs and some of the other not quite documented well projects milling around my github. There are built as WordPress Themes with built in functionality, but also configurability to do things like make your own flavor of a DS106 Assignment Bank (this is somewhat of an update in progress making changes for a new project this summer).
And so on.
And that is for a later post.
---
Top / Featured image credit: flickr photo by SoulRider.222 http://flickr.com/photos/automotocycle/4364347610 shared under a Creative Commons (BY-ND) license