Bryan Alexander has been pushing out great posts on his presentation tips, including using powerpoint, use of voice, body language, and follow-up.
Read them all, The Bear shares his wisdom.
In one comment I mentioned mixing up your choice of presentation tools, and of the 7 or so I mentioned I completely forgot one I loved maybe the most… because it no longer works. Back in 2009, I discovered this bit of code called Piclens, later known as CoolIris.
Eventually the company was bought by Yahoo which to me is code word for saying it died. Hey check out their site.
With it, I could create a media wall of my "slides"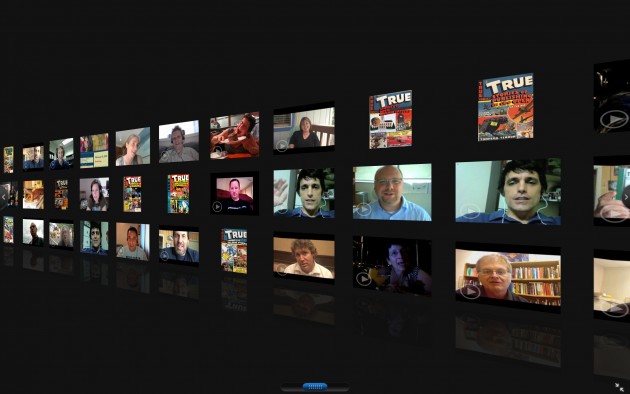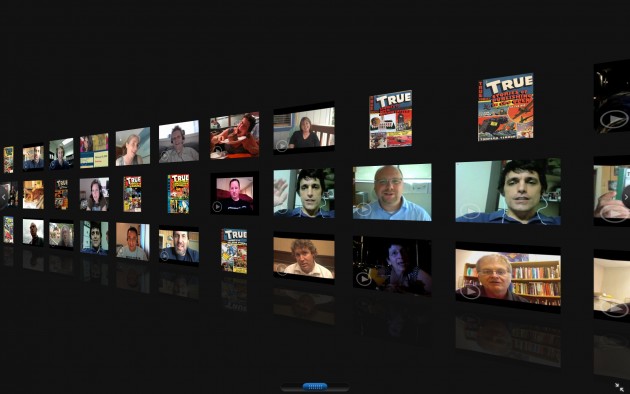 A slide was an image or a video, it optionally had a link attached to it. What I liked most was it afforded me to go linear if I wanted (arrow from one slide to the next), but with the wall, I could be free of a linear train, and pick any other slide to show. When clicked, the slide zoomed to fill the screen.
The crowds had never seen anything like it.
And they likely will not again.
It was not trivial to make; I spelled it out in a post in 2009. It needed a directory of icon images for the wall, and full sized ones for the slide, and a MediaRSS file needed to be generated (me doing by hand coding). The file format was really picky about formatting, and one errant quote and your slide would be blank.
But when it worked it was amazing.
In doing some web updates I had some links to some of the talks I prepped with it back in the day (a long 6 years ago). All of the Cooliris embeds were broken, not surprising, since the old Flash embed code referred to a cooliris.swf file from their server, which as noted, has nothing but the Yahoo announcement form a year ago.
It took 45 seconds of googling to find the source code for the missing .swf in github. I was able to download the /swf put it on my own server, and I just then needed to update a few source HTML files to reflect the new URL.
And now, it works as it used to do on:
I know I have a few more rolling around the archives (I cannot seem to fix the earlier ones, made with Piclens).
Yeah, you still have to turn a crank to get this ones going. And its worth it to me to do whatever I can to keep alive web content I once made.
Because as much as possible, the run of almost any tech company is going to be short, and sooner or later that cool tool you like using will be bought by a mothballing outfit like Yahoo.
Update Oct 2020
As the last dying breaths of Flash are heard, even with this fix, the old CoolIris content goes with Flash. For some insight into the experience, I am glad I created a video that at least showed what CoolIris did.
Maybe someone will create an HTML5 version?
---
Top / Featured Image Credits: Public Domain Wikimedia Commons Image https://commons.wikimedia.org/wiki/File:Rollstuhl_Farfler_1655.jpg