(I cannot say in words a reason for the choice of the image above, it's weird enough to fit).
It's just about 2 weeks into a 7 week barnstorming tour of various parts of USA, and… well it was not quite how I envisioned it. I'm in motion today by the train to Fredericksburg, VA, where I got to see Jim Groom before he jettisons to Italy tomorrow. I'll hang out with Tim Owens too and maybe see some folks from UMW. Then it's up to Eldersburg MD for a fried visit with my sister and State College PA to hang out with my high school buddy Kevin. Then it's more stuff.
I've been in Richmond this whole time, but the time was not quite as I expected it as a week ago, my scratchy throat which usually signifies a travel-related virus, bloomed into a bad bout of bronchitis. I've had more than a tea party's worth of tea…
Worse than that, I seem to have passed it on to my hosts Gardner Campbell and his wife Alice, and likely all of Richmond. But today, I'm feeling a corner turned, the first full night of sleep where I did not spend most of it hacking coughs. Or coughing hacks.
But it was not without getting stuff done. The project that brought me here was part of the Great VCU Bike Race Book Project — the idea Gardner spawned to take advantage of Richmond being the host of the UCI Road Race Championships. Or how I usually say, like the Grand Prix for bicycle racers.
I did get out Monday and Tuesday with the start of the time trials, and Friday afternoon's U23 Men's race (all photos in flickr). But then I was down for the count and watch the big weekend events, the Women's Elite and Men;s Elite, by watching the live stream on my iPad (coughing).
Exciting is an understatement for what how these long races go. It's layers of strategy on strategy on strategy. This was the most I have ever watched bike racing, and its a whole new world.
But the project, yes. The behind the scenes has been written somewhere (here) as [Covering of] Covering the Coverage: Syndication Fed WordPress Powered Magazine. I'm pretty proud of the site and workflow Gardner and I hammered out more or less on the Saturday I got here.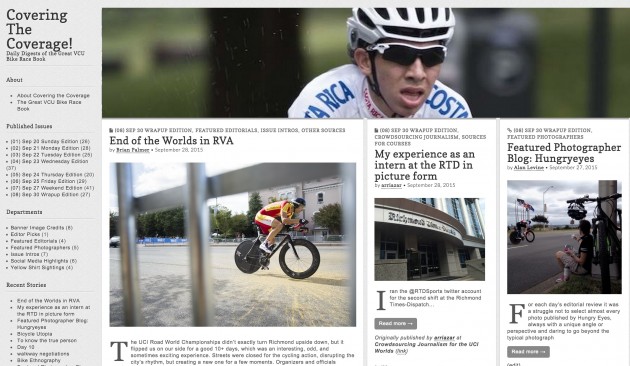 It's like a web magazine featuring the stories that are generated from the 24 course sites we have syndicating in.
The customized version of the theme I worked on can generate an OPML file for all of the course blogs, and so we got our editing team set up to review the stories in Feedly, and then put their nominations for an issue into a Slack channel. Each day people would pin their stories, and then I could simply find the drafts in WordPress, add a category for the issue, and publish (there was tweaking often, getting featured images is still a moving target, and I had to come up with some custom templates to deal with some kinds of published items).
Each day we would pick 5 photos to be featured in the slider at the top, and credits were given in a post. We also did some harvesting of the twitter and instagram content tagged #vcubrb as a daily "In Social Media" recap. That is drop dead easy with WordPress autoembeds.
We saw some amazing photography work by the students, some of them highlighted as well in the last edition. It was fantastic to work with Brian Palmer, his observations and killer photographs added a lot to the publication.
The next step we are on is a way to produce the online version of a "book" (always "in quotes") from the project. The idea is in place, and is something I look forward to working on over the next weeks/small number of months.
But I had hoped the days this week could be spent hanging out more with the ALTlab folks at VCU but am glad at least I got to see them all yesterday.
Not as planned!
But still pretty good. Other projects continued in the spaces between- supporting the last phase of the online UDG Agora and the work the Project Community students are doing as they move into their project phase.
More to come, this is the rail riding the east coast portion of the trip, working my way to Vermont by October 7.
I hope no one gets infected from this blog post.
---
Top / Featured Image Credit: flickr photo by Port of San Diego http://flickr.com/photos/portofsandiego/4473732027 shared under a Creative Commons (BY) license