Howdy! There's gonna be a ds106 full of western stories and movies that I will be teaching next Spring for Kansas State University. Bill Genereux has been a long time ds106 partner in teaching a Kansas State University course on digital storytelling that he has hitched his wagon to the DS106 horse.
He offered me a chance to teach an online version this Spring at K-State, and in our conversation today I expressed my interest in doing a version theme on Westerns… cause I dig them. And Bill loved the idea. So there's gonna be cowboys and banditos and even some samurai running around DS106.
Bill explained that my adjunct pay was tied to the number of students who register, and we brainstormed some ideas on how to get the word out. He will do the regular internal communication, but I decided to start up a bit of a campaign early, you know, putting the spurs on early.
I had a flash of idea to do a bit of a fun movie, and not your stereotypical western. IN about 2 hours of iMovie work today, I cobbled together this:
If you do not pick up the reference (and many wont, and I don't think that's a problem), I've riffed off of Sam Elliot's narration in the opening scene of The Big Lebowski:
I used a repeating loop of someone's video of a tumbleweed. With about 40 seconds of googling I found the music used was Sons of the Pioneers Tumbling Tumblweeds.
I listened to the original narration one sentence at a time, and rewrote or added bits to make it relevant to my interpretation:
Way out in the east, there was this open course in digital storytelling I wanna tell you about, a course named DS106. And least the was the handle its loving students gave it. This DS106 course, it said it was "4life". Now "4life", that's not any kind of language we use where I come from. But, there was a lot of DS106 that did not make a whole lotta sense to me. And what they did, likewise.

But then again, maybe it's why I found that course so dern interesting.

They call Kansas State University the "Wildcats" I didn't find that to be exactly. But there are some nice folks there. But I can;t say I've seen London, and I've never been to France, and I ain't seen no queen in her dang undies, as the fell says. But I tell you what… what I;ve seen at Kansas State, and this storytelling class that will unfold in 2016, well I guess I've seen anything as stupefying as you's see in any of those other places. And in English too. So I can die with a smile on my face without feeling like the good lord gipped me.

Now this here storytelling course I'm about to unfold, will take place in the Spring of 2016. It's gonna be a time when KSU students can learn to create western stories in digital media, publish their stuff on the internet, and create wild kinds of original content.

Sometimes there's a course, I won't it's everyone's hero, but sometimes there's a course, I'm talking about DS106 here. Sometime there's a course, it's the course for it's time and place, it fits right in there, online. And that's DS106. At Kansas State. And even if it's an intensive course, and DS106 is most certainly that, quite possible the most intensive at the university, which would put it on the place to be the most intense on the internet-wide.

But sometimes there's a course, sometime's there's a course, wow, lost my train of thought here, But oh heck, I've introduced it enough. It's time for you to get ready for it.
With my voice raspy from my bronchitis, today was a good day to record the audio track in Audacity. I down pitched it a few percent, and brought into iMovie.
But I wanted to reference a web site for the course… I thought about domains like wildwild106west.org or 106west.world but decided to use one I had from previous teaching of DS106, 106tricks.net.
I had a WordPress blog there (it still exists, just disabled til I build the real course site)). I did some digging around for some one page HTML themes that featured video, and I liked the full video back drop of Gravity // Coming Soon – Under Construction.
It was not too much editing to get it running, but I think its pretty darn slick.
The video background can be delayed, it seems to need to preload, and also on an iPhone it uses a static image background:
So I added some text that nudges people to open the toggle button at the bottom which has the course info and a link to the video: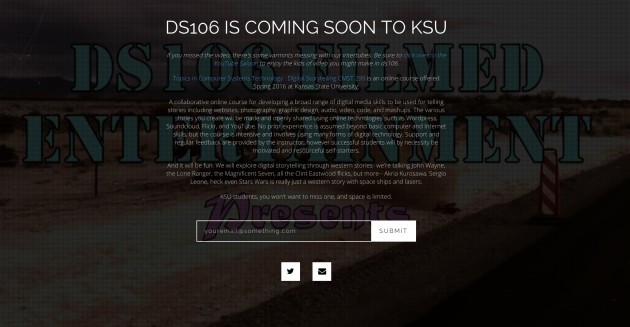 I might play with more videos down the line. But if you know people at KSU, let them know, spread the word. Bill s going to try and get a story in the school paper, which will help when Spring registration opens next month.
It will be 2 years since I have officially taught a ds106 course, and I'm eager to get back in the mix, especially to see the ways Jim Groom and Paul Bond have extended it thematically from Wire 106 in Fall 2014, Noir 106 in Spring 2015, and their current comic themed Tales from DS106.
Mine will have cowboys. Theres a lot to roll with from the long list of Western movies, the John Ford classics right through and beyond Clint Eastwood, there's the strong influence of Japanese legend Akira Kurosawa to the Spaghetti Westerns of Sergio Leone. Mexican Westerns.
TV shows like the Lone Ranger, Gunsmoke, Rawhide, Bonanza, Deadwood. The Border Trilogy of Cormac Mcarthy. There's a whole realm of music.
I hope to take it broad too. One of my memorable high school experiences was my 9th grade English Teacher, Miss Walker, who had us study the plots of western stories. She organized a field trip for her classes to go see a new western movie. We rolled up to the theater, and found out it was Star Wars. Yep, the plot is that of a Western.
But putting the twist on the expected is what I love about ds106, hence my first video not being a John Wayne classic, but The Big Lebowski.
And I know I'm just scratching the surface.
And I've done previous ds106 assignments using westerns. In my first go around in 2011, I did my movie essay on Lonely Are the Brave (based on my fave author Edward Abbey's The Brave Cowboy), what I called Jack Burns is the Last Cowboy:
In 2012 I did a series of GIFs I called Fort GIFpache based on the John Ford movie Fort Apache (filmed of course in Monument Valley, AZ)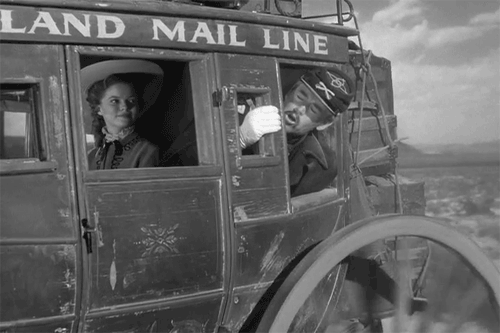 And just a few weeks ago, I took on Bill Genereux's fab assignment Scenes We Did Not Get to See with my one hour effort to do a lost scene from The Good, The Bad, and The Ugly:
blogged at http://cogdogblog.com/2015/09/11/tuco-no-ugly/
Yeah, I'm ready to get by ds106 teaching chops in. Hence why I am blogging this at 12:27am.
Get ride to mount your horses and make some western art, damnit! AND TELL STUDENTS AT K-STATE TO TAKE MY COURSE! Please.
And finally, today births a new hash tag
Look out Kansas State University. A new #ds106 is roamin' yer territory in the Spring http://t.co/AWOxfHKCr7 #western106

— Alan Levine (@cogdog) October 1, 2015
---
Top / Featured Image credits: I cannot even understand the convolutions of the license on the Wikimedia Commons image, but am going to lean on the side of Public Domain. I added the text.