These legs of this trip do not truly have temporal marking points. This marker might be almost at the point I have stopped coughing, some 3 weeks since falling with Bronchitis in Richmond.
I left Richmond by train on October 1 bound just up the railroad to Fredericksburg. I made a travel mistake. not listening to the announcements, and missing that not all doors opened at Freddy.
@jimgroom @timmmmyboy fricking Amtrak doors did not open! I gotta get off at quantico and backtrack

— Alan Levine (@cogdog) October 1, 2015
By the time I found Amtrak crew members, the train was in motion north, so I got to lunch in Quantico and wait for the local VRE back to Fredericksburg. It all worked out. The bonus was getting the opportunity to spend Jim Groom's last night in the USa before heading to Italy. Homage was paid to the Chair That Spawned 1000 Blog Posts
The famous Bava blogging chair, support for hundreds of blog posts. pic.twitter.com/oYSftv9oTD

— Alan Levine (@cogdog) October 1, 2015
There was a coffee meeting with the executives from Reclaim Hosting
The @ReclaimHosting executives @jimgroom @timmmmyboy … Domains of Your Own #4life pic.twitter.com/AAHMkqNtCz

— Alan Levine (@cogdog) October 2, 2015
plus I saw Jim enjoy his last Chipotle burrito. We celebrated the idea of a Western DS106 by watching High Plains Drifter.
Jim's parting was a bit colored by the failure of Clyde the cat to show up for his ride to NYC. Oh well. Cats.
Jim finally boarded the helicopter that landed on the south lawn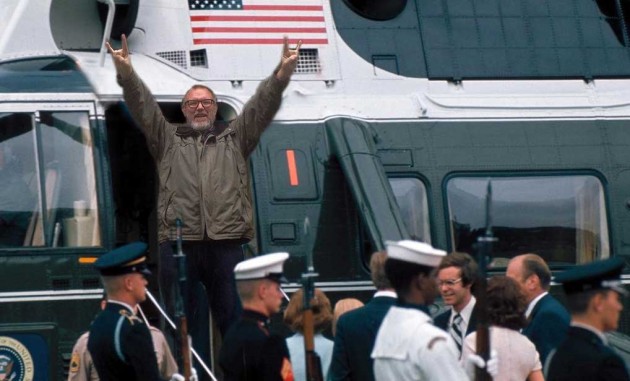 Next night was spent at home of Tim Owens with much entertainment provided by his daughter. The next day it was on the rails again (good old Amtrak, only an hour later in the rain) to ride to Baltimore Washington International Airport. My sister and niece picked me up, and I was feted by a special dinner of Maryland steamed blue crabs. Nothing finer.
Plus while we watched the Orioles took the second game of a double header wiping out the Yankees.
The next day was on the move again; my long time friend from high school, Kevin, drove down from State College to pick me up in Maryland, and route back. We had our usual great conversations, still going some 35+ years knowing each other.
Still trying to shake off the CogDogFlu, the time in State College was slow paced, I did get to catch up with Brad Kowzlak for coffee, other than that it was some nice time with kevin and family, some nights around the fire on his patio.
On October 7, it was on the railroad again; Kevin again driving me a fair distance to Harrisburg where I caught a train to New York City.
Manhattan was under glorious sunshine, and my 3 hour layover allowed time to meet up with Luke Waltzer for lunch. It's great to hear what Luke is up to at the CUNY Graduate Center, and see his prime location kitty corner to the Empire State Building.
The it was another 5 hour train ride north, one of the lovely routes, to Castleton Vermont, where Barbara Ganley picked me up. I've spent the last week at her restful home, getting spoiled with fresh food from her garden, home made soup, and some amazing displays of fall colors.
I got the treat as well to spend the weekend with Bryan Alexander and his family in Ripton, where the colors were even more stunning, the maple reds gave me some sort of leafgasm. Plus I got to pal around with the noble Hestia
Bryan tool me on a road trip to see the remains of the fort at Crown Point, and a fun side stop at the Hawthorn School, which I knew because Barbara and I had stopped there a few days earlier.
Who is more of a figure behind the lectern? Vote now.
And then Bryan and I enjoyed conversation and some wood splitting, the most meditative practice we know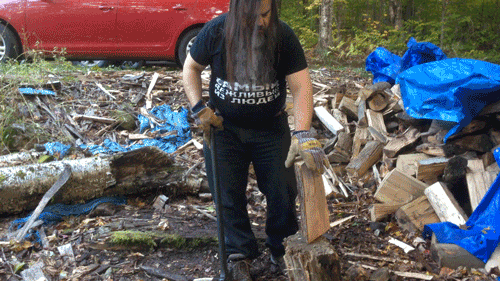 There has also been a nice visit with Amy Collier, who just started a position here at Middlebury College, and Geog Gevalt, who runs the fantastic Vermont Young Writers Project (and gives me Maple Syrup) (and turns me onto the music of Anna and Elizabeth).
It's my last night in Vermont… the next phase is a radical change of place and climate.
Stay tuned (or not), I've got maybe 2 more legs til I return home November 1.
---
Top / Featured Image credits: Me, mine. flickr photo by cogdogblog http://flickr.com/photos/cogdog/22080993595 shared under a Creative Commons (BY) license