The Catfishers are pulling out all the stops. I got an email this morning from a victim who was communicating with someone supposedly named Michael Carlos Hughes. Apparently on LinkedIn I am a petroleum geologist at Chevron
The woman sent me many photos of me that "Michael" sent her- this one is really insidious, look at the note he sent (I have blurred her name).
I had some trouble finding this photo with Google image search, luckily Keri did
@cogdog @dlnorman https://t.co/ZbDSZuc3JF

— Keri Morgret (@KeriMorgret) November 11, 2015
Dear Michael, how do you explain this?
The victim started finding this same image on several linked in profiles, doing the google reverse image search, look how many people I am! I am only sharing fraction of the profiles she found that sport my photos on other people's identities.
What would you do? Would you be happy reporting this as instructed and being told it is not a violation? Would you be happy if in turn the scammers turned the tables and reported your profile?
Please report these fake LinkedIn accts https://t.co/1NRcSvogvm https://t.co/Ggvah0hdFO https://t.co/CoReiZRmEB https://t.co/Cl14K81oII

— Alan Levine (@cogdog) November 11, 2015
Unlike @Facebook, Linked in did respond.
But the only recourse these companies who are growing profitable off of your activity is to report profiles.
Why does LinkedIn even allow multiple people to create profiles WITH THE SAME PHOTO? There is image matching technology out there.
Reporting is trying to stop a flood with one stone at a time. The scammers running these are using brute force attacks, weapons of mass profile impersonation.
And Facebook and LinkedIn are not only doing nothing, they are silent.
Meanwhile, I am furiously messaging my short list of influential people, pleading someone with a public voice to take this one. I am pushing out examples. I am not doing any of my work.
I am Alan Levine and my identity has been p0wned. My photos are in some criminal networks file server, being sprayed out like candy as fake profiles.
You could be next.
Share this.
Teach people how to use reverse image search. If you become friends or romanced by anyone online, stop and investigate them. You are a fool and a potential next victim if you don't.
Do not let Facebook and LinkedIn keep accruing profit without being accountable for their part in fostering catfishing spawning pools.
Meanwhile, I am keeping a new flickr album updated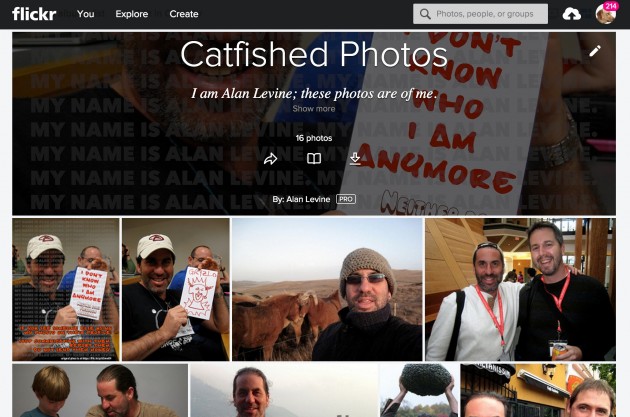 That's about all I can do, asset my identity.
Because F*** knows that Facebook won't.
---
Top / Featured Image credits: flickr photo by cogdogblog http://flickr.com/photos/cogdog/22328418744 shared under a Creative Commons (BY) license – my re-edit of my own licensed photo at https://flic.kr/p/62wwE4