In prep for an Open Ed 2015 presentation with Brian Lamb on our world famous SPLOTs ("SPLOTs and Darkweb Plots: Advancing and Supporting Open Educational Experiences" Lamb-ian title), I spent a bit of time on the plane and here in Vancouver cleaning up the github repository for the TRU Collector SPLOT.
This is another WordPress Theme with built in functionality.
This one was memorable because the idea and suggestion came from instructional designers Kelly Warnock and Melissa Jakubec while I was at TRU last year hatching this things. The initial idea was a place to collect images for a workshop they were doing on using openly licensed media, so a design element was to provide a way for a person sharing an image to include a source for the image (e.g. the name and/or URL of a site) and it's license.
And we deployed a copy for stuff we did with the You Show. I put it into play for the work with the UDG Agora project where people could post and share memes they made, useful because it not only provided a collection, but also a URL for each image. And since then, Brian as spun off a few more ones used in Biology, Art History, and Geography courses at TRU.
There are several fields that can be enabled (or hidden) for submissions, these are done with settings in the theme's options, shown on a view of one item in the demo site
The link and attribution field at the bottom are selected as soon as you click, so they are thus ready for quick copy and paste elsewhere.
The other neat little trick was using the JetPack plugin Post By Email module to enable adding images simply by … sending them via email.
Easy peasy.
The code has been on git hub a while, but I just made some a few updates to reflect all of the current functionality I have set up elsewhere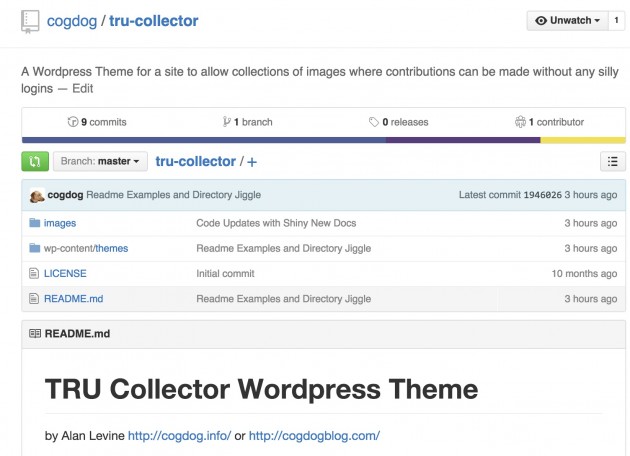 This post merely is a chance to say IT'S HERE for folks who come to our session at Open Ed. Like all my stuff, no promises of perfect performance, so your feedback appreciated (best done by posting an issue to the github repo).
Having an image sharing collection site seems handy. I have some hopes/dreams to build another version that would combine it, with the one I experimented with on pooling sound, and video as well, into some kind of Media Collector.
It might happen.
---
Top / Featured Image credit: flickr photo by Dept of Energy Solar Decathlon http://flickr.com/photos/solar_decathlon/6193065097 shared under a Creative Commons (BY-ND) license