This is a tale of how my curiosity gets fed and pulled into unexpected places on the internet (yes the one that apparently died again in 2015).
This is a tale of how my plans for a "productive" morning get nudged later as I cannot stop seeking connections.
This is a tale of why my toast sits cold in the toaster because I forgot about it.
This is my daily tale.
It's Amy Burvall's fault. Thank you Amy.
Wonder what @cogdog could come up with for this? https://t.co/G6BpxfFNFH

— Amy Burvall (@amyburvall) November 9, 2015
The story in Open Culture (one my my favorite haunts for interesting stuff you can openly use) describes a new web site from UCSB with audio archives of some of the oldest audio recordings– Edison's cylinders.
Okay, so this might have some future use in my next ds106 class. Bookmarked in pinboard.
But my curiosity is kindled because I have one of the cylinder containers (not the cylinder) I purchased at friend Loran's antique store in Pine, Arizona. I start searching my own flickr photos to find a photo of it.
Instead, I found a photo of the same containers I took at the Laramie Plains Museum on a trip there in 2007
I know I have a photo somewhere of mine sitting on the media player shelf next to my DVD player, but I do find I used the old media container to prop up another old media device:
I pull my container off the shelf, and look for any kind of identification on it, there on the top is some information about what might be inside.
I cannot read the handwriting, it might be related to the original content, or just applied later by someone else who used the container. The best guess I can make is:
In ???? public, by Bryan
but below I can make out a stamp that looks like an identification number- I can read 892x but the last digit is unclear.
I go to the UCSB Audio Cylinder Archive and notice that under the Cylinder of the Day, the link for the item "Russian kamarinskaja" is http://www.library.ucsb.edu/OBJID/Cylinder4929.
Now this is another reason I like the site, because the URLs look like they mean something (rather than many URLs like most Google products which are long strings of gibberish hashes), and that means I can make the URLs work for me. This is one of many lessons I got from Jon Udell; he was talking about this in 2001!
My hunch is that Cylinder4929 is the ID number printed on top.
This means I can maybe find some info by exploring
http://www.library.ucsb.edu/OBJID/Cylinder8920
http://www.library.ucsb.edu/OBJID/Cylinder8921
http://www.library.ucsb.edu/OBJID/Cylinder8922
etc. Maybe one of the listed artists will be Bryan? Here are all of my URL explorings, for Cylinder8920 through Cylinder8929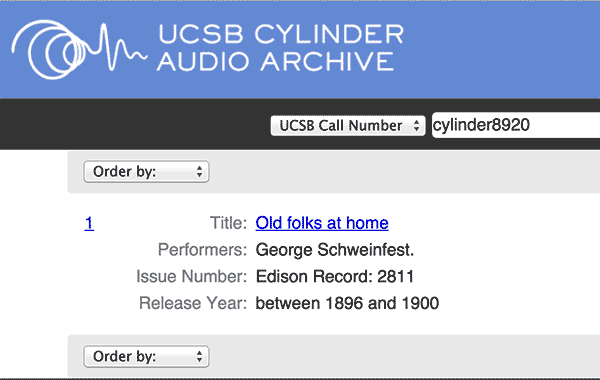 Nothing definitive here, my hopeful guess is 8292, which turns out to be Jolly Coppersmith [Kreuzfidele Kupferschmied] by Sousa's Grand Concert Band, released somewhere between 1896 and 1900. My reason for choosing this one? My Dad like Sousa marches.
So get this, through this open archive on the open internet, I can listen to music recorded to wax more than 115 years ago. Because they provide the material free and without obfuscating media players, I can download it and share it with you:
And even better, because the file has good meta data, it travels with the media
And look what the entry at the UCSB Archive provides, this is normal stuff for libraries, but its cleanly done and presented- I could see all other recordings by the Sousa Band
And I love that it has a "Durable URL", one that redirects to a database search.
We need more durable URLs.
We need more interesting archives and collections done so well.
So thanks Amy, for sending me down the best kind of rabbit hole, maybe not what you expected on sending the link. But the part I like is being curious and finding information and ideas I did not expect while standing at the front of the rabbit hole.
Which is where it seems a lot people spend their time, just starring favoriting hearting stuff.
You gotta dive in. And dig.
And you will find that the blather about the internet being dead is just the fog outside the rabbit hole.
See you later, I am going back in.
---
Top / Featured Image credit: my own photo taken this morning, not yet uploaded to flickr where eventually it will have the same creative commons license as my other 43,000+ photos