The work I am part of at Virtual Connecting might be described as "hybridizing" (oi 20 lashes for making that a word) the conference attendance experience- mixing the virtual/remote and the on-site/F2F one.
As a slight twist on this, I was part of something that was a hybrid of the mode of presentation. I've done virtual presentations and of course in person; but Friday I was part of something where we tried to present with 3 presenters on site, and myself and another remotely.
This was my UDG Agora colleagues and I making the plenary talk at the ETUG (Educational Technology Users Group) Fall 2015 Workshop meeting in Vancouver.
I love the ETUG folks. They are a totally grass roots organization of educators in British Columbia that has been doing this since 1994. I've gotten to do a talk at the 2011 Spring Workshop in lovely Nelson and was lucky to be at last year's Fall one in Vancouver. They do a great un-conference format for the Fall meetings.
So Tannis Morgan, Terri Bateman, and Brian Lamb were on site in Vancouver. Myself and Ken Bauer planned to come in by Google Hangout. We were bot quite sure how the mixed mode would work, and had one Skype meeting for some loose planning. Tannis organized a slide deck in Google Docs, but in the meeting we decided to put all the content into a UDG Agora like Studio, to model the approach we would be talking about.
(My brain misfired, and I ended up putting stuff in the Google Docs, alter added to the page above).
The plan was to start in casual conversation, like we described we did while running the 2 weeks of face to face workshops in July 2015. Like we did every night in the garden veranda, where we did adjustments (or wholesale changes) for the next day.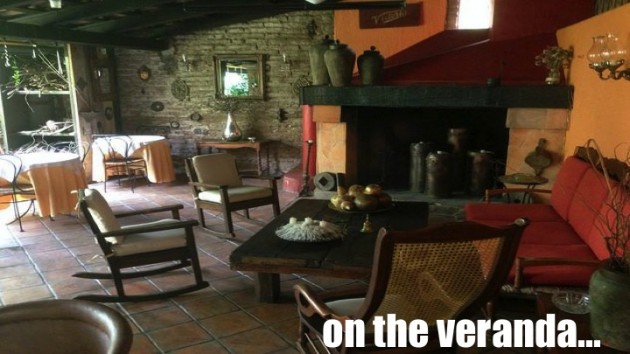 Then the idea was to have the ETUG audience experience in hands on fashion and example of the Challenges we had our participants do in the project- and for fun, the challenge would be around create a regional based taco or the more complex design a taco party.
That was the plan.
And we did manage to cover most of that.
We had hoped for two projectors in the room, one to show me and Ken in the hangout and another so the presenters on site could show their materials. But we had but one, and there was a bit of futzing with the hosts PC on the setup, but eventually it got working.
For me and Ken, the angle was not quite optimal, we were looking at our colleagues at some angle, we could not see the audience at all, and when they were showing other things on the screen, we were not quite sure what was being shown.
Because that was not very interesting to broadcast or put out in the archive, I started screen sharing, and just made a lot of guesses to show screens related to whomever was speaking in Vancouver and what they were talking about. Plus (as I found out later), my home cable internet was running super slow, like 0.1 Mbs download when my plan is supposed to be 70 Mb/s — so the audio I was hearing was a bit garbles.
I had thought about having this ahead of time, and was glad I set it up. For the audience in Vancouver, there's not much value in watching Ken and my face watching them, I set up a page on the UDG agora site to show a slideshow of my flickr images from our two weeks there in July.
Now you cannot screenshare in Hangouts the slideshow flickr's albums can produce, because they go full screen– and to Hangouts, when you go full screen you are actually in a different window. Or so I seemed to remember. So I used flickrit to create an embeddable slide show. las, it only fetches 100 images from a flickr album so I did some shuffling of the 400+ photos in my album.
And there was one more wrinkle. We wanted so show a video message from our colleagues Kike and Sandra in Guadalajara but it had been sent as an mp4 through WhatsApp and it had not been uploaded to YouTube at the time of our talk. I was able to play it back by screen-sharing my QuickTime player, and setting up my Samson Meteor mic distant enough from the laptop so it would not cause feedback when I was using it to broadcast the audio from my speakers.
Despite the scrambling and last minute futzing, it seemed to go over well. Maybe polished, rehearsed presentations are boring. I would not know, I've never done one. And it also seemed to fit the low-key style of ETUG.
And look, a few people did tacos – a hipster taco, a bacon surprise taco, a Canadian Taco. I contributed an Open Web Taco.
Oh, here I have been yammering about the background story, and forgot to include the Google Hangout archive:
I think all my colleagues (myself too) felt like we could have been more streamlined, but all in all it went well. I kind of like the in the moment figuring out how to do things #NotEveryonesCupOfTea.
This was also a good chance for us to think about how to describe the project and also as a chance to try out ideas we will share again next week at the OpenEd conference in Vancouver.
The hybrid part? Needs work. But that is how we do things on this project.
---
Top / Featured Image Credit: Creative Commons licensed Wikimedia Commons image of a Stroh Violin