Malle Gottfried's Facebook account, active since November 2015, supposedly of New York City, passed away March 5, 2016 in the anonymous vacuum of reason called Enforcement of Facebook Community Standards.

Visitation is not possible and only an ambiguous message of account unavailability remains.

Malle supposedly was born in San Salvador. After losing his parents early in life, he was supposedly raised by an uncle in New Jersey, and became a US citizen. He supposedly lost his wife in a car crash in 2011, and has been raising his supposed son Harrison, aged 10. Supposedly Malle studied Engineering Science at George Tech University and supposedly led an exciting life traveling the high seas as supposedly a Chief Engineer on a Mediterranean Shipping Company vessel. Conveniently, said vessel seemed to make many stops in Nigeria.

Malle was supposedly devoutly religious and posted often about truth and honesty.

Many friends complimented Malle on his rugged and handsome photos.

Malle is survived by a string of scam victims and fake Facebook friends who commented on his supposed timeline to make it look real.

In lieu of flowers, remarks of shame should be hurled at Facebook. Condolences can be messaged out but there is no chance at all the Facebook will give them any thought. The family of romance scammers wishes to extend their gratitude to Facebook for making it so easy to set up fake accounts so that they can suck money from scam victims.
Yes, it is true.
After two weeks, more than 18 reports by myself, friends, and other people on Facebook, for some random chance, Facebook's Activity Review Team (FART) decided to remove the account for "Mealy Gotfake"
Do we know why Facebook suddenly figured out what was obvious 2 weeks ago? Do we know what it was that finally convinced them? Do we know anything about how Facebook is dealing with a scam situation that is causing victim financial losses in the hundreds of millions of dollars?
Nope.
This is as close to proof of how Facebook investigates accounts, some kind of Artificial Intelligence Technology:
Is this a celebration?
Hardly.
This is not a fix, nor an end to calling on Facebook to deal with this catfishing situation. "Malle" is just the tip of the shitberg.
But let this be a lesson of how I am dealing with catfish
UPDATE: later the same day Mealy Gottfried did not waste much time, he has gone to work with his backup profile in waiting, and there are four more blank ones in the wings. Just search Fakebook on his fake name.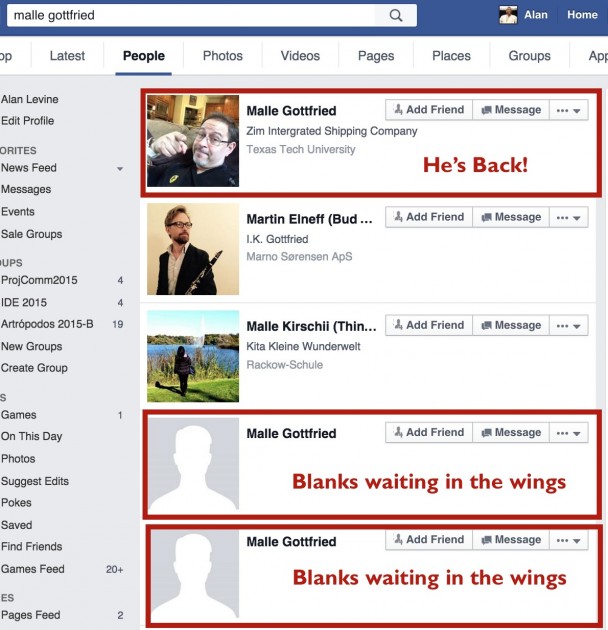 Meet all the Malles/Mealies
---
Top / Featured Image: Often I can find images I need in my own flickr photos, which (a) are all creative commons and (b) mine so getting permission is easy as a backup means. I searched my photos on "corpse" and found a mouse who died of peanut butter asphyxiation in my attic. I wish a similar fate for the people behind the construction of "Malle Gottfried".
Yep, my flickr photo https://flickr.com/photos/cogdog/4504394452 shared under a Creative Commons (BY) license