Many are dismissive of nostalgia… until they have racked up a few years and have some to look back on. If that's not your shtick, click on.
In 1999 I was 7 years into my career as an instructional technologist at the Maricopa Community Colleges, working in a central office of faculty development for the 10 college system. I had done well getting into the web early (1993) and around 1999 I was around my peak development years working in Macromedia Director. The internet, the web were growing, but rich media?
There was no social media, no YouTube, no blogging. Wikis were there. Go wiki.
Maricopa offered a lot of professional development opportunities, and one which I found out was a six month sabbatical option for Management and Technical positions (then known as MAT) for people who had worked there 6 years or more. Many used that time to do classes to finish a degree, but there was provision for one to propose a project as a sabbatical.
My project was more or less to travel and meet people I had made connections with via the internet (most of the channels were email and listservs). I'm not sure where the idea came, but it was the first of what became a regular "thing" for me to travel to places and ask people if I could visit or stay with them (as I did in 2011).
My six month plan was 2 months each in northern Arizona (a multimedia project at northern Arizona University), as well as New Zealand and Australia. This my project / web site to chronicle it was domain-ly named "From .az to .nz & .au".
I blame this wave of 16 years later nostalgia on taxes. You see I was preparing, so opened up my little file cabinet to the "T"s for tax folder, and noticed right in front was an "S" (for sabbatical folder"). Just for grins, I took it out, and found print copies of my proposal and my final report.
Trusty paper archives.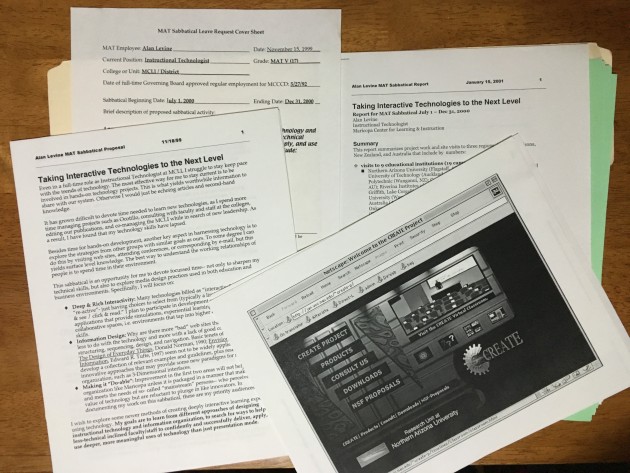 I documented the entire 6 month experience on the web. Because I was away from my work, it made since to use a domain I owned (the first one I bought in 1997) to make a web site that captured the experience in words, links, and photos. Each day I had something to write, I would make a new HTML page, and push it to the top of the story list.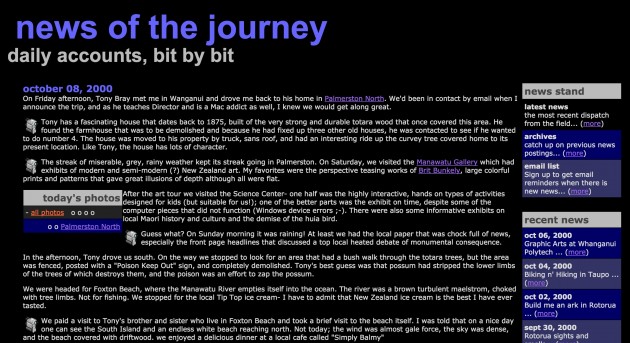 I won't claim I invented blogging, but its more or less what I was doing. There are dated posts with URLs like http://dommy.com/az2nzau/news/1008.html (news category for October 8?), photos, recent posts on the right, all by hand rolled HTML. There is a run down of my technical gear (clamshell iBook, a digital camera with a whopping image size of 1280×960, dialup ISPs).
it's because I did this I have a sprawling record of the 6 month experience; there is a bug with my old Javascript home spun image player, but I have all the source images.
I did have as part of the site the original proposal for the project as a PDF but totally forgot I did it as HTML too.
So the premise was in 2000, even as a full time instructional technologist, it was hard to keep up with technology:
Even in a full-time role as Instructional Technologist at MCLI, I struggle to stay keep pace with the trends of technology. The most effective way for me to stay current is to be involved in hands-on technology projects. This is what yields worthwhile information to share with our system. Otherwise I would just be echoing articles and second-hand knowledge.

It has grown difficult to devote time needed to learn new technologies, as I spend more time managing projects such as Ocotillo, consulting with faculty and staff at the colleges, editing our publications, and co-managing the MCLI while in search of new leadership. As a result, I have found that my technology skills have lapsed.
So I proposed focus time to not only create with technology but to visit people — "The best way to understand the working relationships of people is to spend time in their environment." That's still true IMHO.
Besides time for hands-on development, another key aspect in harnessing technology is to explore the strategies from other groups with similar goals as ours. To some degree I can do this by visiting web sites, attending conferences, or corresponding by e-mail, but this yields surface level knowledge. The best way to understand the working relationships of people is to spend time in their environment.

This sabbatical is an opportunity for me to devote focussed time– not only to sharpen my technical skills, but also to explore media design practices used in both education and business environments.
The full details are there, including even copies of the email support letters I got from people I had pitched my visits to. I did find in my folder a copy of the web sites (scanned into PDFs) I had included as support materials:
Okay, so everything up to here has been an introduction. This whole rehashing came about because in my folder I found a paper copy of the final report I submitted when I returned to Maricopa. Surely I had a copy (and no I will not stop calling you Shirley).
I looked all over the place; old hard drives, old backups, I even cracked open my old Zip disks, but did not find this file anyhow.
I did forgot my web site had a summary of the "goods" – outcomes and accomplishments, which shows the benefit of doing all this narration in that I could condense it into a summary. There are:
"Things Built (projects)" –all dead links
"Things Connected (people and organizations)" — all the people and places I visited, likely mostly dead links
"Things Attended/Participated" — conferences I participated in
"Things Presented" — these links mostly work because they are on my own domain
"Things Written" — articles published online, all external links are dead
"Things Hiked, Biked, Toured" — links to all my posts for places I went for fun, these all work BECAUSE THEY ARE ON MY OWN WEB SITE!
"Things Read" — even a list of books I read, with my photos of the covers
Do you see a pattern about what kind of information I can still use from 16 years ago versus the stuff no longer available?
But the final report was still in paper format, so I took the final step of just digitizing it (sweet, I did not know my littler Epson printer had a document feeder for scanning, it was easy)– Taking Interactive Technologies to the Next Level Report (January 2001) (7.9 Mb PDF).
The summary summarizes the info I had listed on my web site just described above (see web blogging leads to having a record to summarize on the web, feeds into a written report?).
The multimedia projects I worked on at NAU were on platforms that no longer work- I was creating interactive web-based simulations built in Macromedia Director and using what was called Multi-User server. I was able to plug a desktop Mac into the network and run this server, which brokered communication between multiple participants using a space together.
The first one was aimed at helping students understand the interplay of the variables in the ideal gas law equation (PV=nRT, remember that?). The system provided groups of people in the simulation a target Pressure, and they had to manipulate the other variables together to try and achieve it. There was a chat window for them to communicate with each other.
Besides they multi-user stuff, I had to figure out minute details like animating the little balls, that should change their motion with the changing conditions:
It was pretty darn clever, IMHO (the idea came from former NAU prof Paul Smolenyak who was at Yavapai College). We tested it with Paul's students; my report mentions that he "provided a presentation to the Yavapai Community College Governing Board in which I remotely participated from Wellington, NZ". I don't even remember that!
I worked with Paul on another group game, to work together to balance chemical equations
Was it all for naught that the technology no longer exists to run this? I know the answer for me… but this was a rare opportunity to experiment for 2 months and produce something too.
There are some grand "conclusions" from all the site visits:
The visits to these institutions provide a common perspective- the need to use technology to provide not only needed skills for today's students but also as a tool to make institutions more "flexible" as providers of learning.
Yup, that was 16 years ago (insert French phrase about change).
All of the institutions visited are faced with shifting changes in student skills and expectations, pressure to catch up with the business world, a crisis of keeping current with evolving technologies, and a strong need for professional development for faculty and staff…

Most institutions have recognized the need to have staffed centers responsible for supporting faculty integration of technology, some with more of a technology focus (development of materials) and others with more of a professional development/training focus. As a generalized summary, the more successful ones have a mixture of technical-skilled staff with expertise in learning theory; report to the administrator in charge of instruction (rather than being within an IT department); have cultivated supportive relationships with faculty; and utilize students in the development of materials.
Maybe I can publish this today as some new ideas 😉
Excuse this long winded and likely overly nostalgic dredging of my multimedia past. I'm not glorifying it nor would want that back, but I am pleased, reassured that the process of writing about my work, in the middle of it, and publishing to my own domain is a valuable practice I do 16 years later.
From my summary, did I envision the Personal Learning Environment before it was acronym-ized?:
Although my initial interest was in uncovering leading edge examples of interactive multimedia, what has come out as the most important interactivity are of less impressive technology (text!). The ability to reach out and contact with colleagues via an online conference, or a simple email or chat session, is unparalleled in power and potential for professional development or learning in communities beyond where we live. Teachers everywhere are eager for ideas on facilitating and supporting students through communication tools, and hunger for techniques and activity ideas more so than flashy web sites. Students are eager to have the technology in their hands, not presented to them.
But the experience for me was really the chance to visit and spend time with people, many of whom I have lost touch with, but others that have continued to be valuable colleagues, like Richard Elliot, who arranged by my visit to UNITEC in Auckland in 2000:
Richard invited me back for an extended visit in 2004, and ten years later as a speaker for Shar-e-fest — and we may have walked that Milford beach again.
---
Top / Featured Image credit: That's a screenshot of the web site I built and maintained during a 6 month travel sabbatical in late 2000 while employed by the Maricopa Community Colleges. It's self-hosted the first domain I ever purchased (still have) and is more or less blogging before there was software to do it.