The Creative Commons Certification project will be shared at the 13th Annual Open Education Conference November 2–4, 2016 in Richmond, VA.
This presentation by Paul Stacey and Alan Levine plays a bit at the "MOOC" acronym with it's title In the MOOD: Building the Creative Commons Certification: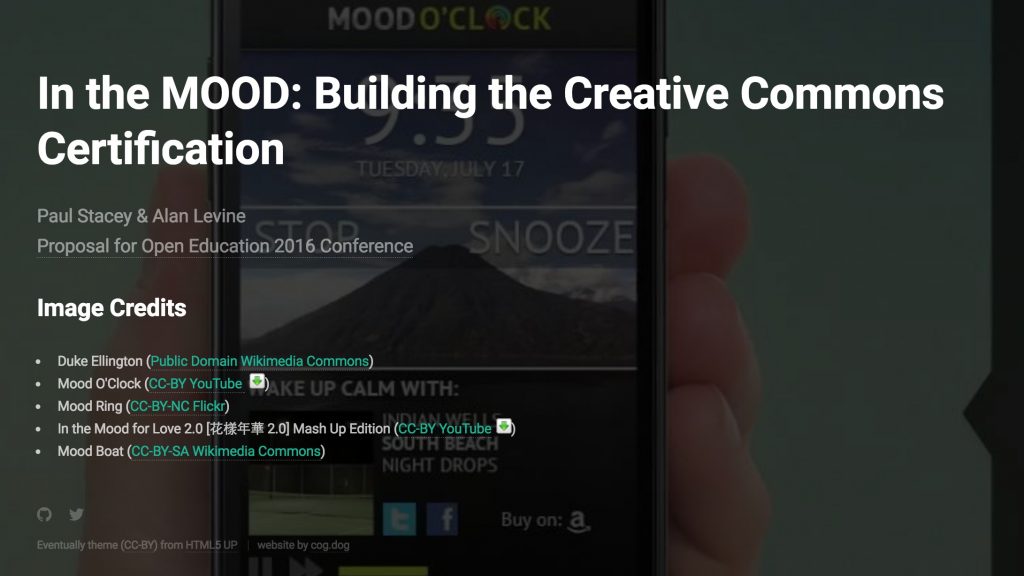 Deeply woven into successful open education and pedagogy is an understanding and practice of what Lumen Learning defines as the 5R Permissions – Retaining, Reusing, Revising, Remixing and Redistributing content and ideas. As one of the most visible ways to communicate these permissions, Creative Commons makes the 5Rs clear in the licensing of over a billion pieces of content.
But understanding Creative Commons– as a content producer, as a content user, or as organizations supporting open practices– is more than reciting a list of licenses. Therefore a new project has been underway to develop a Creative Commons Certification to provide organizations and individuals with a range of ways to demonstrate their knowledge and use of Creative Commons to place even more information into public spaces. It's value is in the focus on a certification of performed skills and principles, not just an examination of factual knowledge.
Openly sharing materials is a common value for the the Open Education community, and in this project we are pushing openness farther by sharing the process of design and develop of the Certification. We absolutely implore that this not become a repeated acronym, but we share in this presentation how the project is an experiment in Massive Open OER Development.
This work is being done openly with opportunities for public input at every step, it's being built on an ecosystem of open licensed educational resources already developed, and is designed in a way for institutions in many sectors, not just education, to remix to best serve their needs. We will be sharing as many things that go wrong as well as what works.
At the core a Creative Commons Master Certificate defines the general body of knowledge and skills needed to master the use of Creative Commons. Being certified will show a broad and deep understanding of all things Creative Commons and demonstrated by practices and work openly visible in the world.
Our work is using and influenced by the software development process of GitHub, where what we are building is (a) visible as we build it; (b) open to participation by anyone interested; (c ) created in a manner here it ultimately can be remixed for different organizations, cultures, and locations.
In fact the certificates are being built as "forks" of the Master Certificate, for specific sectors of individuals and organizations that have expressed interest of adding components that are more specific to their work.. The first ones being developed address the needs for showing understanding and application of Creative Commons in Higher Education, Government, and Libraries.
This presentation will provide more than a summary of the collaborative development and work team structure in the first third of the project (to be completed in September 2017); we are going to have the audience get right into the MOOD with us and contribute to the project.
In this spirit, and also to continue our exploration with GitHub as a publishing platform, our presentation site is hosted under the Creative Commons Organization on GitHub. It uses the CC-BY licensed Eventually Theme by HTML5 UP. All images used are openly licensed media.
It has been part of the project plan all along to openly share it's development, hence the reason for this blog site, and what will be an ongoing effort to share it's evolution. By November, we shall have more to show at the Open Education Conference.
We are in the MOOD for doing just that.
---
Featured Image: Duke Ellington (Public Domain Wikimedia Commons)