Yup, the branding folks at the CogDogBlog Inc are rolling out a new logo and header. This is a big move around here, and may not be popular. Mickey has been a staple of this blog since it began in 2003, and it feels a bit weird to be changing him out. Change is hard, on dogs too.
But Felix is the new dog, and deserves some spotlight. I am using the image that is a painting done by my sister, which she did based on my photograph. Remix, for the logo and the win!
My lnog lived and almost never changed icon was from a photograph of Mickey maybe in 2002
I have a pretty complete collection of the header images going back to the very start, here is the header image from the first iteration of CogDogBlog in Movable Type

Then when I was using a theme called "Headspace" after moving to WordPress (there was a narrow window of time I used old Kubrick, that files is here too).

Not a whole lot of difference, more of a size when the theme switched to Hope:
And about 3 years ago, when I moved to the current Wellite theme:

Finally as of tonight, Mickey makes room for Felix

And over the next whatever amount of time, a likely rollout of the icon in social media.
Felixification has commenced!
No word if this has any skin art implications!
I can even go back farther in time to my first domain and personal website dommy.com named after my first dog, Dominoe. She is on the cover, along with subsequent dogs that came after– MC Fudge, Skamper, Cadu, and Mickey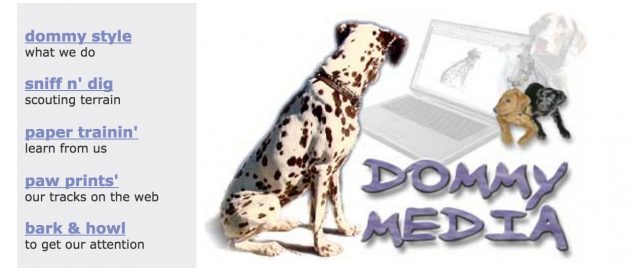 The heck with turtles all the way down, for me, it's dogs, all the way back.
---
Top / Featured Image: Collage of old and new header images for this blog, all my photos and photoshop nudging, and all licensed Creative Commons BY Attribution (trying to think who the heck would ever want this image, but that's not the point- share everything / attribution everything is out motto. Or something like that. Maybe it's "blog long and prosper"? Who writes these footer messages?