You really cannot make this stuff up, but someone out there actually does…
There are bad visualizations, and then there's the 'bicycle of education'. pic.twitter.com/seigDh715h

— Tim van der Zee (@Research_Tim) May 31, 2016
Take a look at that imagery- is that a bicycle anyone wants to ride? Is that an education anyone wants? Can you find any problems with the symbolism? Maybe not.
Me, because I just cannot get enough chasing down the internet, I want to know where the heck the image came from. The internet provides a lot of media, but more and more, no vestige of a credit, no prospect of an attribution (and yes, for anyone keeping metaphor score, that's the second time in a month I've used a James Hutton reference).,
So I start with a search in google images for "bicycle of education" (quotes to get the full phrase) and bingo, first result gets me a match in the data is ugly subreddit. Enjoy the thrashing in the comments.
187 upvotes in a data is ugly subreddit. Fame.
But the link that was posted here merely points to an image uploaded to Wikimedia Commons. Here it is once more so you can relish the infographiness of it.
This is all we know about it now, a URL https://upload.wikimedia.org/wikipedia/commons/1/12/21st_Century_Trilling.jpg
But Wikimedia Commons is unlike other places on the internet, every image there has information associated with it- if you can find the entry. But a search Wikimedia Commons on "Bicycle of Education" comes up empty.
Back up again. Look at the file name 21st_Century_Trilling.jpg – it does not identify itself as "bicycle of education" thats what the yucksters in reddit did. What does "trilling" mean in this context?
I don't know, but searching Wikimedia Commons for "21st Century Trilling" gets me more info, the Wikimedia Commons meta data for this image.
The image is licensed Creative Commons Share Alike (I like it that even bad infographics are doing well to be shared under Creative Commons). The information on the image is sparse:
But we have a name. Charles Faden uploaded this, and it is his own work. Blame Chuckie.
Let's go back to Google, and search there on the same keywords "21st Century Trilling"— BINGO!
Trilling is a name, a co-author of Charlie Faden, and their book is 21st Century Skills (featuring a glowing review by Dr Grit).
I'm not going to buy the book, but I would bet a beer that the Bicycle of Education is in it.
Who cares?
Something always emerges in these hunts. Someone else in the reddit thread suggests this as a more worthy bicycle diagram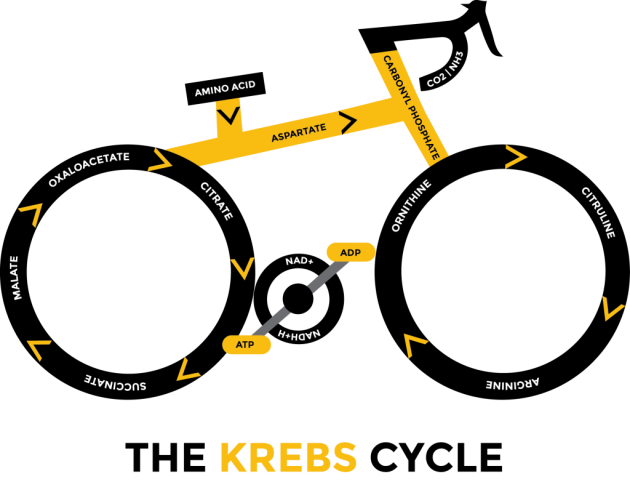 but I'll be damned if I'm going to go look for the source of that (well not tonight).
UPDATE: Feb 8, 2017 Thanks to Jamie's comments we can attribute the Krebs bicycle image to Andrew Twist (@_atwist) who created it for in The Krebs (Bi)Cycle post on the Sheffield University Deconstructing the Tour web site.
And MediaWiki Commons has a boat load of bicycle diagram images, thankfully, most of them represent bicycles.
I'd love to teach some lesson of critical thinking starting with that "bicycle of education" but instead I'm going to hop on my teacher set, click through my learning gears, and get my student wheel spinning…
---
Top / Featured Image: flickr photo by katerha https://flickr.com/photos/katerha/4894373985 shared under a Creative Commons (BY) license