One more bang on my Always Be Attributing drum. I am going to try to make a case that if you "just follow the rules" for openly licensed images CC0 / public domain images interpreted as "I don't have to attribute", you are more or less advocating for grab and go regardless of license.
And you are being stingy on a minor amount of gratitude. And I have for you a good round of Bill The Cat pffffffft.
Let's say I am writing this piece for an online magazine or maybe over on medium.com — in my searches for photos to represent this idea of being alone, I seek a silhouette image of a person on a beach. One these images is a CC0 licensed photo from Unsplash (fantastic collecting of openly photos) they other one is copyrighted and only available for purchase.
Displayed on content I claim as my own, without a link, without a caption for credit, just by looking at the context-less photo (don't be reverse image searching, ok?) can you identify which one is which? Is this one openly licensed?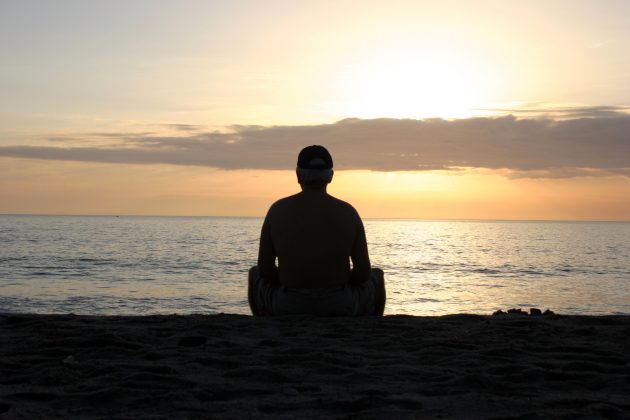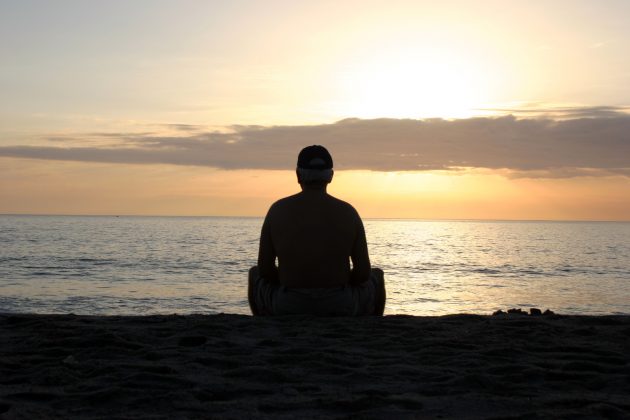 Or is it this one?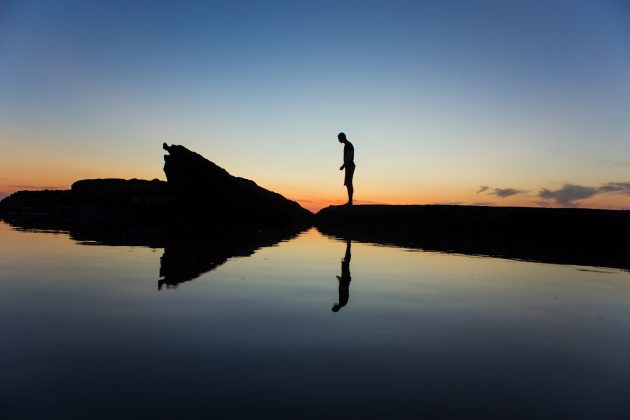 Stay with me for the answer.
When we are writing with other people's images, are you thinking about what it communicates to a reader? An image without any caption, without any credit, regardless of it's copyright status more or less says, "Hey, it's okay to use any photo you find on the internet. Why? because everyone else does it."
What if a reader says, I really like that photographer's work, where can I go to see more of what they have done? Without any indication, your use of the photo is an informational dead end. And really, how much effort and time would it take (2 minutes, 3?) to write a caption?
You should not be doing this to avoid being "sued for copyright", you should be doing it just to say thanks to some photographer who shared their work. Is that really too much to expect? Some photographers really want to earn money, but for many many many people, they just like to share. And do you have any idea what it means to someone who shares photos just for the enjoyment, to find out a stranger found the image meaningful?
How can writers be so stingy to just take and not say thanks?
I am trying to ask one.
I enjoy the writing of a guy named Dave Pell on medium. He has 97,000 followers. That's a big audience, right? Pick any of his stories, I read this one on The Smart Binge, Music, and Book Guide. It opens with a great image, unlinked, uncaptioned, uncredited in the text: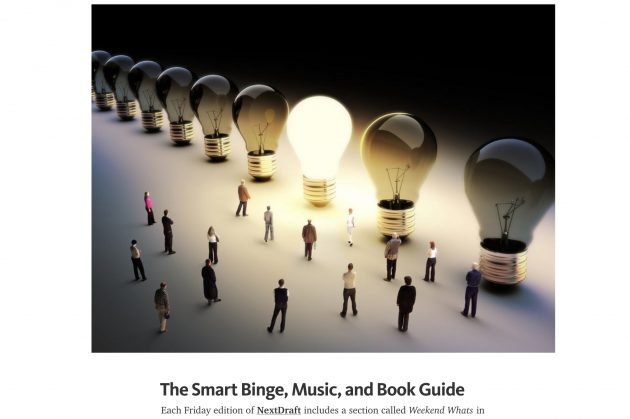 One quick reverse image search yields a lot of results; it's associated with articles on "Wisdom of the Crowd" because of the many blogs it appears on
Below the fold you can see this same image has been used on a lot of marketing and social media strategy blogs. Of all the ones I explored, none of these "experts" provided a source of the image, they just slapped it into their marketing wisdom. They re-affirm the message that everyone just pilfers images as their own.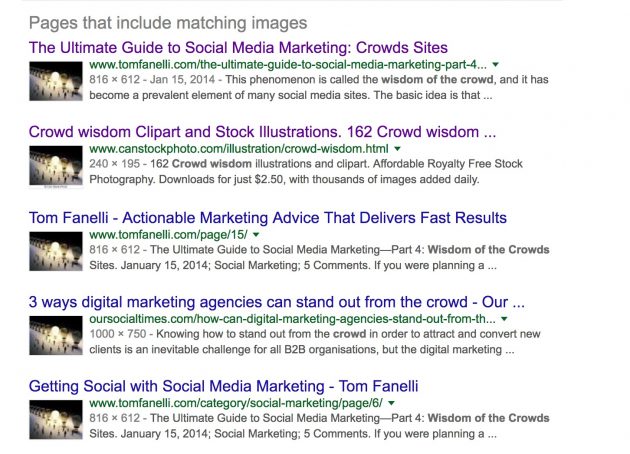 But hold the train, hoss. That second link goes to CanStockPhoto where it is not open licensed, it's copyrighted, and can be used for a few bucks.
So one person perhaps bought the image, put it on their Marketing Genius Strategy Optimist site, likely did not have credit. It goes into the Google vat, and the next person who finds it in a result, says, "great image" and grabs and goes with it.
A guy like Dave Pell.
With 97,000 potential readers who see his actions as condoning what everyone else does.
I don't want to go copyright image policing here, that's the job for CanStockPhoto.
So I think, writers want to hear from their audience? I composed a reply to Dave Pell:
I'm a big fan of NextDraft, but disappointed to not see attribution of the image used here. With 3 minutes of reverse google image searching, I find it used similarly in heaps of sites, but also that it is a stock image $.

There are vast resources for top notch open licensed images?—?UnSplash, Pexels, Pixabay, Flickr… In many years of producing content I have never failed to find an open licensed image.

Attributing media is, IMHO, less a thing of avoiding copyright slaps, and more an expression of gratitude to photographers who openly share their work. I also recommend Mediachain as a new tool for not only finding images, but getting quick cut and paste attribution statements.

When writers, publishers, with large readerships do not provide photo credits, it signals this as an okay practice for others.

Whaddya say?
He says nothing.
With such popularity, medium.com is raft with this practice of non-attribution. It's the norm there.
In a previous rant on CogDog's [Aluminum] Law of Photo Attribution I lowlighted a story published by Medium itself that opened with a powerful image: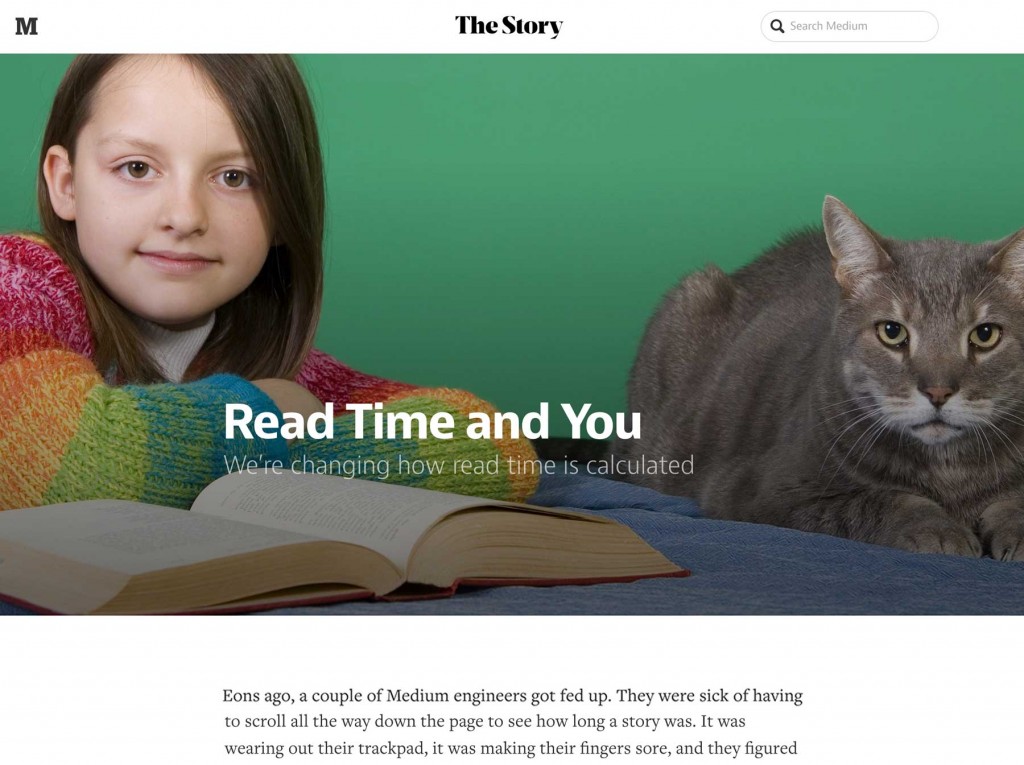 There is no credit for this image. No link. With about 5 minutes of digging I found it was a copyrighted image from someone on Shutterstock.
Maybe medium paid for the use of the image. Maybe they just lifted in from "The Google". Who knows besides the author?
Certainly not the reader.
Medium.com has a position of influence; they could easily build into their platform a requirement for image captions or attribution.
Maybe the day after hell becomes an ice rink.
But let's go back to Mr Pell; a recent medium post he authored for 97,000 followers on 2016 Predictions I Wish I Hadn't Made. It opens with a great photo, of a great story:
He even went to the trouble to write a caption, but could not be bothered to give credit for the photo. Should we assume he took it?
The photo is easy to find, here it is on an NPR story about how this father's quick reactions at a baseball game saved his son from being hit by a flying bat. It's dramatic.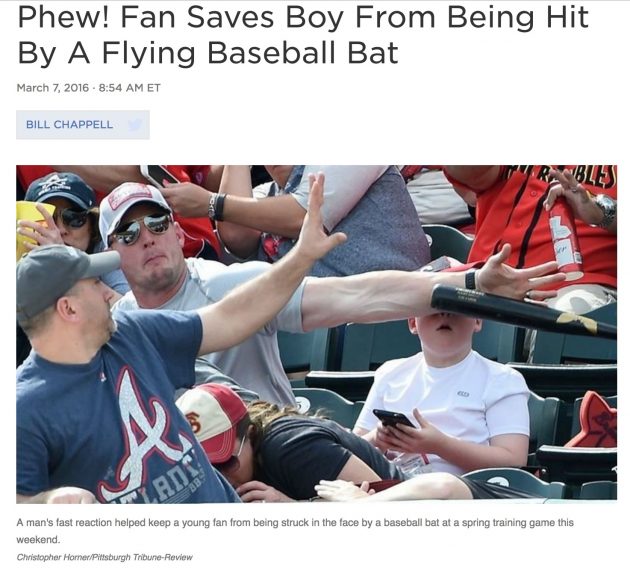 Good for NPR, they give credit! Well, there is no link, or license info. NPR gives credit for the photo to "Christopher Horner/Pittsburgh Tribune-Review" It takes another search to find a story on this, and another site that has his series of photos, credited, and we assume (because it does not say), copyrighted
The photographer actually tweeted the image, with almost 5000 retweets and 6000 likes
@BiertempfelTrib The two frames showing just how close the bat was to the boy's head. pic.twitter.com/7VwnfWp8L1

— Christopher Horner (@Hornerfoto1) March 6, 2016
so the image just floats around out there, free to google, grab and use.
Sighing heavily.
(As a sidelight, when you just look at the photos, it looks like the kid is not even paying attention with his face in a phone, but in the news interview, the father says his son was so excited to tell his family about his excitement of being at the game, he borrowed Dad's phone to take the photo and was reviewing it before clicking "send").
The conventional wisdom, reinforced by writers who do it themselves, is that everything on the internet is free to use without saying thanks, without giving credit. When people teach about using openly licensed Public Domain / CCO images, and on the sites themselves, it is always phrased as "and you can use this image, no attribution required"
This is a minimal compliance condition.
Way to go Dave Pell, and the rest of the internet. Do the minimum.
Not me. I will always give credit, regardless of the license.
It's damn lonely.
Oh.
Yes.
The first image is also from CanStockPhoto. I paid the fee to use it on my blog.
It's interesting when you go to download your image, this site provides "attribution"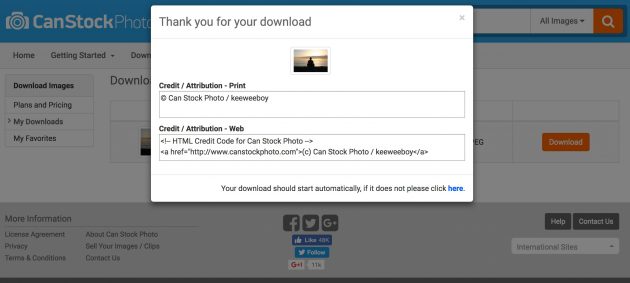 but I assume people just click past that. It's a pretty crappy attribution. The link does no good to find the image or the photographer, but I can do better
And the other one? Yes, it's from Unsplash, where they just tell you to not express gratitude.
---
Top / Featured Image: Found by searching open licensed flickr images with compfight — This one is "Solo" flickr photo by WherezJeff https://flickr.com/photos/wherezjeff/31699742611 shared under a Creative Commons (BY-NC) license