Sure one has to wear heavy rubber boots when wading through the twitter pool these days, but dodging the crud, I still find my regular supply of gold nuggets.
I cannot even remember who shared TimeLineCurator with me, but I thank them and my serendipity curiosity that made me click. From their own description:
Want to make a visual timeline, but don't have the time to draw one manually? Or maybe you have some documents, but you're not sure if the events they depict form a compelling timeline?

TimeLineCurator quickly and automatically extracts temporal references in freeform text to generate a visual timeline. You can then interactively curate the events in this timeline until you are satisfied, or quickly decide that there is no interesting temporal structure within the document. You can also create a mashup of multiple documents against each other to compare their temporal structure.
Watch the overview video:
This project from what looks like a professor, post doc, and grad student at the UBC InfoVis group does these things well:
It addresses a recognizable problem Making timelines with current tools is tedious. You have to comb sources for dates, enter in spreadsheets or data tables. This tool analyzes text data for dates.
It lives in the web Using it does not require battles with Java, installing weird plugins, or learning python. Yu can copy paste an article, but even better, it can read directly from a URL. Smart.
It connects to other tools You can generate a timeline as static thing, but because it's elegant, you can create an export file to take your timeline into TimelineJS.
It's not all automated Once it analyzes text, you, human, are able to analyze, modify, delete the points it found. Or add media.
It's an exploration tool I like that in the video they suggest using it first to explore sources to see if it contains enough data worth processing.
I did a superficial quick test to get a sense of what it does, here is my timeline of British Rock Invaders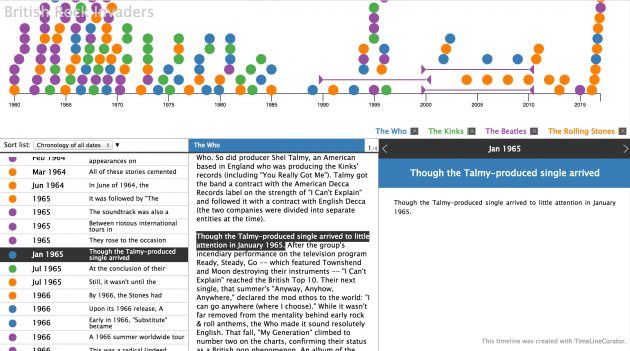 The source was the biographies of The Who, The Kinks, the Beatles, and the Rolling Stones, the information coming from All Music.
This is hardly worth smashing your amp over or firing your drummer. I only removed two extraneous dates, but you can fine tune every point, discard vague ones, update the titles, add media.
I like the idea of comparative timelines, but can see using it as well to create a single topic's timeline. Like the Berlin Wall timeline, developed from the Wikipedia entry and exported to TimelineJS.
Or this example comparing The Guardian and Wired's coverage of Net Neutrality.
I bet you can think of some great ways to use a tool that takes away the grunt work of collecting data for a timeline and makes room hopefully for the analysis and thinking about it.
---
Top / Featured Image: The searches for "time line" were too literal, so using Google Image Search (limited to open licensed image) I got more interesting photos using "time thread". The colors and tangling of this one worked in my mind.