I will make a grossly sweeping and unfairly generalized stereotype, but in my mind alot of time courses use two way video to bring in guest experts, comes across as central casting "Confident professor. Confident grey hair senior man in formalwear keeping arms crossed and looking at camera while leaning at the table and with bookshelf in the background."
Always talking in front of the bookshelves.
Mia Zamora and I are putting a twist on that with our Networked Narratives February series of Studio Visits. Rather than the experts beaming into a class, we are taking a trip to visit them, ideally in the places they work, create.
This worked out beautifully with our first visit this week, with Leonardo Flores chatting while walking around the museum building at the University of Puerto Rico Mayagüez (also with roosters calling in the background).
A perfect example was when Leo was describing his love of Twitter bots (direct link to segment); he turns to point out the sculptures on the veranda of the museum as he says:
Twitter bots are like hanging art in your twitter stream.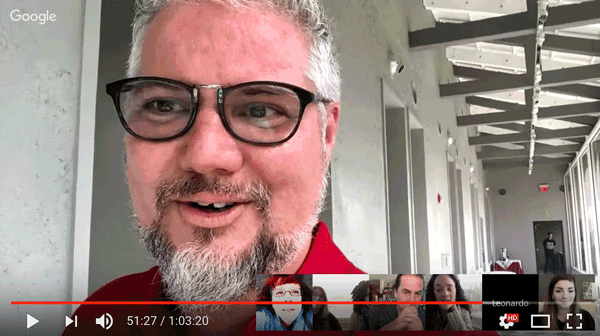 We did exchange by email a few possible discussion questions, but our goal was to keep it free form, and conversational.
Another twist was timing. Typically you would do this in class, of course, so the Expert can talk to the students. You might say we "flipped" this out of class (which meets Wednesdays 4:00pm EST) as we are scheduling the studio visits out of class, the day before.
Our graduate students have a requirement to join us for one of the live sessions, and its optional for students. I was so impressed with the questions and comments from Richonda, Katherine, and Hailey during this session, and I think it was all a first time doing a Google Hangout for all of them (one cannot tell from watching).
What we wanted to do in class was not to just watch a video but do a live, networked discussion about it. And while there was great success with the previous week's live twitter chat about alchemy, we wanted to do something different. We wanted to introduce our students to the Hypothes.is web annotation tool (though about one third of them were experienced already; Laura had tried it out that week with her own grade 6 students).
Again, a typical annotation activity is built around a published paper / article. And we could have picked from many things Leo has written or about him (like his HotBots interview), we came up with a different idea for a first Annotation Task — the very page we created for this studio visit.
We had not only the blurb as possible anchor points, and the video archive, but we added some responses to questions we asked Leo prior to our hangout, plus references to other resources he suggested. But wait, there is more!
We asked our two graduate students who participated in the hangout to tweet out links to key discussion points they identified in the video, with giving them instructions how to get a time stamped link to an exact moment inside a YouTube video (therefore slipping in a little digital technique for them they can use elsewhere).
For example:
#netnarr What do you all think about what @Leonardo_UPRM says here about bookstores? https://t.co/kMcdFd8V51

— Katherine Marzinsky (@KMarzinsky) February 1, 2017
Here is why @Leonardo_UPRM thinks memes are so important! https://t.co/lFjiylLFTU #netnarr

— Richonda (@apoeticlife) February 1, 2017
I added a little tag line above the embedded tweets to provide anchors for annotation, which as you can see were used: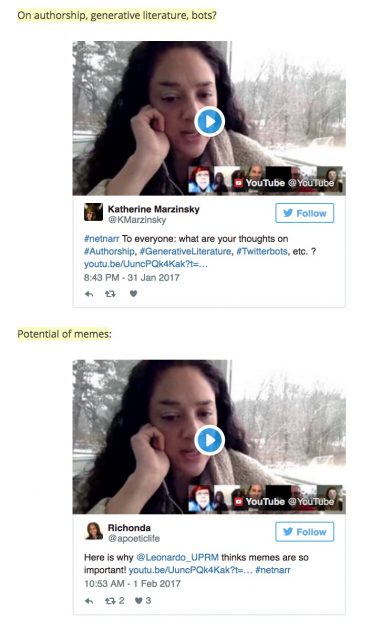 We have as now some 40 annotations, some as comments and replies, but also what I like to see in annotation– augmentation. Adding extra information, links, ideas:
I want to pass a shout out to Leonardo, who also participated in the annotation, and is so accessible to our students
This is so cool! Thank you all for the invitation and careful attention to our collective musings. #netnarr

— Leonardo Flores, PhD (@leohackeur) February 1, 2017
And as well to Sandy Brown Jensen who joined us late notice in the hangout. Her blogged reaction says a lot:
Wander to computer. Turn on, jack in, fall out of chair an hour later with flowers exploding out the top of my curly brown head.
Also sending #netnarr appreciation to open participants Kevin Hodgson for being so active in twitter and the annotation space, Terry Elliot for chiming in great questions during the video (we can barely keep up with you, Terry), Mark Wolson for adding in some extensive Hypothes.is comments.
Most appreciation to our amazing Kean University students, whose blogging might be making flowers explode out of my own head.
We have three more studio visits this month, next is Mark Marino and Rob Wittig on Netprov (you can count on them helping is do a netprov next week) and see the schedule for the rest of the tours. Each one has a link to a sign up form if you want to be in the hangout with us.
And keep digging through the resources and annotations on Leo's tour. There's a lot there.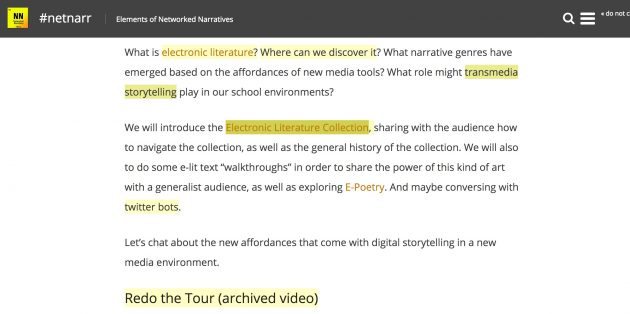 More #netnarr twists to come… we are just getting warmed up!
---
Featured Image: "Electric Twist" by Luca Florio shared under CC BY-SA (found with mediachain