OH NOES NOT DEFINITIONS!
Fear not, it's not happening. But today during the blog-star-studded-most-of-them-self-deprecating hangout on "Open Pedagogy Open Discussion #YearOfOpen" (see the resource doc too)
Mike Caulfield made an interesting comment about openness and the metaphor of "permeability" which raises my Geology sensors (Maybe 5 years of undergraduate and 6 in graduate study of might come into play)
@holden on "permeability" & raises my Geology antennae; related to not same as porosity (~openness) ?https://t.co/28aha8qIN9 #YearOfOpen

— Alan Levine (@cogdog) April 24, 2017
I think Mike credited Alec Couros, and I recall Alec saying/writing this too. It's funny because in trying to track this down (I did not spend enough time swimming it upstream, Mike) I find people writing about Alec using porosity and permeable interchangeably.
Because Mike deletes tweets, he makes me screenshot his reply:
I'm not that quick, Mike.
But it's come up before, when Sheila MacNeil blogged about her porosity and even mentioned an event called The Porous University— where the opening graphic has an illustration of permeability.
My Geology is rusty, but I'm going to try and and explain some Geology basics. Permeability and Porosity are related, but not interchangeable.
As the reflexes go[oogle] Mike will appreciate how crappy the results are: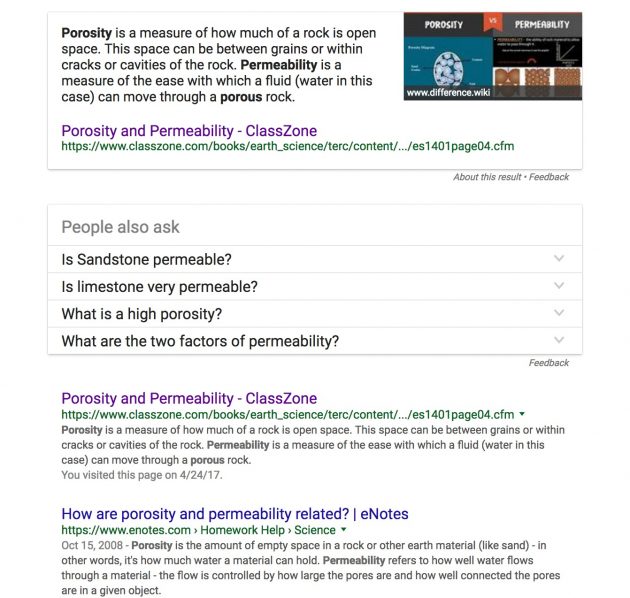 Well maybe nor so bad, the first result is rather textbooky, and in re-reading, it mostly gets it right:
Two separate characteristics of rocks control how effective they are as aquifers:

Porosity is a measure of how much of a rock is open space. This space can be between grains or within cracks or cavities of the rock.

Permeability is a measure of the ease with which a fluid (water in this case) can move through a porous rock.
This is how textbooks do it. Define it. But after reading this, can you really get to why they are or are not interchangeable?
So forget you Google. U so weak. I went into my office and pulled off what is likely my all time favorite textbook, Earth (third ed) by Frank Press and Raymond Siever, 1982
This was the textbook I bought in maybe 1982 after my first year of studies at the University of Delaware, when I realized I did not want to be a Computer Science major (yes, irony) and I decided to try a Geology course in my sophomore year.
Press and Siever was the text. I have no idea what it cost then, I am guessing maybe $45-$60? It's now only worth $25 new. Mine is worth even less on the resale market because it's full of my highlights and notes.
You see, I fell so much in love with Geology that I read and marked up the entire textbook although we were assigned maybe half of it.
I digress into story.
I open Press and Siever to the index, and find porosity listed on pages 136-137 (that kids is how we searched in the old days).
Now, before I insert the next image, I am looking at the front page and it says:
No part of this book may be reproduced by any mechanical, photographic, or electronic process, or in the form of a phonographic recording, nor may it be stored in a retrieval system, transmitted, or otherwise copied for public or private use, without permission from the author
This I will use as perhaps the most complete opposite definition of "open" as one can find. I am sorely tempted to reproduce a position as a phonographic recording; instead I am going to blatantly break the copyright laws right here because they are stupid. You can tell W.H. Freeman where to find me if you want the bounty.
This property by which solids allow fluids to pass through them is permeability. Sands are permeable; hard compacted muds and shales are not. The permeability depends largely on the amount of pore spaces between the grains or crystals ofthe rick, it's porosity… Because in some rocks the pores are all connected to give an easy path and in others the pores are disconnected and do not allow any exit, not all porous rocks are equally permeable. Clay particles in some sandstones obstruct paths of flow between many pore spaces in some sandstones and so may significantly decrease their permeability.
Sands and sandstones have a lot of open space (porosity) because the ar emade of uniformly sized rounds sand grounds. Think of stacking bowling balls, and all the space in between. Clays and shales are made of parallel layers, like pages in a book, so the amount of space (porosity) is low.
But not all sandstones are made of uniformly sized materials, if they are poorly sorted, meaning a mixture of bigger and smaller grains, the space, or porosity, is lower.
So when you say porosity it really means just the volumetric measure of open space. If you want a metaphor, maybe this is measure of "openness" in terms of 5Rs.
But when you say permeability you are talking about the ease of moving something through that space, and while the amount of space is a factor, others influence whether that can happen. Specifically that could mean if the spaces are well interconnected, like pathways, like networks? Maybe that is practice or pedagogy?
Or maybe it's just porosity and permeability.
But do me a favor, do not use these words interchangeably. I might toss a definition at you.
---
Featured Image: "Aquifère Darcy perméabilité" Wikimedia Commons image by Lamiot shared under CC BY-SA