Back in February I wrote of converting an HTML5up static template to a WordPress theme I call WP-Dimension.
This was also a first run at putting theme settings inside the WordPress Customizer.
I run the static site for my own purposes at http://cog.dog (I still love my domain), but the WordPress version comes in handy as landing page in a multisite set up. I also used it last month as a demo launcher for the SPLOT session Brian Lamb and I did at Domains 2017.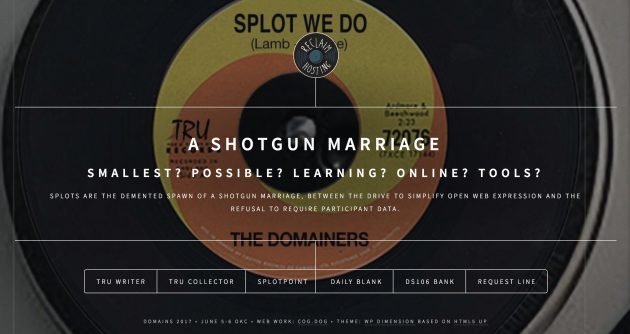 And for a yet to be announced project it will be one of a few "calling card" themes I will be using in a portfolio / Domain of Ones Own project. And for another client who wants that kind of site.
I guess you can add as much content as you want in the boxes that pop up on the main page, but I think it works better to keep those shorter and link out for more details. It struck me tonight that it would be useful for the theme to have a template for WordPress Pages in cases where you did not want so much in the front.
It took some CSS pipe banging and Chrome inspector wiggling to get a layout that works. The way the theme works is that all "posts" are what gets put on the front page, but now you can create a standard WordPress page that can be linked from one of the front page boxes:
It's simple, and just provides a bottom button to jump back to the front.
It's available for an unlimited amount of time in GitHub and any previous user of the theme can update without the sky falling on you (probably).
---
Featured Image: Pixabay photo shared into the public domain using CC0