I'm quickly drafting a unit for the Creative Commons Certification on "Legal vs Technical Openness". This is to address the difference between something that is shared according to license language but is not quite re-usable because of the file formats things are shared under. e.g. proprietary software ones, ones that may not have a long shelf life, or just ones that do not make it easy to use except as viewing as a whole.
Cough. PDF.
In writing the quest for this unit I need an example, so I reach into my past work with the New Media Consortium 2006-2011. That part of my past is long in the rear view mirror and I don't say much about it. But it fits well.
So all those Horizon Reports. They are shared under Creative Commons licenses, current ones I see are CC BY. From what I can see, and what has been all along, the format it is shared in is PDF (oh and there is some kind of iOS app).
What can you do with a PDF? You can read it! It's pretty just like the print versions. You can send it to someone else.
Can you remix it? Under a CC BY license you can, but how? Copy/pasting (and I know because I did tons of copy/pasting from PDFs) is a major PITA of weird line breaks and spurious print characters.
When I was working there I advocated and experimented with making web versions of not only the Horizon Reports but also other NMC publications. You see, HTML is an open file format that has a long shelf life (my oldest web pages still work ago back to the early 1990s).
So I did set up a WordPress multiuser site for NMC publications formerly at http://wp.nmc.org — they are no longer there, but the Wayback Machine is My True Friend. Fifteen different publications, freed from the PDF lockbox, now left in the bin.
For example, from NMC today you can get the full PDF for the 2010 Horizon Report. Look! Mobile Computing is just one year off:
It's one solid blob of info. Pretty, yes.
In the web / HTML version I made, you get each section as a referenced URL (unless your former employee nukes it)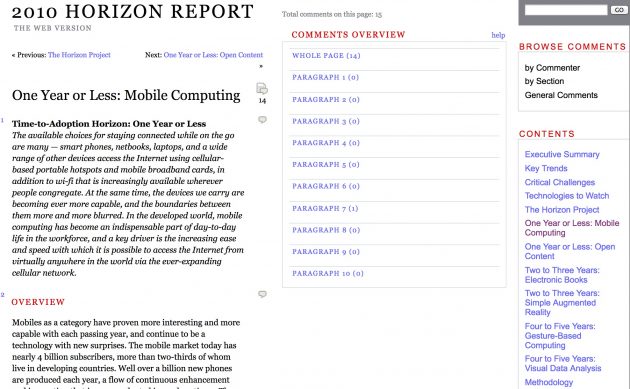 Below the fold of that screenshot you get what's not in the PDF. Hyperlinks. And, on the side? I had added the old CommentPress that allowed people to attach comments to paragraphs (old school web annotation).
It was a moderate amount of work to convert the PDF (said tedious copy/paste) to WordPress, add links, etc, but I thought it made the report that much more useful. You can easly reference parts of it (which a PDF does not allow) but also quickly copy a section of text if you decided yo re-use it (you will attribute, correct? you will?).
This has always been one of my passions in organizations, even going back to my days at the Maricopa Community Colleges, to put publications in web form as an addition to print.
So yes, the Horizon Report is shared by a Creative Commons license as a pretty PDF. This is legally open: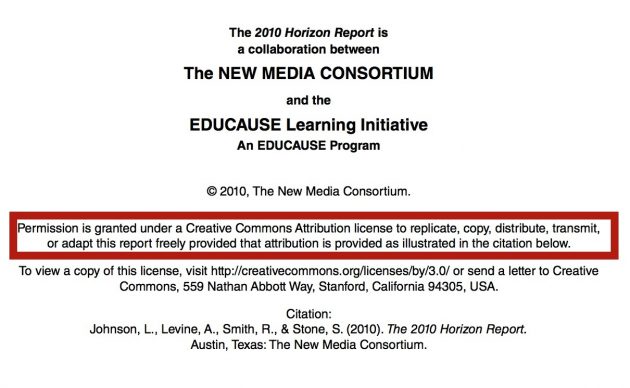 But what can you really do with a PDF besides read it? Technically, not so open.
There is nothing wrong with PDF as a format to share full publications for reading. It works great. But if you are publishing open, I think you should consider additional more open, flexible formats. It's not either/or. Especially of you have some zealot around who like turning print formats into HTML.
---
Featured Image: Open as in Not Open flickr photo by cogdogblog shared into the public domain using Creative Commons Public Domain Dedication (CC0)