I'm just back from an intense but rewarding (best combo) of helping with three days of workshops for a new project supported by eCampus Ontario.
This is the first attempt to capture some broader ideas, and is in the vein of what I tried to describe to participants as using a blog post to think out loud, not to encapsulate some grand articulate point (though if that happens, it's a nice bonus).
Bearing a project name that might launch a thousand metaphors:
Ontario Extend is a capacity-building initiative that is grounded in the belief that the impact on learning should be the primary motivator for creating technology-enabled and online learning experiences. It aims to empower educators to explore a range of emerging technologies and pedagogical practices for effective online and technology-enabled teaching and learning.

The project is led by Northern College in collaboration with eCampusOntario and the publicly funded colleges and universities in Northern Ontario. It explores the skills, knowledge, and attributes required to extend and transform our teaching and learning practices and to enrich our professional development.

The intent of these resources is to provide the basis for more deliberate course design and digital pedagogical practice.
It was easy to take on the offer "extended' (ha) by eCampus Ontario CEO David Porter (new domain), working with long time ds106 colleague and friend Giulia Forsythe (old domain) (new domain), on project managed by Valerie Lopes (new domain), who I knew back to ETMOOC days (new domain).
Yup. Domains. Of their own. In fact, during our days in Toronto we launched a big batch of new domains– meet the Domain Super Heroes.
My part was to facilitate the setting up and understanding of Domains of One's Own (my materials seem to lapse often in Domains of Our Own, same acronym). Thirty participants sent to this week's Summer Institute, three each from ten colleagues and universities, were each provided a Reclaim Hosting account, including domain registration and a hosting package paid for by the project. For five years.
Because "capacity building" to me among distributed practitioners means developing and using a network, I was happy when Valerie told me earlier that participants would be asked to create (or revive) a twitter account. I suggested and set up a "choose your own adventure game" approach for them to choose how to represent themselves (I lifted modded from the one Mia Zamora and I made for Networked Narratives).
This also led me to use one of my favorite ideas that seems to enter almost every project I do, a spawn of the DS106 Daily Create, or how we called it, the Daily Extend.
Daily Extend: #oext21 If you could time travel with your students/colleagues for a week, where and when… https://t.co/pnMWbNUxPM #oextend pic.twitter.com/Z2SG7EU31v

— OntarioExtend (@ontarioextend) August 15, 2017
I like using this for many reasons, to introduce people to new tools and resources, to have them try creative tasks they have never done before, but also in the act of doing this, they put twitter to use without making it seem like a class lesson.
This was set up and put into motion two weeks before the participants even knew about… I also see it valuable with a site like this for people to enter it and see an active dance space, not a clean empty ballroom.
The other building / developing piece was a site to include reference materials for the setting up of Domains:
You will notice that site uses the same theme as this one (and I did for Networked Narratives). I like the theme. But it also works well for what I projected needed being done. Beyond the guide for Domains of Our Own and for WordPress (incomplete), it is also a blog syndication thing using Feed WordPress, latest posts on the front page (see also the list of blogs).
There is some irony on the domain for that site —
https://extend-domains.ecampusontario.ca/ as not quite what I asked for. As it turns out there were technical reasons why I could not have a sub domain of a subdomain, nor could they install WordPress into a sub-directory. Part of our advice on domain names is to avoid hyphens, and there we go.
But to me it provides a perfect example of what often happens within institutional technology shops – there are rules and things that you live with, while if you have your own domain, you are not nearly as limited.
I had maybe an hour per day for technical workshops, rather ambitious with the goals of having participants:
There are gobs of reference guides for cpanel and WordPress, but they always feel so… referency. One gets lost in the how to details and not the "why" (I am not sure I did better, but there is more in the workshops than are in the guides).
The whole challenge here is that all of this is new "domains" of understanding and experience for people. A few in the group had done blogging of some sorts, and maybe one or two had done some domain management.
It calls for them to trust in you, to try and envision something that does not exist and they have never done before. And we need to try to energize them enough to do all of this, to take on the time commitment, before having an understanding of what it might do.
Giulia and I had the first 90 minutes of the workshop to not only introduce the idea of Domains, but also to have them brainstorm a domain name, and set up accounts with Reclaim Hosting. Some of this was driven by information from Tim Owens that .ca sometimes takes 3-6 hours to propagate, so we aimed to do this first, as there was about that amount of time for other workshops.
We started with a conversation, where we each discussed the reasons for our own domain name choice, as Giulia went with a choice that has her name in it (gforsythe.ca) and I more or less manufactured a word that did not exist (cogdogblog.com).
In our planning we realized that we took weeks to make our choice, and in this workshop we might ask people to do it 10-15 minutes. We used the "Burtesian" approach that Martha Burtis so beautifully described in her Domains 2017 keynote – that DoOO was a process of:
Naming
Building
Breaking
Knowing
Giulia led a (pen and paper) activity where we asked people to sketch venn diagrams of themselves as both educational professionals and their own interests. This group went way beyond what we thought they might do.
The idea was to get them to brainstorm maybe 5 different word combinations that would work for them as a domain name. While that simmered, we framed the idea of domains (again of which they likely had no prior understanding). We wanted to emphasize that they are not a single technology nor a solution, but a "Possibility Space"
which is, of course, still vague.
I deployed what I said at the outset might be a problematic metaphor, of a domain as a plot of land that they can, as "owners" build many structures (or gardens).
Many think (and still do) of it as single web site. Or just a blog. I also tried to make a comparison I have used tried before, of appreciating the difference we feel in relation to rooms between spending time in a hotel room (I used a photo of my room as we were mostly in the same hotel) and our own home.
We covered some of the suggestions for domain name choice:
and set them loose with a special link to Reclaim Hosting that made sure they would not be charged for the account.
I must say this went much more smoothly than I might have expected. But I was surprised as I might have guessed that most would have chosen domains based on their names, but many went metaphorical, whimsical, or discipline related. I collected their choices in a goole form, and with some gymnastics of Awesome Tables routed it to the Domain Super Heroes page
In the afternoon session we reviewed accessing the cpanel and walked through the process of setting up a Calling Card site.
It's always a challenge with hands on workshops with 30 different people, who will never go all at the same pace. You worry about the people who cannot locate their password and the people who get it so fast they get bored. Probably the biggest trip point was in accessing their cpanel via the Reclaim Hosting client page. If they log into the latter, they should always be able to access the former. But in many cases, the session code is lost, or there are just gremlins. When people get another login page for cpanel, it's confusing as it is a different username and password.
But we got through that.
Tim had given me the idea of using the cpanel Site Publisher for people to create a simple landing page. I like this as it should give people an easy early victory to publish something. If you start with WordPress, then you are lost in explaining the interface, and what pages/posts are, and then people leave thinking a domain is a wordpress site.
But the Site Publisher is not a great tool, the templates are limited, and in the end it's not what most people want on the front of their site. They right away want to have different links or images. So it was a lot of explaining that it's a place holder, a front gate, something we can return to with a better site later.
I'm not sure yet how well this worked. I'm still committed to the approach.
I also did on the first day, a presentation on finding images they can use in their domain work as well as some ideas for what I think is the best approach- take your own.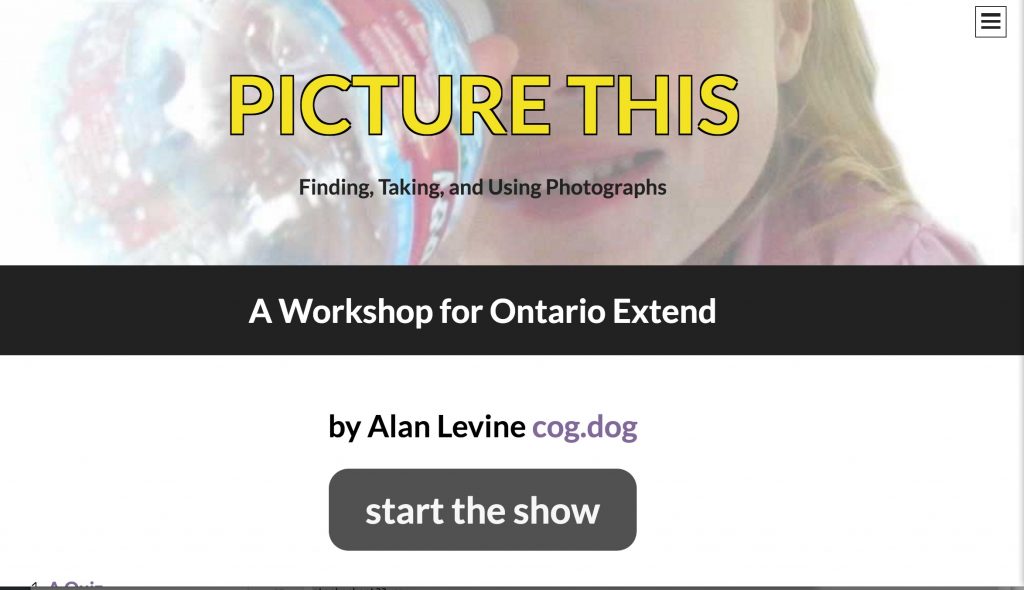 I went overboard perhaps, but in http://picturethis.extendlabs.ca/ wanted to demonstrate what one might use a domain for besides blogging, and that WordPress is more than for blogging, by using my Splotpoint theme.
On the second day, I aimed to explain what subdomains were, and hence had people creating ones they would never use, like sillybanana.domains.me (I love that one participant used that for her blog).
This is super important to comprehend the idea of a domain being more than a blog. I then had each person create a subdomain and install WordPress into that subdomain. I'm guessing we had more than 85% do that, some put wordpress at the top of their domain or somewhere in a /blog directory (I showed one how to use the Installatron tool to clone the site where it belonged, and delete the first one) (I love Installatron).
So we did not even get to using WordPress until day 3. My approach was to start with a handful of important settings, like timezone and their user display name. I spent a chunk of time suggesting changing the default category name and setting up categories in advance ("I should never see a link to something in uncategorized").
The other big ask was for people to hold off on the decorating step of picking themes, where you can easily get mired down, and to work for now on structure and the practice of blogging (another reach for a building metaphor), suggesting for everyone to start with the default Twentyseventeen theme.
I said many times, "We will be blogging soon!".
I wanted them to set up blog categories that match the Six Attribute the Extend modules are built around – one reason to demonstrate about hierarchies for categories, but also, when we begin syndicating posts to the main site, how everyone using the same categories we can group posts together.
Then it was into the post interface, my plea for Non Dull Titles, adding featured images, using categories and tags, uploading media, embedding youtube, tweets, etc into a post.
Totally breakneck speed. We were fueled by coffee and bacon. But we saw the blog posts emerge. Maybe my most proud was one teacher who showed her concern in the name of her blog as Technophobeprof — but she successfully created a subdomain, installed WordPress, and wrote in her first post:
I started the workshop with Ontario Extend with no idea what to expect. I will be teaching an online course, having had no training or experience whatsoever in online teaching. I have a fair bit of trepidation around that and was hoping for information on how to do it.

That hope was not met, but if there is only one positive takeaway from this workshop, it is that I have made connections that will help me. Further, I have come away with ideas for helping other teachers feeling angst over teaching in an online environment.
This, to me, is a smashing success.
We had some people that maybe sat in the back and did other stuff but there were also people charing ahead. You nearly always have both.
I am overly impressed with our "Extenders" and anticipate many of them taking this on:
The Ontario Extenders! #oextend pic.twitter.com/wcW7sq7zQq

— OntarioExtend (@ontarioextend) August 16, 2017
I want also to thank again David and Valerie for bringing me on to the project and giving me my typo-prone latitude to put up these sites, and also a big thanks to Giulia for planning our parts, and Joanne, Peggy, Lena from eCampus Ontario for being a great team.
Doing Domains work is not easy as it's not just doing one system but many, but when you see people take off with it, as we are already seeing, there's your reward.
And I'm looking forward to some possible ongoing support work with the Extendets.
---
Featured Image: After talking to the "Extenders" about visual metaphors, I dove into this search even more than usual. My open licensed search was on "reaching" and "reach out" — one Wikimedia image of branches reaching to water led me to look at my own. It's hard to top a more metaphoric location, a sense of possibility, immense space, and awe, than the Grand Canyon. Reach for the Sky flickr photo by cogdogblog shared under a Creative Commons (BY) license