My calendar reminders were set; it was my memory that somehow put August 27 into tomorrow. My sister's text message corrected the off by one error.
Today marks the same calendar date that my Dad passed away, 16 years ago, and my mom went, ten years later. If you take a mathematical approach (and stop quibbling over leap years), the odds of this are 1/365. I'm not sure if that means anything.
I might say my parents were efficient, saving me and my sisters from having two days a year to mourn / note their loss. I'm not sure if that means anything, either.
Thinking of them led me into pulling out the old boxes of photos, looking for ones I have not used before. I found a few in some folders on a CD I made for them on their 50th anniversary in 2000:
I know I have some photos from their party, the t-shirts they made, but I can't find them.
The CD-ROM (remember those) was built in Macromedia Director so it's only viewable on an old computer, but I could browse the directory of external media.
I decided to re-edit an animated GIF I did in 2014, adding some of the new/old photos. It's more my memory of them, as it's photos from 1970-1999. Whatever happened between 1950 and 1970 I lack media. I made some guesses on the dates, there is no fact checking my memories (until my sisters pipe in).
But that's just digital stuff.
While walking this morning in the forest, I found some wildflowers, penstemon. The ground was loose, and I managed to pull four of them I can try and use in my garden.
For my Dad's memory, I though about the five Forsythia bushes I planted in the Spring, just outside my bottom fence. Dad spent a lot of time trimming and nurturing the hedge of these bushes in our back yard back in suburban Baltimore, which burst into a grand display of yellow in the spring.
I've notice them growing at houses near me where I live now in north central Arizona, and decided to try my hand at getting them to grow. For dad, for me. The place I planted them had terrible soil, I did what I could and built up the area around them to catch water better. I was pleased to see them not only survive the hot summer, but to show shoots of new growth.
Four of them are thriving, number five? Oh sorry Dad, I am trying…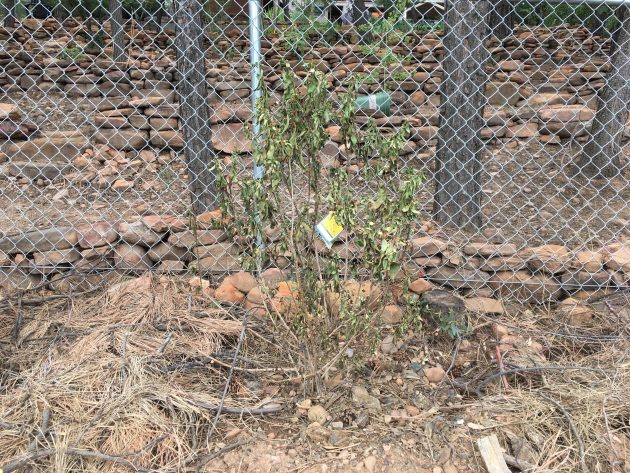 But I am eager to help them get through the season, and spot some yellow flowers in March or April. That is an ongoing memory of you Dad, I think of you a lot when I am puttering around in my yard, just as you did.
I wondered what the odds were today that I would see and be able to photograph a butterfly in my Mom's memory. That was when, on today's walk that better than hoping to get lucky and see a butterfly, that I would build one. Out of rocks.
I just cleared and expanded the space around my rose bush, and could envision a butterfly shaped garden there, made from rocks. I tried to use as much light colored sandstone as I could scavenge from around the yard, ending up with this: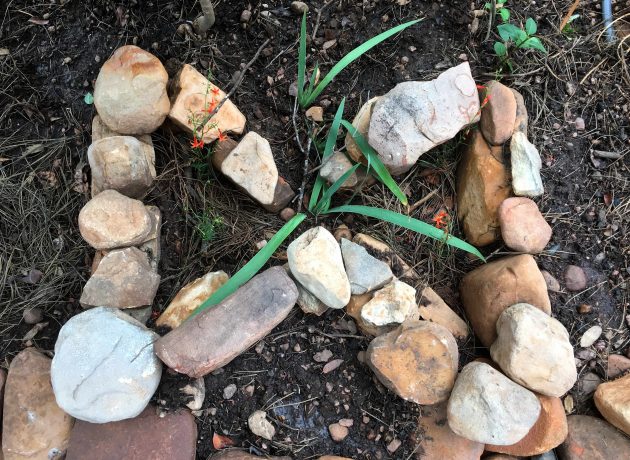 Perhaps it is more bowtie than butterfly, eh? I put the penstemon picked in the "wings" and up the center, where the body would be, I moved three iris bulbs. This is fitting since Mom grew irises in the back yard.
That's how the middle of the day was spent, digging some in the ground, and digging more in the memory ground.
While it sound cliché don't take your parents for granted. Call, text, write them. Just say hi. I sure wish I could.