Meet the four newest MA Thesis Writing Studies graduates from Kean University. They are indeed fab, and I'm proud of their accomplishments.
How I, an ed-tech WordPress bending media playing geek with an MS in Geology came to be running a thesis seminar in New Jersey from home on Arizona, is a long story. It goes back to co-teaching the Network Narratives course last year with Mia Zamora. When she was awarded a Fulbright Fellowship in Norway, four of the graduate students in the class that Mia had cultivated were willing to work with me as a thesis advisor, knowing I'd be geographically remote.
The concept co-developed with Mia was a Research Networked Seminar, where we aimed to overlap last semester our two Masters research classes and also work with all the students to encourage their use of networked tools and practices. This is what Mia and I presented in April 2018 at the OER18 conference in Bristol:
But enough of us, it's time to highlight the Fab Four of Hailey, Richonda, Marissa, and Laura.
First of all, you can find the short paper versions of their theses published in the Arganee Journal (yes that's a SPLOT). For their final theses, they had options to publish as a traditional paper (PDF), or within a web site, or a combination of both. This is summarized in their final thesis blog posts.
A bit about each of the Four.
Hailey: Into the Mind of a Poet
Hailey's thesis On Making A Poet: Exploring Writerly Identity By Reimagining Ginsberg's Prophetic Experience focused on what she identified as a pivotal week in the creative work of beat poet Allen Ginsberg. Combining both intensive research into this moment and her own creative interpretation via original poetry and electronic literature, Hailey framed her work around one week in his life.
For my thesis, I want to explore that concentrated period of time during the summer of 1948 in Harlem, and map out the transformation of Ginsberg's own writerly identity once he had his Blakeian vision. Before Blake spoke to him, I argue that Ginsberg was at a low point in his life, emotionally and poetically; after, though, Ginsberg then thought of himself as a prophet, and proceeded on a poetic and writerly binge regarding his visions and how he saw himself and world around him. As a writer myself, I find that change absolutely fascinating. I believe all artists experience constant imposter syndrome, as well as a lot of self-doubt when it comes to their work— the need for validation is crucial for a lot of artists, but even then, when do you get to call yourself, truly, an "artist?"

Thus, I will explore the mindset behind Ginsberg's transformation, and humanize the change by mapping out a distinct week in Allen's life; during the week, I aim to illustrate events, both real and fictional, through both my poetry and the multimodality of electronic literature. The piece aims to be interactive, informative, and a poetic homage to the crisis of writerly identity and to Allen Ginsberg himself. Ultimately, I want the poetry to capture the interest of the reader, and immerse them in a world that chronicles the real and cosmic journey Ginsberg follows on his search and realization when it comes to what it means to be a writer.
Hailey wanted to create her work as an interactive web site, and fortunately ignored my disdain for Wix, as the site she created has things that would have been challenging in my favorite platform: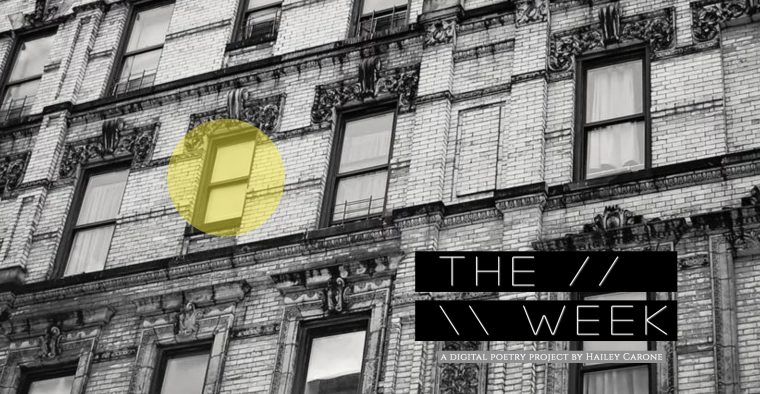 It's highly exploratory, with hidden links that lead to more poetry or often music. She did a magnificent job in creating a space to imagine the events, environment surrounding Ginsberg in his apartment for one week in 1948.
I'm also pleased to see that Hailey made use of all public domain licensed images for her project.
Explore The Week (the project), the short paper published in the Arganee Journal, the full thesis (PDF), and her thesis blog.
Richonda: Autoethnography of Race, Identity, and Self in The Poetry Creation Process
Richonda's thesis Breaking the Manacles: Finding, Claiming, and Shaping Self examines the complex influences on her own creative process, in both reflecting on past poetry created for an earlier project called Breaking the Manacles and new poetry created this year.
Her work is more about the making of poetry, much much more. Richonda has always been deeply passionate about her own identity and culture as an African American woman:
This paper attempts to explore the ways in which digital and new media tools can affect one's own creative process, as well as discuss the construction of voice and identity in relation to the creative process. With an emphasized concept of boundedness, this open resource can potentially assist in an understanding of how to maneuver feelings of boundedness situated around writing.

How much does racially and socially constructed identity affect one's process? How does one find/claim voice in an oppressive social context? These are the kinds of questions that I was interested in. Further, with tremendous support of open networked environments, digital and new media tools become important; while new media tools have significantly impacted how digital content is curated and published, there is still uncertainty in how it affects creative process. The digital poetry project accompanying this paper extends the life of the author's creative work in hopes to establish community and inspire other writers to know that their voice matters.
I made my pitches for them all to consider publishing under their own domain (and did not pitch strongly enough), but Richonda did create her work as a domain hosted at Wix (again, like Hailey, what Richonda created there is something that would have taken crazy gymnastics in WordPress).
While writing a full paper as a thesis, Richonda really blew me away with the creative digital representations of her poetry, you get there via the BTM link on her site, where you see her own string message:
No one in the world can provide what is uniquely yours to give.
I don't want to take much away from the experience of exploring Richonda's gallery of fifteen creative works, many with interactive parts to reveal the poetry and embedded audio to set the scene.
In Semi-Sweet Richonda slices into the metaphor of brown skin and what it means to be serving brown food. Under the sweet, it's angry, strong, and powerful, just like the author.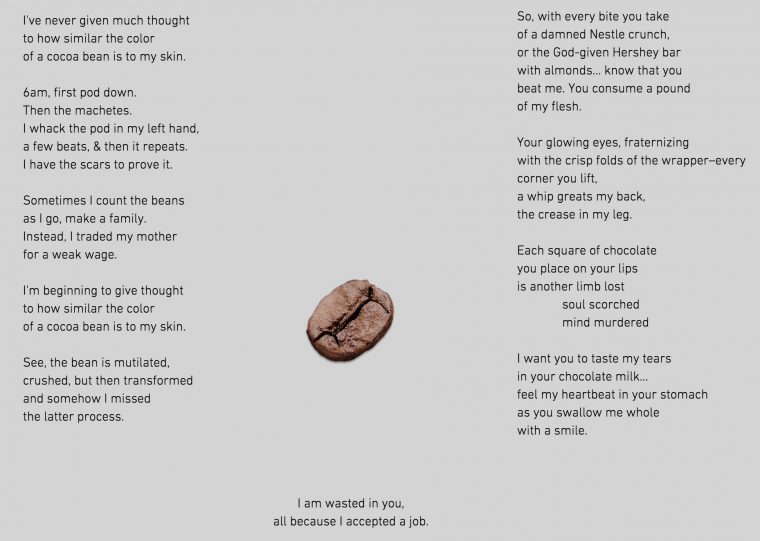 I also smile at Maximus as I remember our phone call where Richonda told the story behind the encounter with a talkative stranger over tea at Starbucks.
What you will find in Richonda's thesis, after a thorough discussion of the method of autoethnopgrahy is as if you flipped her poems over and could see, hear her unpack the writing, building, influences of each.
Explore Breaking The Manacles electronic poetry Richonda published on https://www.richondafegins.com, the short paper published in the Arganee Journal, the full thesis (PDF), and her thesis blog (maybe one of the best chosen blog URLs a student has done).
Marissa: Free Will Over Technology, Seeking Sin Over Utopia Demonstrated in Young Adult Novels
Marissa's thesis I Want Sin: Finding Personhood Amidst Technology In Young Adult Dystopian Literature takes a deep dive into the spectrum of transhumanism and posthumanism exemplified in young adult literature as demonstrating that the ideals offered for better worlds nearly always end up turning against the very things that make humans unique.
I love her title woven from the opening quote borrowed from Brave New World: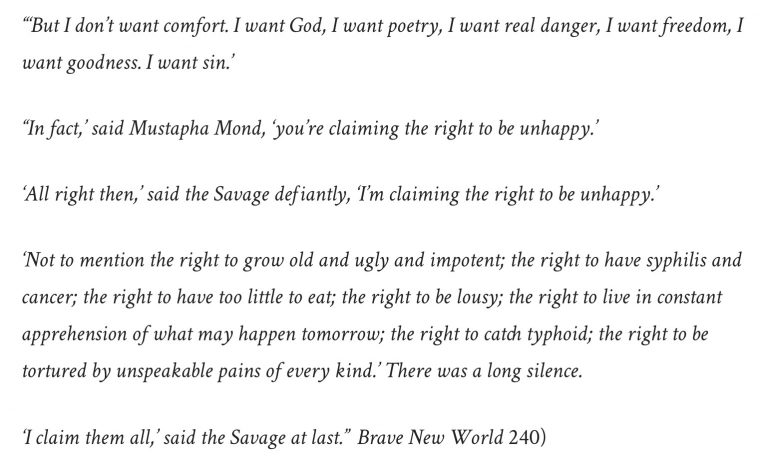 Marissa made a heroic turn in her these after the first two months of struggling with an approach of digital humanities that just dod not click, but once she focused on her own interests, her research and writing flowed.
Her idea to look at young adult dystopian literature rests on the idea that the introduction of tehological advances are often done in the name of making lives of the next generation better:
This paper focuses on young adult literature because the teenage demographic lends an interesting perspective to the discussion of technological control in dystopian society. This is because the goal of a new world order is generally formed in reaction to past experience. Usually, responsibility falls to the next generation to be better than, and learn from the mistakes of, past generations, but an overarching theme in the selected works examined in this paper is technological control which strips youth of self choice.
The four novels Marissa examined in light of the transhumanism – posthumanism spectrum she outlines all include a strong element of human control, but she looks at four themes:
The discussion of the Uglies series addresses the issue of technological puppetry, implemented with the desire of avoiding past mistakes. Further, Feed addresses the manipulative nature of consumerism and the stoking of greed and ignorance in order to create a dependant society. The Adoration of Jenna Fox, discusses the spiritual implications of a posthuman existence. Finally, Extras, the fourth book in the Uglies series, fosters a discussion on free will and the freedom to make mistakes.
While her work covers a lot of technology terrain, Marissa opted to write her thesis as a single unified paper, which is more than fine.
You can read Marissa's thesis in the short paper published in the Arganee Journal as well as the the full thesis, as well as her thesis blog.
Laura: The Life Thereafter of Families of 9/11 Victims
Laura's thesis Conversations With My Father explores the extrapolation of a lost loved one's memory in a way of carrying their life forward but staying true to who they were.
Her work is deeply personal and moving. We remember well her initial list of possible thesis topics, the first ones were all very doable and practical, but it was the last one, the one she bravely chose that took on her loss of her father in the 9/11 tragedy.
"Conversations With My Father" is a creative writing endeavor based on this idea. It explores the ways in which the extrapolated memory of loved ones can impact the construction of meaning, the development of truth, and the understanding of one's self. This project also provides insight into the grieving process after a traumatic event by chronicling the complicated and emotional plight of a 9/11 victim's family member. Centered around a series of fictional conversations with my father who passed away in the World Trade Center on September 11, 2001, these interactions unfold via various modes of communication (handwritten letters, emails, text messages, etc.) over time. A double-sided book format allows one version of the narrative ("Conversations With My Father") to unfold in reverse chronological order, beginning with my imagined death in the future and ending on 9/11. The alternate reading, entitled "Conversations With My Daughter," offers a slightly different perspective, beginning on 9/11 and ending in the future with my mother's (imagined) death. The genre-blending narrative intentionally blurs the line between fiction and reality by incorporating these imagined exchanges with real (personal) artifacts related to the events surrounding 9/11. Collectively referred to simply as "Conversations With My Father," these renderings provide insight into the ways the mind reconstructs the past and, perhaps, how it influences one's present and future self. It also adds to the ongoing discussion surrounding the implications of the events of 9/11.
It was a joy to be part of the evolution of the project, as we bounced ideas over the telephone. Initially the plan was to extrapolate the conversations forward from September 11, 2001 imagining how they would have changed as communications platforms moved from letter to email to text messaging to smart phones. Laura did this, but not as a central point of her story.
We also brainstormed the possibility of multiple pathed narratives, which in the end is what she produced, of one story from September 11, 2001 onward and the other going back in time so it ends at that event. Again, Laura came up with the idea of not ending in the present but the far future, at her own passing.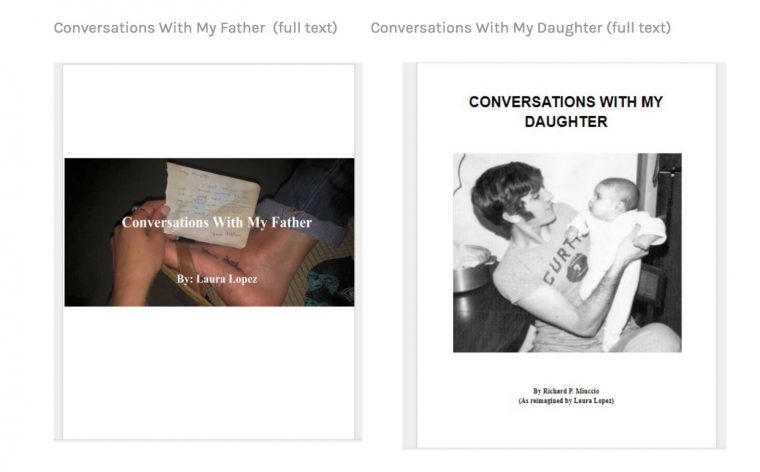 Conversations with my Father (PDF) is the one from Laura's perspective, starting in the far future and going back in time to 9/11, while Conversations with my Daughter (PDF) is imagined as authored by her father, Richard, starting with 9/11 going forward– the middle parts of each work as the same, just sequenced differently.
There is si much that is impressive with Laura's work, from the amount of original material she had kept of her experienced, but also the ends to which she went to imagine her father's voice, even recreating his hand writing from th letters he sent home during the Vietnam War.
Like the events of 9/11, my project straddles the lines between the real and imagined by leaving unanswered questions for the reader. "Real" letters, poems, photographs and other 9/11-related artifacts are intertwined with fictional dialogue between me and my father (see Appendix A).

These exchanges occur via both handwritten and typed letters, emails, and text messages. The handwritten letters from me to my father were written on lined loose leaf paper (inserted as images in the final product) and the letters from my father to me were exclusively written on plain white paper (also inserted as images (see Appendices B and C). To represent the email and text message exchanges I utilized simple tools readily available on google docs, such as the "insert table" feature (See Appendices D and E). They were crafted with the intention of both remembering the events of my personal experience (pre and post 9/11) and re-imagining my father as he was and as he might be today.

As an added layer of inquiry, I have created communication with my father that passes the present day and spans years into the future in an attempt to capture how my thoughts and ideas might further evolve alongside the thoughts and ideas of the world around me. All communication dated sometime in the future is highlighted with a black background and uses white lettering (see Appendix F).

This stylistic decision was made both to signal this shift in time as well as to suggest the use of a futuristic communication platform not yet known. Lastly, the work employs a double-sided book format which allows for experimentation with the unfolding of the narrative.
It was an honor to get to know Laura and her family through this journey (and more through our brainstorm phone calls).
Explore Conversations With My Father the thesis site Laura created, the short paper published in the Arganee Journal, the full thesis (PDF) and her thesis blog (another well best chosen blog URLs).
But Wait, there Are Three More!
I also got to work with three more MA Thesis students this semester in their first half of their journey– Hope, Katherine, and Stephanie. You can find their preliminary work again in the Arganee Journal's State of the Thesis papers. I look forward to watching how their theses evolve in Fall 2018 as their complete their work when Mia Zamora returns to Kean.
Wish I Was There
I had this full plan to be present on May 3 when the Fab Four presented their projects for the annual Spring Symposium at Kean, but the problems with my eyes forced me to change my plans and miss the event.
As a poor substitute for being there in person, I recorded a video for the Fab Four:
I got a nice Skype call from them afterwards, of course with full understanding and care. But the best gift was their own video reply:
I could not be more proud of the achievements of all four and how much I enjoyed being part of their journey. And while my effort was to bring in the technological tools and networking to their seminar, the best experience was the conversations we had by Plain Old Telephone Calls.
This has been one of the most rewarding things I have been part of, thank you Fab Four. And keep me posted with What Comes Next!
---
Featured Image: Screenshot of A ResNetSem Thank You! YouTube video by Hailey, superimposed with ResNetSem Logo based on @NounProject global network icon designed by Karthik Srinivas licensed under a Creative Commons CC BY Attribution license