The practice of archiving or reclaiming the "stuff" one does on the web is mostly framed on the preservation of our stuff, after sharing it into some site one does not own nor manage, chosen because it was easiest.
Easy has a price.
We saw that in a short time span earlier this year when Storify bit the dust and weeks later, Wikispaces did the same. Yet the typical response is finding another third party provider.
The thing that Occam shaved with suggested the simplest is better, not the most convenient.
To archive something to make sure it's never lost, is important, but I have a different angle on shaving with your own Occam brand razor. Developing a process of managing all the stuff you create before it goes into the cloud, is not only about saving it from destruction, but more so, to make it as useful to yourself as possible.
The cloud should never be the primary place to store / manage what you create; it should always be the exhaust.
Doing 500 at a batch, this would take me only 122 downloads.

Fortunately I do not have to worry, because I organize my photos *before* sending to flickr.

The cloud should be the exhaust of your content, not the primary storage. https://t.co/AkfCGCOsQO

— Alan Levine (@cogdog) April 30, 2018
My thinking here is informed of a process / strategy I have been using for managing my photos since honing it in 2009. I edit, organize, title, write captions, tag all my photos on my computer at home, using a photo management tool to organize them, store them on local hard drives (multiple copies, stored in different locations). The cloud is where things go after that.
I maintain all my photo data in a copy of Aperture I run on my computer, with source files stored on external drives (and synced to copies). When I edit my photos in Aperture, I also write the titles, descriptions, add tags, dates, locations, even add a license statement into the image metadata… so my definitive archive is one I manage, not flickr. When I export to flickr, the FlickrExport for Aperture transfers all the data to flickr, and even writes back to Aperture the URL to the flickr page it created (read more details on my Aperture strategy).
There's an organizational scheme I learned in a photo workshop with Bill Frakes and Don Henderson. In Aperture, and how the photos are stored in my drives is a high level directory structure:
Within each folder, I have projects or folders organized by year, and within those by separate events, e.g.
Home
Work
Travel

2018
2017

05 Kean U New Jersey
05 Moose Jaw, Sasketchewan
06 Domains Conf OK City
06 ASCUE Conf Myrtle Beach
07 Canada Road Trip
10 DML Conf LA
11 Fellowship, Melbourne Australia

2016
2015

Misc
Even if I have to look for photos on my hard drive, this gives me some sense of where I will find them. There are many different ways people create an organizing structure, this is one that made sense to me over time.
I currently have 61,580 photos shared into flickr, putting them there since 2004. And yes, every year it seems there is panic that flickr will fold. But I don't have to worry about downloading or exporting my photos because I already have them.
I was thinking about this a few clicks ago, reading Aaron Davis' Managing Content Through Canonical Links. His post was spawned from a twitter conversation with the visual art prolific Amy Burvall.
https://twitter.com/mrkrndvs/status/973878046607400961
Argh. Yeah that is the bane of my existence. All are on Instagram from past 2-3 years but that's unsearchable unless I've added a unique tag. If you have any suggestions I'd love them. We're yiu looking for a particular one I could send?

— ?????????? (@amyburvall) March 14, 2018
In a conversation on Twitter discussing the archiving images and canonical URLs, Amy Burvall explained that much of her work was simply stored on Instagram, which can be problematic.
And it's understandable why Amy shares into Instagram – she travels a lot and can share and post things from her mobile. It's quick and takes very little effort.
Friends like Bryan Alexander are fans of the way Google automatically uploads and organizes, even identifies your photos. It's interesting, but then you have chosen to make their cloud your primary source. I'm not a fan of that.
But, as Amy notes, she knows it's a problem. As place where photos are stored, she has 12,745 stored in Instagram, it's virtually impossible to find your own photos that are older than the recent 15 or so. Doesn't it seem strange that the most basic information retrieval function, search, that powers maybe the biggest entity on the internet is completely absent in Instagram?
Once you find yourself endless scrolling to find your own photos, that quick to post convenience factor evaporates.
We can hypothesize that they don't offer this because they want you scrolling past ads, not leaving the platform. Or that they decided not to offer search because it's computationally intensive? And don't think a clever google search will help.

All you will get is her stream. Instagram blocks google from indexing anywhere beyond the front of someone's profile.
So you might try to use tags, but you still end up scrolling through your own things.
Flickr, on the other hand, as old and crippled and antiquated as people make it out to be, offers me full keyword search of my own photos.
It's not a case of "flickr being better" — I am a regular user of Instagram. Amy's process is something like:
Take photo on mobile phone.
Post from mobile app to Instagram. Add tags.
Her original photos I can guess are stored on her iPhone. And we know how easy it is to find photos stored on an iPhone. Scroll. Scroll. Scroll. Scroll. Scroll. Scroll. Scroll.
My process is:
Take photos on mobile phone or DSLR.
Edit in Aperture (Lightroom is the more modern tool) add captions, tags, etc.
Post to flickr.
Post to Instagram.
My original photos are stored on my own hard drives, and organized in Aperture. I can search for them in flickr or in Aperture.
Now many people may not even care nor need to find their older photos. Mine is not the only way to use social media. Friends have told me of teens who regularly delete all but their most recent 20 photos. There is nothing wrong with using social media as a place for things that are disposable.
But my media, and not just my photos, are the thing much of my work is built on. I use a similar organizing structure for my clients, my presentations, my video projects- organize by year, inside there organize by project. Inside there I typically create directories for images, audio, video. I keep all source media I have downloaded, and floating in the top is a text file named credits.txt that includes the name, URL, and license for anything I have downloaded.
Maybe I am not always that neatly organized, but I keep track of all the things I download and use in a project, here is a screenshot of a folder for a presentation last year.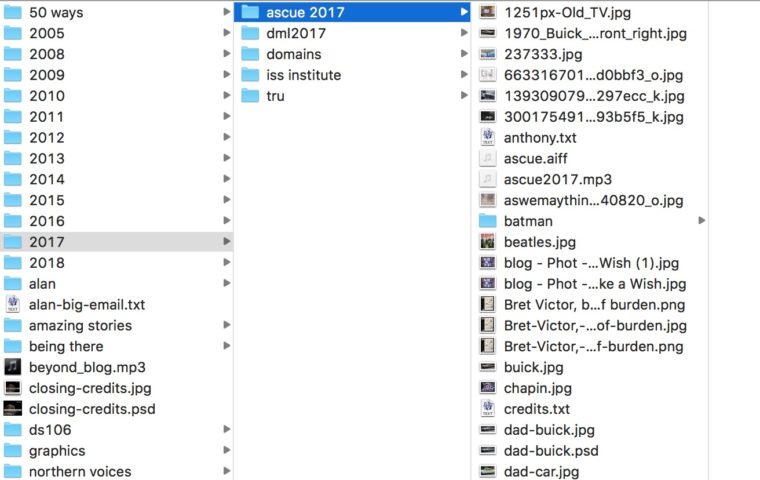 Random files sitting on the desktop or in a downloads folder serve no purpose later. But If I remember creating that GIF of the Jetsons for the talk in South Carolina, I can usually find my way into the media folder.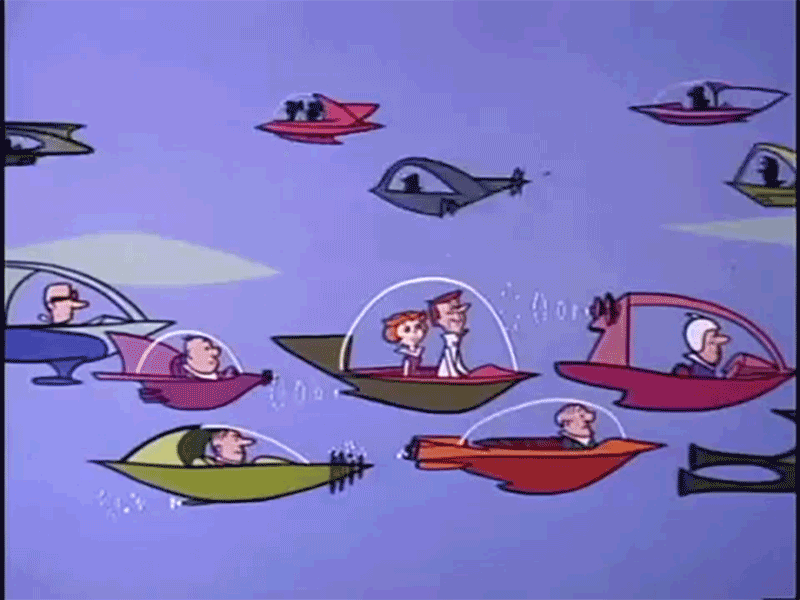 Oh here it is, along with the source media, the Photoshop file I made the GIF from. It's like a project within a project.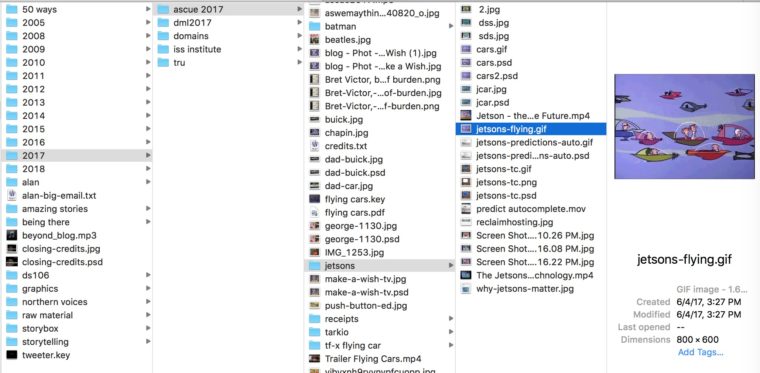 My system is far from perfect, and I do lose things have places where stuff is strewn about. And it takes more time to organize your media locally than just shooting it into the cloud. But it has paid off more than enough times since I started a system. For anything I make, a web site, a video on YouTube, and audio on SoundCloud, there is a folder of media and sources somewhere on my computer.
There is some inertia to get started. If you have 12000 unorganized photos, maybe just leave them there and start anew. I have a huge box of CDs of digital photos I took before I began organizing in 2009. It's my own running joke that "one day I will import those photos and organize them."
If you organize first at home, you never really have to "reclaim" your stuff because you already have it. And I often think of stuff as being "co-claimed" where it really is not important for me to have it all self hosted.
Aaron Davis, Greg McVerry, Chris (not Clark ;-) Aldrich and others have been working hard at IndieWeb ideas of POSSE (Publish Own Site Syndicate Elsewhere) via microblogs and web mentions, where they publish everything on their own site and push publish to twitter, etc. It's interesting stuff and harkens back to the day when some of us thought trackbacks were love.
But that's the publishing flow. I'm advocating even before getting to that part, that, if they stuff you make and create has potential future value to you, to figure out your own strategy for organizing / archiving at home. All the sharing should be exhaust (not exhausting).
You've gone to some trouble to create stuff, then to share it– it seems worth it to make it useful to yourself in the future.
How do you organize your stuff?
---
Featured Image: Pixabay image by LouAnnClark shared into the public domain using Creative Commons CC0. I'm all for organizing spices, although A-Z is a bit over the top for me.