A lot of things in my life have played out in this blog, in flickr photos, in tweets. But that's not everything. Not by far.
A wonderful new part of my life, a long vet that has been in development offline a long while, came on a month ago, when I stood on a cottage porch at sunset in Eastend, Saskatchewan, and joined lives with Cori.
How else to say it to the world?
https://twitter.com/corisaas/status/1002750772663201792
After some back and forth of whether to do this, 2 days prior, with the help of Cori's daughter Jessy Lee, we decided to hashtag it #alanandcori. Thanks for the big flood of responses.
#alanandcoriA few photos have found their way to flickr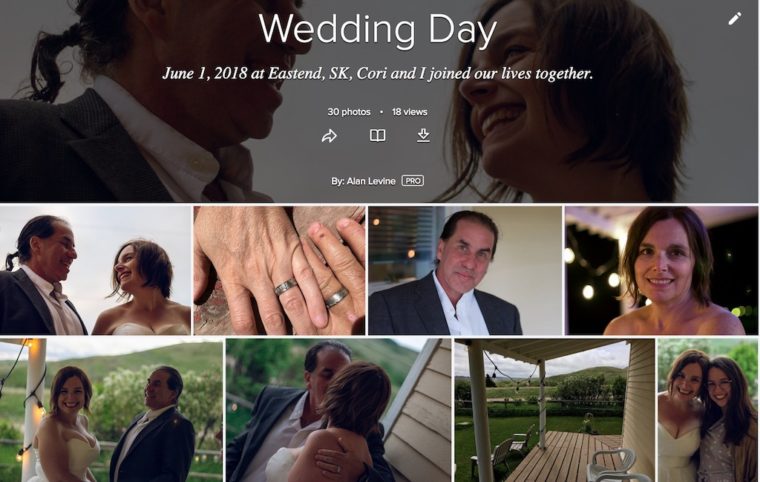 Among many special things that went into the mix, after some indecision on picking rings, was working with a designer Allyson Simmie on a design of our own making, that represents the terrains we both came together from, the Mogollon Rim of Arizona meeting the prairies of Sasketchewan
There was a great back and forth by email with sketches by Allyson and our suggestions sent back via my Photoshopping:
In early May I packed up Red Dog and drove to Canada to live with Cori, we got married, moved to a new place, all in the busiest month of her teaching year.
And in my old age, took way to long to get a blog post out.
In fact, our first month anniversary seemed to be a national celebration with fireworks
And thus it is blogged. And now it is lived with the one I share a universe with, a universe of two that can exist on a patio, on a fence line, on a beach walk. I love you so, Cori.
---
Featured Image: