In its impeccable reminding, my calendar does not have to worry end up being the butt of You Had One Job. Yesterday, was the reminder that it would have been my brother David's 67th birthday.
As it was, he did not see past 34, passing away, likely alone, in a state mental institution in Maryland.
At 67 he'd likely be retired… from a life of doing what? Surrounded by family never created, laughing or maybe reading or maybe cutting the lawn like Dad, who knows? Why speculate?
My only answer, like rummaging among the meager set of photos I have, is that the retelling is all I have. Memory avoids the total eclipse of life.
As it was, last night I went outside for an attempt to capture the Big Blood Moon (whatever it was called) lunar eclipse.
Like what I recall of David, distant, fuzzy, faint… but present.
That photo I did find for this post was from the memory book I took from Mom's house when she too had left this orb. The book holds irony, as I tried to recall my parents wanting to do everything for their first born child, born severely brain damaged. The book starts full of details, really warm stuff, like this photo when David would have been 1.
The page titled "Anecdotes: Accounts of amusing incidents may be recorded below."
The photo taped in has Mom's handwritten "March 20, 1954" at the top and "14 months" at the bottom.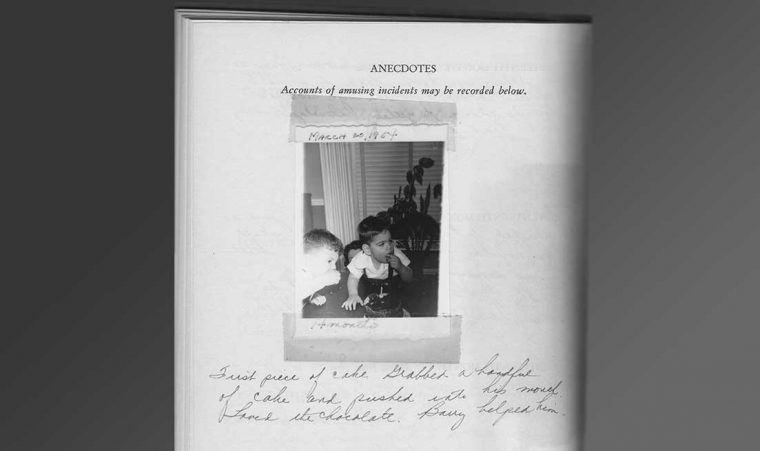 The picture looks as normal as possible, two toddlers grabbing cake with their hands. There is one candle on the cake, I wonder if it was a later birthday party for David? If so, why is it 2 months after his birthday?
Fuzzy memory. And no one left to fill in the details.
At the bottom it reads:
First piece of cake. Grabbed a handful of cake and pushed into his mouth. Loved the chocolate. Barry helped him.
Simple as could be. Un-eclipsed by a brain never developed. Just cake (Barry is our cousin) (He became a doctor, now retired, surrounded, by loving family).
I could rattle off the things David missed. Rock and roll. The Beatles. He would have been a teen during the late 1960s, would he ascribe to hippie culture? The Vietnam war. Watching the moon landing with us on a black and white TV in the living room. The Orioles winning the 1970 World Series. Nixon leaving. Learning to drive. Summers at Ocean City. Steamed crabs. 1980s hair. Home computers, then the internet. Y2K. Teaching me how to fish? Falling in love? Buying his first home?
I could go on. But his life was not totally eclipsed. It showed on the other photos of his big laugh being held by Dad.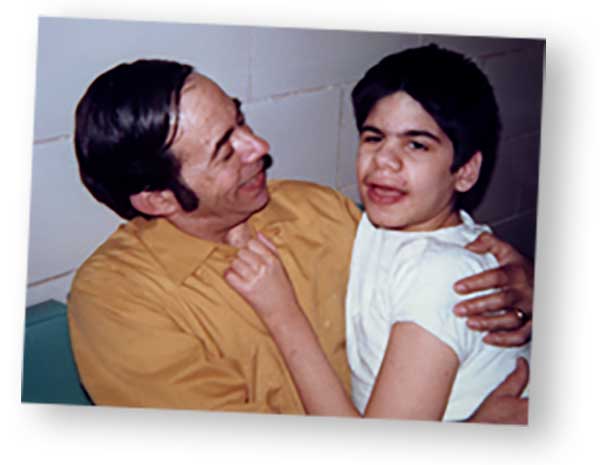 The old 8mm silent videos rocking in his chair (which is at my house in Arizona).
A life, any life, is never eclipsed. Never not lived. And even if fuzzy, at high ISO… remembered. And loved.
Happy birthday, brother. All I got you was a blog post.