Those big time motivational speakers who talk about starting to learn with a problem you want to solve have never really accounted for serendipitous learning. Is everything as simple as problem -> solution?
This is one of those times I accidentally learned something I had no intent of learning. It was like 3 by products of doing something else.
I've done diddly squat with the IndieWeb stuff a lot of colleagues are raving about, microformats and web-mentions and stuff. I don't disdain them, I've just not fiddled much. Yet.
But I ended up trying to log into a wiki recommended by Greg McVerry which used the IndieWeb login approach. Sigh. Am I gonna have to mess with plugins or create some new micro-blog site?
No.
According to the IndieLogin set up all I needed was a home page with a link to a twitter or github profile. Something like:

Actually there are like 90 ways to set up. Well, maybe 6.
I guessed I might be able to do it with my calling card site now running my own WP-Dimension calling card theme. The social media icon menu has these links.
But what about those rel="me" things? Quite easy to add, no coding needed.
Just go to the WordPress menu editor. Pull down the top curtain for "Screen options" and check the box for "Link Relationship (XFN)" (whatever that means) (look it up).
Now I just add a me to those boxes.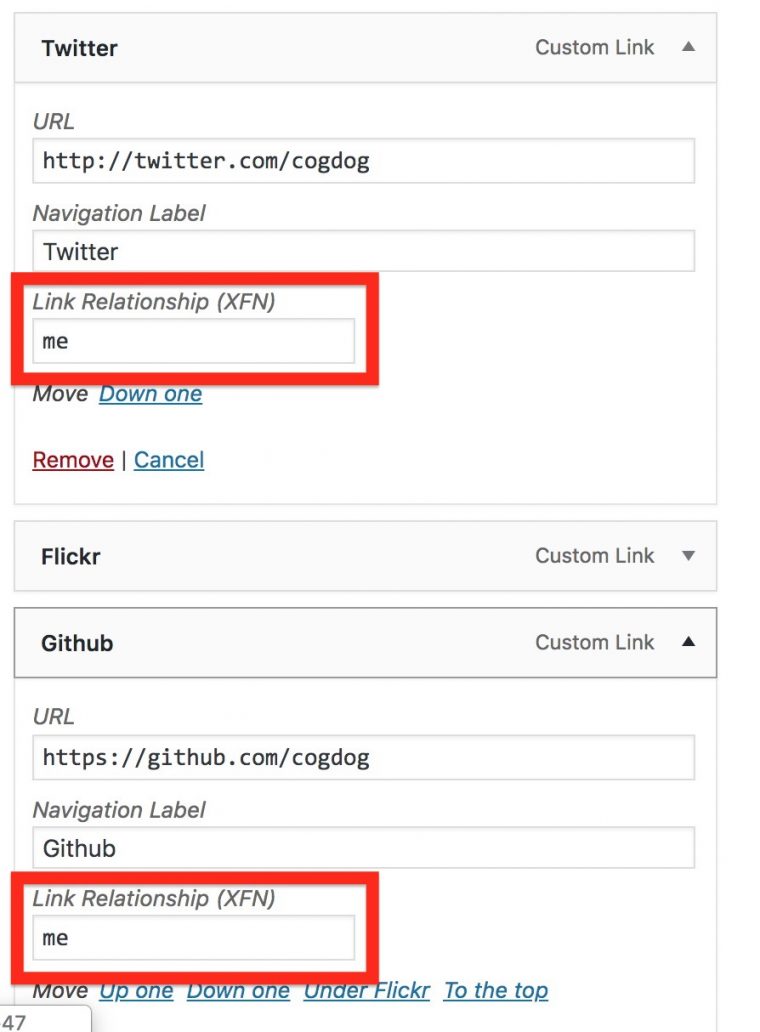 That's it! Peeking at the menu code in the browser inspector, I can see they now include the rel="me" thing.
And it works! I enter my domain in the IndieLogin field, it offers me authentication via Twitter or Github (I did the latter, heard twitter might be problematic), and I'm in.
That feature was pretty automatic. One t. Or two?
---
Featured Image: Automatic by Nick Youngson CC BY-SA 3.0 Alpha Stock Images
I guess the photographer never plays Scrabble. 9 letters in a hand? CHEATER! Haha.