This idea has been bouncing in my head for way too long, it's time to get some help chasing down an answer. And I would be fine if it's not the one I seek.
I have been contacted by a quiet, off the beaten track, but legit organization, –call them the Campbell Consortium– interested in the application of story approaches in higher education. It might be better explained in a short video.
Joe Murphey at Kenyon College has stepped forward with interest as well, and we are planning a three day workshop series in June to explore the question; hopefully we can interest some good curiosity and willingness to follow this line of questioning.
A recap is in a post following my conversation last summer with Bonni Stachowiak on Episode 218 of the Teaching in Higher Education podcast.
The question the Campbell people have (and I myself) is, what would it take to apply a storytelling approach in courses outside ones about storytelling. So I need some people to probe for an answer, even if it's "not very possible".
Having to explain this should compel me to write some kind of short paper / long blog post about it— this has been sitting long on the To Do shelf. What might it mean to have a narrative tie a course together?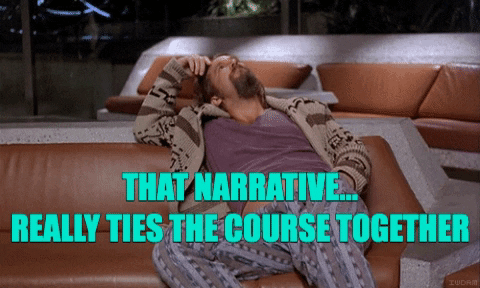 It's not about turning an entire course into a story, it's more about establishing some kind of back story, or even genre/metaphor that the work students do in a class can tie into, so that it's more than just a series of assignments (likely disposable). It's like creating a some kind of analogue of plot continuity in film. It's something that creates a backdrop or scene for what happens in a course. It's making something propel the course with story methods of an arc, of building suspense, of creating something that makes you want to know what happens next.
Maybe it's just my madness.
But here is my short list of possible examples, mostly drawn from storytelling/narrative focused classes.
But again, these are all examples for course about media making and storytelling. The challenge is to now see what it would take to find a narrative thread in other kinds of courses. And without it being a significant overhead. Maybe I do it because I am obsessive and like being a bit off center ;-) The theme need not be one of mystery or darkness either, it just ought to be something that makes assignments and activities focus on something other than completing them.
This is what I hope we can get going during our workshop at Kenyon College, plus the extra factor that I will be beaming in via video.
Is this a mad idea? What suggestions do you have? Should Kenyon just run away from me?
Updates
See the comments below for new ideas and thoughts (and hey add more!)
Jon certainly posted (and seeded my idea maybe) in 2015 on the same question; see Courses as Narratives. I like the idea of Course Trailers; see the ones collected at AGU100 and another episode of Teaching in Higher Education (where I land on the Video Course Trailers at Duke University), and well heck, more in a reach of a search.
Here is the thing- a trailer is the teaser- where is the next segment of the trailer? The sequel? It's a worthy activity to do as generating interest in a course, and might be done in narrative style, but does it create an arc for the course?
Maybe "narrative" is not the best word, it leads to ideas of fiction and imaginary places. Maybe it's more a question of- does your course have a plot?
I hope Holly can point me to some of these examples! And she did…
Not a response, but perhaps Project Based Learning is an avenue?
Also came across this fantastic activity based on the Hero's Journey:
…leading also to Monomyth Online which features a framework for doing what I am suggesting– the resources include a Google document for planning an activity or a whole course mapped to the Hero's Journey.
Weaving narrative structure into online course design can serve as a compelling force in supporting student engagement and persistence in meeting articulated learning outcomes. But how do you leverage effective practices and technology in order to actually make it happen? Use the resources below to design instruction around the Monomyth Online framework.
Some possible ideas tagged in twitter as #unessay.
From Kevin Gannon's The Dreaded Survey Course, comes 4 suggestions that fit a course-tying approach:
Structure the course around questions. Design a survey course in which the purpose is to help students answer some fundamental question — or figure out how they might begin to answer it. A sociology survey could challenge students to answer the question "Why is our society the way it is?" A physics survey could be organized around the question "How does the universe work?"

Pick a particular theme. It could be one big theme (similar to the idea of a fundamental question), or you could divide your course into modules and assign each a different theme. For example, a survey course in communications might organize itself around the themes of interpersonal communication, mass communication, advertising and propaganda, new media, and communications theory. Or a biology survey might be divided into sections like cell biology, plant biology, physiology, genetics, and evolution.

Offer the course as a "disciplinary tool kit." Is developing certain skills or competencies the primary purpose of your survey course? Then try using those specific "tools" to organize the class. For example, build a survey course in computer science around particular programming tasks students will need later in their studies.

Employ a case-study approach. Rather than inundating students with content throughout the course, think about how case studies could stand in for larger course themes or competencies. Some history instructors, for example, use biographies for their survey: People's individual stories are a window through which students can look at a particular historical event or period. In a social-science or business survey, a specific "real world" application exercise can be a more manageable focus for students' engagement with the broader areas of your disciplinary content.

Also see Amy Burvall's ideas on #rawthought: What's the Big Idea? A Thematic, Inter-disciplinary Approach:
Why not center the entire school-wide curriculum around umbrella concepts that spur big (and little) questions? I'm talking total multi-generational and interdisciplinary. I've previously pondered a curriculum derived from the lenses of philosophy and the arts (I'm still loving that idea), but I wanted to play with what grande topics could be the anchors of study. Here's what I came up with…
---
Featured Image: Added screenshots of my blogpost on the Teaching in Higher Ed Podcast and the ds106 site to Arnold Air Force Base image of Coherent Anti-Stokes Raman Spectroscopy system placed into the public domain as the work of a US Government agency.