In a media making workshop I ran last week (overdue for the blog queue), I found it both reassuring to see how participants took to sharing media created in a TRU Collector SPLOT powered site and also saw some shortcomes that led to some useful code rabbit holing this weekend.
On issue was when we moved on to audio activities, I had no place ready for them to share their work (SoundCloud was suggested, but we had wariness on creating new accounts, and as a colleague noted, they seem to be going out of business for the last 4 years).
In a quick thought, I just sent them to a demo site for the SPLOTbox theme. This is a SPLOT WordPress theme that creates a site where audio and video content can be shared by link (for ones natively embeddable in WordPress) or uploads of audio files (video is problematic for the web player and for file size).
It reminded me that there seemed no reason that a media jukebox could not also include images. So I tinkered to add the ability to add images (JPG, PNG, GIF) as uploads or by direct links to images on the web as URLs.
But while in there, I added as well a feature to include flickr photos by URL to the page that contains them. And while looking at the list of content WordPress can natively embed by just a URL, I noticed that they added Speaker Deck for presentations (l have stopped using Slideshare as it's heavily encrusted with LinkedIn paw prints).
(Oddly enough they still do not list giphy as being supported by embed via URL but I have been doing it for a while).
This means rather than fishing for an embed code in Speaker Deck, I can put a plain text URL on a new line in WordPress, like https://speakerdeck.com/cogdog/i-deal-in-stories and have it automatically embedded (hmm see some funky truncation in my theme, sigh)
Cough.
So I have added both Slideshare (why not) and Speaker Deck to the sites supported in SPLOTbox, as well as Mixcloud for music.
I'm still testing and cleaning up, but you can see it in action on the test SPLOT at http://splot.ca/box the last few items are a bunch of tests.
Currently the theme supports media as URLs from Adobe Spark Pages/Videos, Flickr, Giphy, Internet Archive, Mixcloud, Slideshare, Soundcloud, Speaker Deck, TED Talks, Vimeo, YouTube plus uploads or links to audio and image media of types .mp3 .m4a .ogg .jpg .png .gif.
This offers more plugs into a SPLOTbox site, but on a drive today, mulling this over, I am thinking it would be even better for a site owner to decided how many of these to offer- e.g. if I was building a site of just YouTube curated content, or only things from the Internet Archive, I could set these as theme options.
That is likely coming soon.
One more new feature is the SPLOTbox theme adds a search form to the top navigation (suggestion) by Daniel Villar-Onrubia):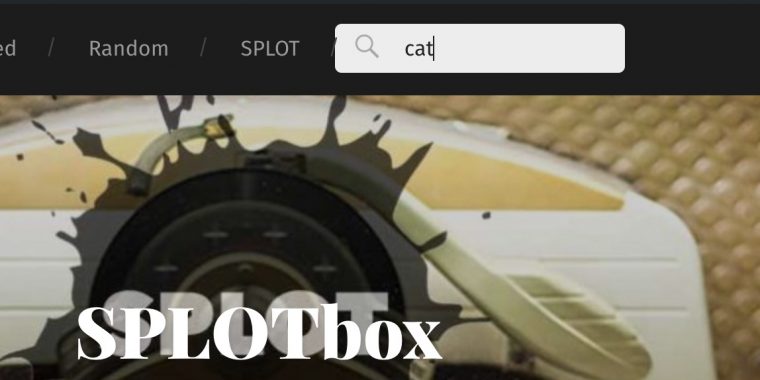 These features need a bit more testing, but hope to update the repo site soon. Give the new media features a try at http://splot.ca/box
---
Featured image: by Wolfgang Eckert from Pixabay