In this unprecedented overuse of the phrase "unprecedented times" what is more appropriate, and a flavor change of all day Zoom sessions, than a conference run completely over Twitter?
It sounds unlikely possible, but here again for it's 3rd year (aka No Need to Pivot Online), I continue to be impressed/amazed/relieved at the 2020 PressEDConference.
PressED is a conference (#pressedconf20) looking into how WordPress is used in teaching, pedagogy and research. The conference happens solely on twitter.

https://2020.pressedconf.org/
After taking a year off from presenting here about SPLOTs, I returned again with Tweet into the SPLOT Request Line hoping to inspire the twitter audience (thanks to those who sat in the front row):
At 5 years old Smallest Portable Learning Online Tools* (SPLOTs http://splot.ca) are widely used and spawning new features**. What can I build next? In this session you can tweet in ideas for a brand new SPLOT.

*one possible definition **previously presented at #pressedconf18
I cued up my 12 tweets into Tweetdeck as scheduled tweets, and just sat back and watched while I ate lunch today.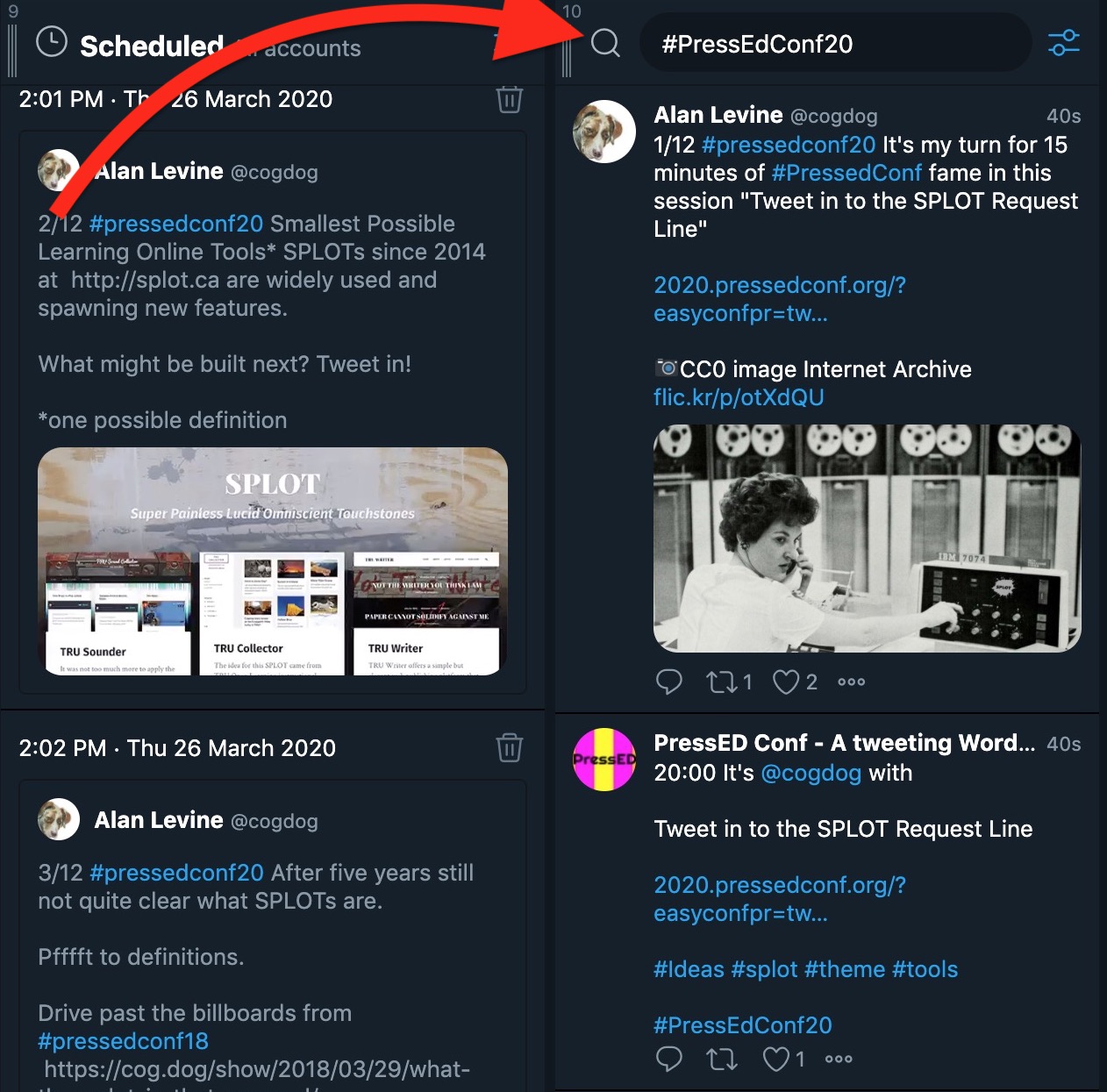 Just when I think they've slipped down the interest curve, I get a tweet of something beautiful and new down with SPLOTs:
Not to mention the PressEdConf20 presentation by Terry Greene.
Check out the Technology Tools collection Terry has running for Fleming College.
To spread the range wider, I here presented my first SPLOT hosted in GitHub, the Permutator, which provides the same browser animation making fun of the nebulous acronym that has been hard wired into the main splot home site.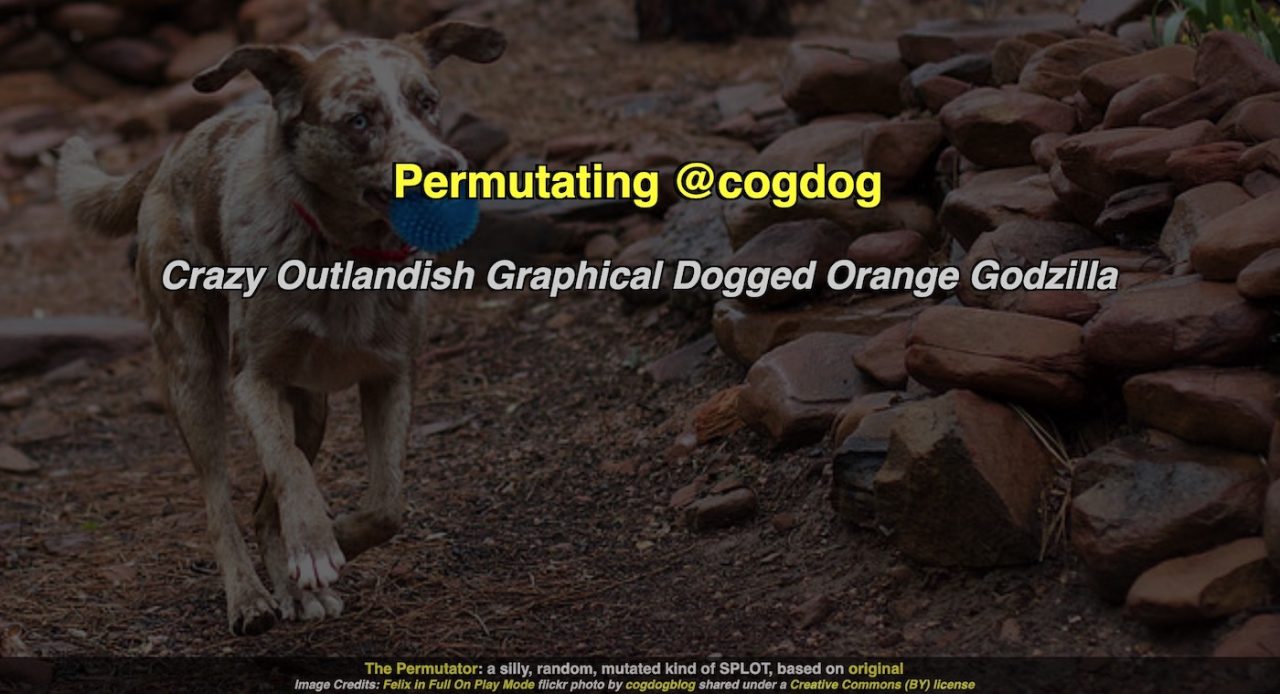 The way this is working all of the display parameters- the title, background image, attribution, and an array of possible words for each letter in COGDOG, are all defined in a json file. By creating a new version of this in the special directory where they exist, one can conjure a different one by passing it a variable that is the name of the new file.
So I can create the same one that is at the top of splot.ca via https://cogdog.github.io/permutator/?wordsrc=splot Now how useful might this me is definitely open to a debate, but for now, it's fun to do. Someone intrepid might figure out the format and create a github request to add to the directory. (this is how, after all, one can add a puppy gif to openpuppies.com).
While the tweets were fresh, I grabbed them and put them in a twitter moment — to me this is the sensible way to organize collections of tweets the way most people used the now dead storify.
Judging by the removal of moment creation from Mobile Twitter, and the fact that it is now buried way down in the twitter menus, I don't think they will last long (my hope is they will still function when the creation tool bites the web dust).
For now, though, I can easily package my PressEdConf tweets together.
So many thanks to Pat Lockley, Natalie Lafferty, and others for making PressEDConf happen.
As others are pivoting conferences online, just like classes don't need to be just lecture capture, online conferences don't need to be just talking over powerpoints, check out the concept of a twitter based conference like PressEd as well as the Public Archeology Twitter Conference (itself inspired by the World Seabird Twitter Conference) that inspired Pat and Natalie.
---
Featured Image: SPLOT logo slipped on top of the console of this image: