Cue the music. Baddddum. Baddddum… Pinging Martin Welller…
It's been a while (maybe 6 weeks but that's like 2 eons in blog years) since I last blabbed about the bad smell or worse or just missing items in Google Image's Creative Commons License search. Danny Sullivan, who I believe works for Google as a "search liaison", was rather kind in responding to my incessant barking. And recently he shared that at least they fixed things to get the CC Licensed dogs back in the results
Fnita est? Q.E.D.? The world spins on. And yes, for the most part Google Images is returning a much larger set of results for searches filtered for ones licensed Creative Commons. And it looks like higher ranking results for ones from flickr, WIkimedia Commons, Pexels. Relibale sources.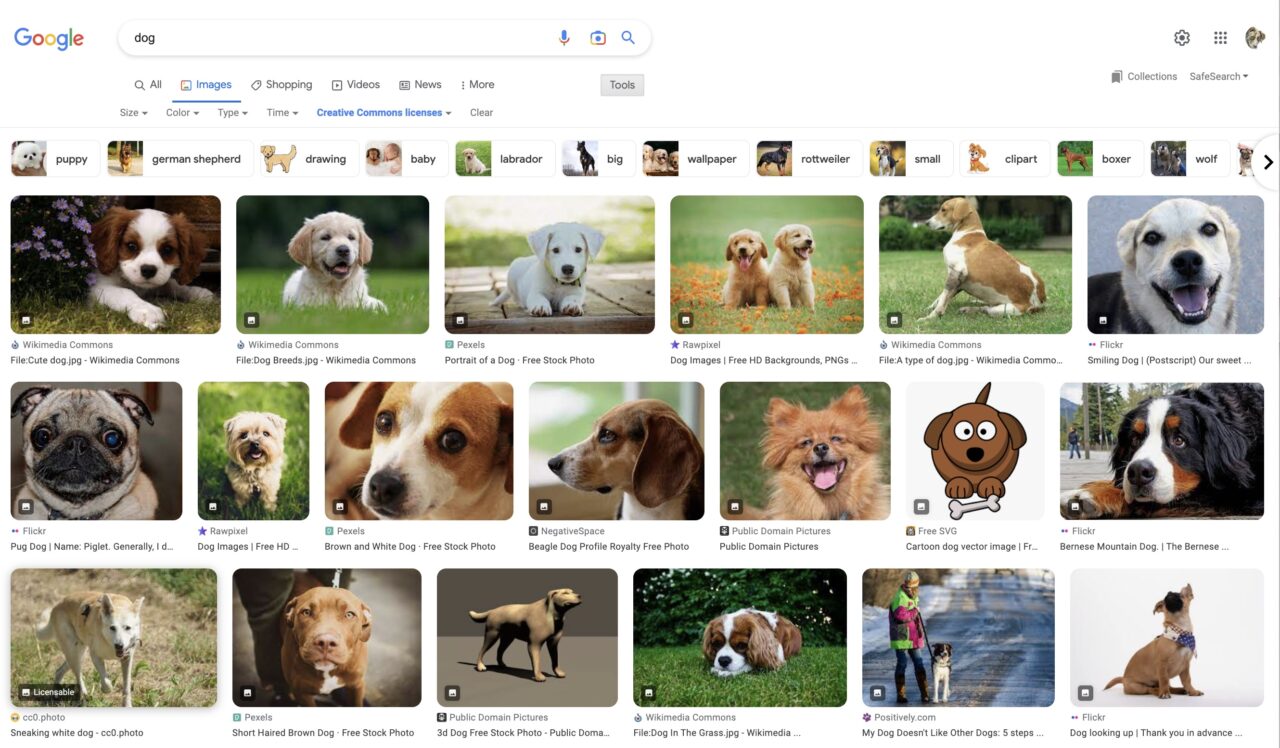 And look! I find cc0.photo a new source to me for public domain photos, where the license is explicitly stated and credit is given to the photographer. As a rule, I steer clear now of public domain photo sites that do not credit the person who uploaded/took the photo, this typically is a sign they have scvanged it from elsewhere. I look for sites where the photos are uploaded by the person who took the photo. For example, in this case it's clear the photo was shred by Peter Janzen
But. I digress.
And I find issues (sorry Danny!)
I cannot help but dig in to results down the page. All of the ones highlighted below in red are suspect.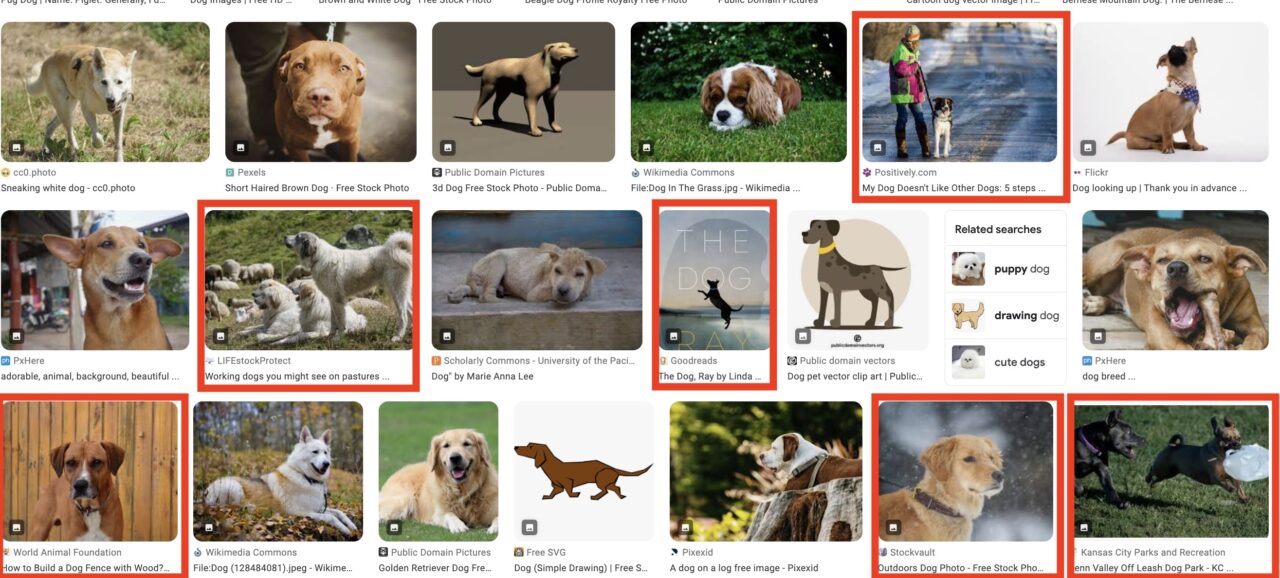 The preview in Google results indicates the ones for Positively.com, LifestockProject, Stockvault, Kansas City Parks and Rec are CC licensed, but you cannot find them when you follow the links through. In some cases, you cannot even find the image Google is showing for a result. I even inspected EXIF data for a few, but found no license data.
These are outright wrong.
Even more, the search that got me started, when I was looking for images of a door for a blog post, again has more results, but so many are not licensed as advertised. The first five results are commercial sites and not licensed creative commons, and obviously not kosher to reuse.
So What?
I am not looking for any kind of fix here. And I don't want to keep documenting this stuff. But it is obvious to me that we should not sent people to use Google Image search for Creative Licensed photos without making them aware that the results are not to be trusted.
Yet I still use old wobbly Google from time to time, because frankly, the results are most relevant. My approach is to skip any result that is not from a reputable site, one that lists a license and gives credit to the author– Flickr, Wikimedia Commons, Pexels, Pixabay (not seeing many of their results). And now I am ready to go for cc0.photos. Other sources I pass.
And again, I will make a strong case, especially for those new to searching and looking for CC licensed media- get thee to Openverse where there is no question to the validity of the results. And now they busted through something like 1,000,000 audio clips too. I am still getting used to how to construct searches and sometimes the results are not intuitive to me (and then I bug their dev team in Slack).
But at least once you find something in the results, you do not have to go digging or poking inimde EXIF data to make sure the image is truly CC licensed.
The cc search water looks better Google, but beware what lies below the surface!
---
Featured Image: One of my own remixes, the photo is my own Just When You Thought it was Safe to Go Back in the Pool Again flickr photo by cogdogblog shared into the public domain using Creative Commons Public Domain Dedication (CC0) which I modified by superimposing on the water a darkened screen shot of Google Image CC Search results for "dog". Let's call this whole derivative licensed CC BY!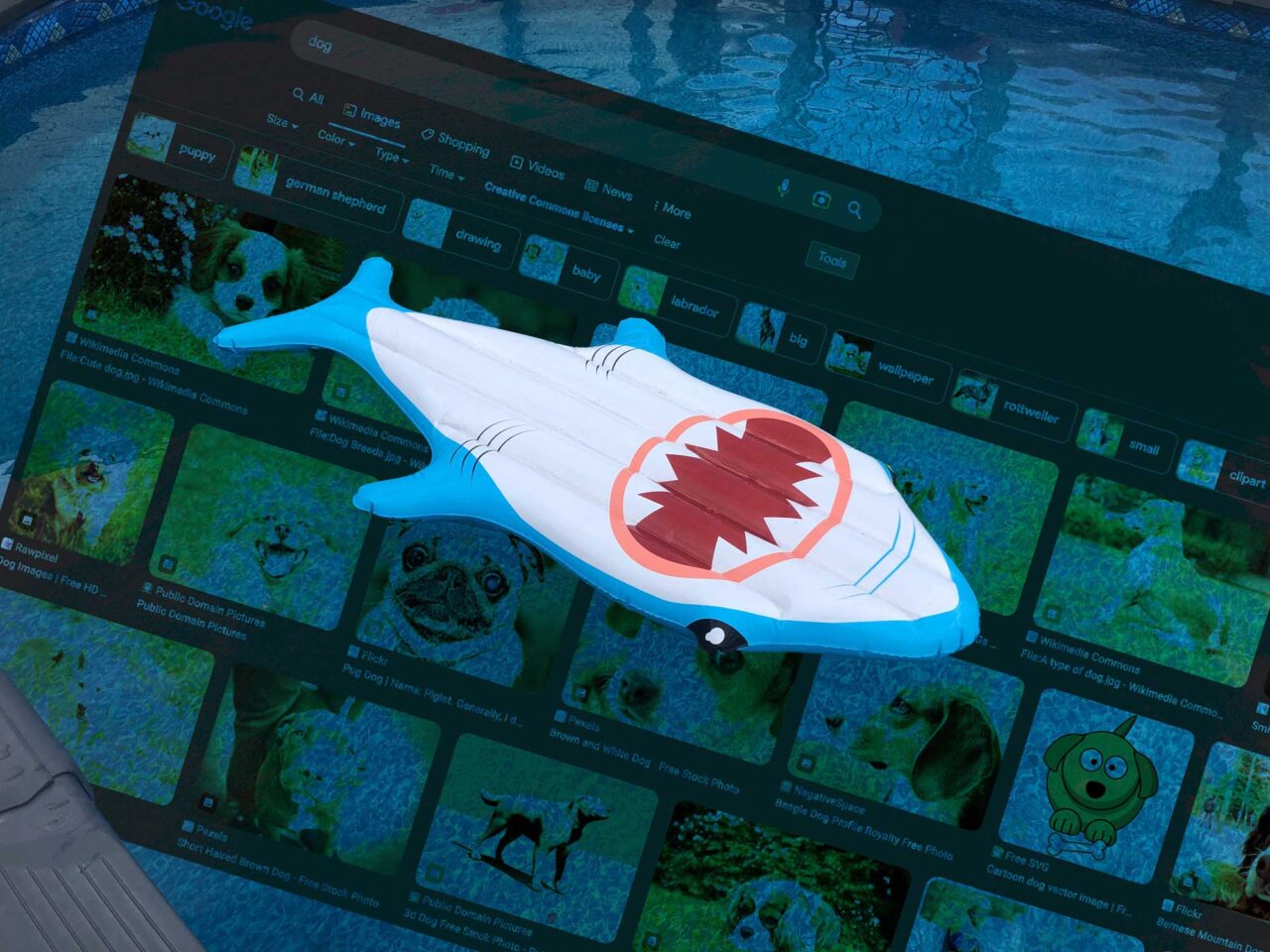 [Media Description] : A plastic shark toy raft floats in a pool, mouth/jaws upward, and the results of a google image search is floating on top of the water.