For re-refreshing change from the ever increasing Twitter fallout drama and the rising wave of AI euphoria, I was granted a reprieve last week where I got to catchup with an old friend, yes, that Blabberize talking alpaca.
Alas, we could not help but slip into the musky drama of the Now.
Our connection traces back to 2007, ironically the same year I created a Twitter account. In many ways, my first reaction to both of these web sites was similar- "This is the silliest thing I have ever seen on the web." Both of them went through changes in the last 15 years, and after my detailed analysis, I am putting my faith in the alpaca, still animating pictures to audio, one of only 8 of the original 50+ web ways to tell a story tools launched in 2007 still available in 2022.
I just used Blabberize as an example on my site, and in workshops (maybe one of the best stories how a principal put it to use right away). At some point I connected with @Blabberize on that bird space thing and was really stoked when the alpaca suggested in July 2020 we have a video call.
Actually I got to know and talk to Mo, the creator of Blabberize, who at that time gave me access to a new Augmented Reality version in a mobile app. This was neat, but the conversation with Mo was worth more, as we had similar ideals and beliefs on what the web should be.
Meanwhile, we individually did our pandemic survival tracks, and I was delighted when the alpaca… well Mo, suggested we reconnect last week.
Part of it was some excitement to show me the newest animation features of Blabberize, where instead of one character flapping a chin and talking, you can create more sophisticated scenes and tracks, a but like old Flash animation with tweens. The syncing to audio is much more fluid (AI is involved) as well as the cartoon style put in the dog's mouth (AI too).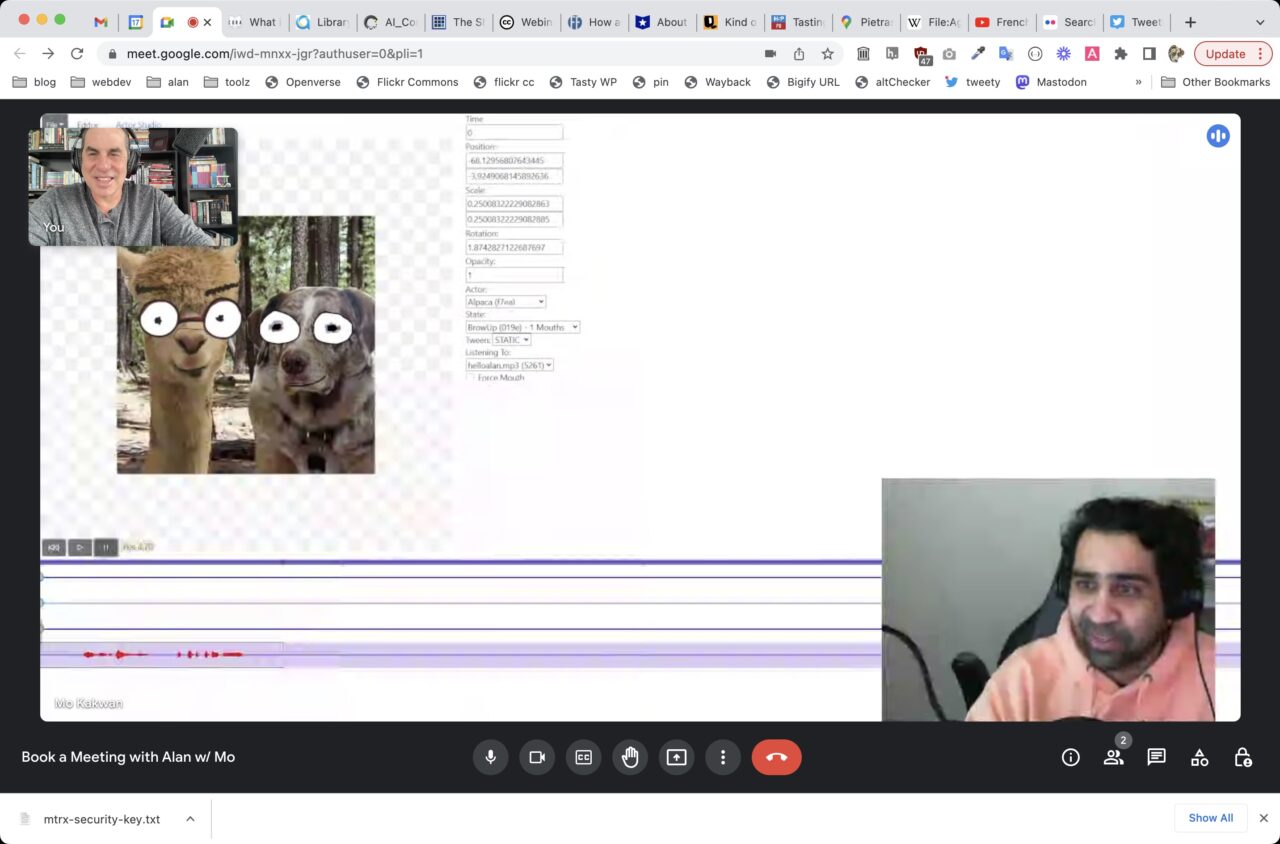 It's stilly, but not useless, and I can imagine some sophisticated ways to do a new style of web-based storytelling.
But more than that, in the same span of time for Twitter to grow, and add on maybe too many features, and now implode under the insipid weight of a crazed billionaire, this small web site is not just still alive, but growing too. 15 years is an impressive run for a small web outfit, and Mo's energy for making creative tools is so visible.
Not only that, as Blabberize's tool has evolved, they have not left my original content in the dust. My version of the Dominoe story from 2007 can still be viewed at its original URL– that is a rare thing.
And this is something I am keying in on- for all the lamentation about these big mega internet companies, the ones where so many colleagues have abandoned their own web sites,blogs, and poured their content, the Big Web Stages are not at all where the creativity is happening.
I really so appreciate the persistence and drive of small (not in stature or scope or ambition) web developers, ones like Mo who are still at it.
Blabberize currently is focused in school plans, but if you dig around, you will find their free service. Mo was kind enough to not only give me full access to the latest tools, but has generously shared with me 3 codes to create classroom class accounts.
I am willing to share this with any teachers who leave a comment below and tell me how they currently or would like to use Blabberize. It's easy to get caught up in the fun parts, but I bet like I always saw in these tools, good teachers find ideas I never even imagined.
Let twitter go wither… get your Blabberizing on!
---
Featured Image: A screenshot of disappointing DALL-E results for the prompt "In a forest a Brown and white dog in intense conversion with an alpaca, digital art" with the second on replaced with a scene from the CogDog/Alpaca video