I am not sure if what I am going to describe is some kind of condition or diagnosis (or just weird). I have a pretty good recall for landscapes or places I have seen. They seem to register in my brain more efficiently than location of car keys and missing wrenches.
A few block clicks back I wrote how I would do that when seeing Landscape paintings or old photos or even movie scenery, I play a little bit of guessing where in the world that is.
It just happened today in the most weird place. I was looking at some details of Adobe Lightroom software, which I have access to in my subscription I pay to get Photoshop. I spotted an icon link? or?? I am not even sure why I clicked, but I was looking at this tutorial page in Lightroom Classic and paused…
I am feeling this tingling sense that I have seen it before… like a trip in 2008 when I visited a week in Japan with my god friend and colleague Bert Kimura.
As often a search of my own photos in flickr for "temple japan" got me there very quickly
which I know from my caption is Kinkakuji Temple in Kyoto or more properly (thanks Wikipedia) Kinkaku-ji (???, literally "Temple of the Golden Pavilion").
My photos are from a lower vantage point, I cannot see the mountain tops behind it like the image in the tutorial. The tutorial of course does not have my extra, trivial memory….
When Bert and I were standing there som school kids came up and asked me (obviously an American) if they could practice their English. Bert took the photo and let me use it.
It went something like…
"Excuse me! Excuse me" (little voices rang out).

"Hello, My name is Miko" said one reading from his script. "What is your name?"

"My name is Alan" I replied.

"We are from Hiroshima," said Miko, "where do you live?"

"I live in America, in Arizona"

"Will you sign our book?"
And there I was signing my name in their books as if I was some kind of celebrity, and then they gave me a present. First was a note- and they were far from rude.
And the present…
Inside was photos from Hiroshima,and some hand made origami.
I lost track of the presents, but the memory stays there, drawn out by a photo of a golden temple. Leading to a beautiful moment.
??????????? Bert for making that happen!
Featured Image: Amazed at Kinkakuji Temple flickr photo by cogdogblog shared into the public domain using Creative Commons Public Domain Dedication (CC0) superimposed atop a screenshot of the public web page for the Adobe Lightroom tutorial.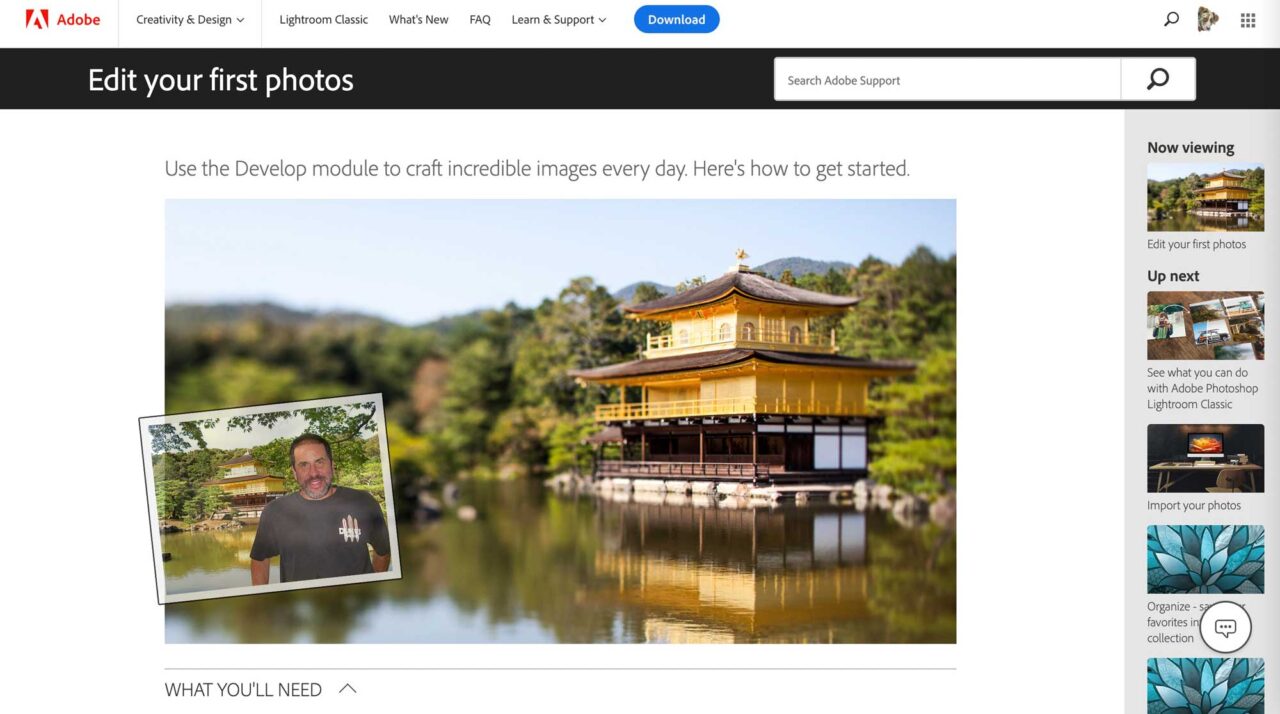 [Media Description] Adobe Lightroom tutorial web page with an image of a Japanese temple by a lake. Superimposed on it in the lower left is a photo of a man in a beard and t-shirt, me! in front of the same temple.