Here we go. Again. That old web magic is still there, the stuff I lump as web serendipity, what happens when unexpectedly, something tickles the curiosity, it leads to something else, lather, rinse, repeat.
It's my variety of Vannevar Bush's associative trails, what I like to play with the title "As We May Link", especially the part of it including "personal comments and side trails." One might be led to consider the sequence of linked frames as pre-determined, but nothing says they cannot be organically strung together.
Speaking of personal comments, as I searched to refresh my memory, the Googlerithm, provided Happy (Associative) Trails To You, Revisited a post by Mo Pelzel, long time web friend and colleague. As We May Link, Mo has a link back to this blog using the hypertext "distraction trail" for one of my favorite web exploring launched from of all things, my mom's antique fruit juicer.
Let's go on a new jaunt.
Launched from a Postcard
I owe this web serendipity trip to my sister Judy, who in the thoughtful way she does, sent us a postcard bearing an image of a place of our Baltimore childhood memories.
The Enchanted Forest was a family attraction of of Rt 40, just west of Baltimore, not far from our family home. I remember many trips there when I was really young, it was built in the treed landscape there, and featured all kinds of buildings, rides, and things for kids tied to fairytales. There were rides, like a giant swan that led kids around, plus animals, horse rides, giant sliding boards, and likey much more I don't remember.
I grabbed a few frames from our low resolution/quality silent 8mm movies: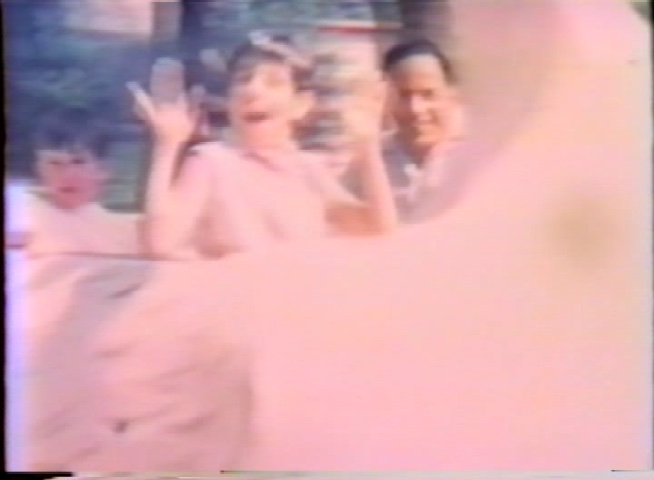 The family movies trigger some of the memories, but I am confident there was much more to this place then what's in my own memex.
The thing that triggered the web trip was a note on the back of the card that said when it opened in 1955, Enchanted Forest was integrated, very interesting for a city known for its racial tension and worse as described in Lawrence T. Brown's The Black Butterfly.
As usual, Wikipedia provides a solid chunk of information about the Enchanted Forest including the tidbit that caught my attention on the postcard.
The Enchanted Forest officially opened on August 15, 1955, following a preview party the afternoon before — one month after Disneyland Park's opening. Appealing mostly to families with small children, the park had a nursery rhyme theme. The park featured fairy tale buildings and characters, but no mechanical rides originally. Track rides were added later, including the Alice in Wonderland ride with teacup-shaped cars, a Cinderella's castle ride with mice for the cars, the "Little Toot" boat that took children to Mount Vesuvius for giant slides, and the Jungleland Safari which was driven by open Land Rover-type vehicles. Children's birthday parties were often held in the picnic areas among the attractions; many local teenagers worked as ticket-takers at the park. Unlike many other attractions of the time, the Enchanted Forest was integrated from the day it opened.[2]

https://en.wikipedia.org/wiki/Enchanted_Forest_(Maryland)
See I remembered the big sliding board but not that some "Little Toot" boat was the conveyance nor that it was tied to Mount Vesuvius. My memory too gets thin to none as well for the later history, likely as such simple features like paled in comparison to the big parks that came later like Six Flags et al, plus the saile of what was an original family run operation (a side trail I did not go down was to learn more about the Harrisons). It was sold to some "development" corporation that eventually turned the land into shopping centers. Yes the original entrance to the park is now a suburban strip shopping center anchored by a Safeway . Interested by a story from a local news station,I tracked it down in Google Street view, confirming they kept the original Old King Cole that was at the park entrance as guardian of he store fronts.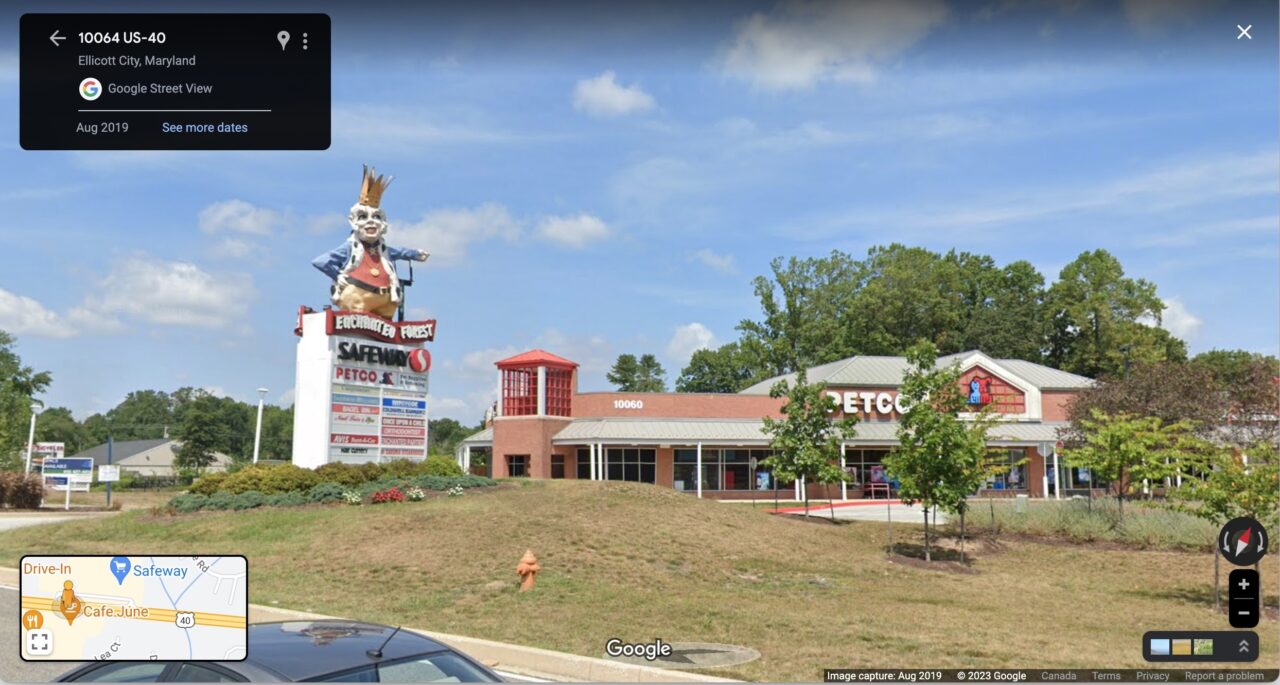 Also as it can be done in Streetview, you can watch the disappearance of the theme park in Streeview photos from 2011 and 2013 showing the castle and original sign gone by 2018.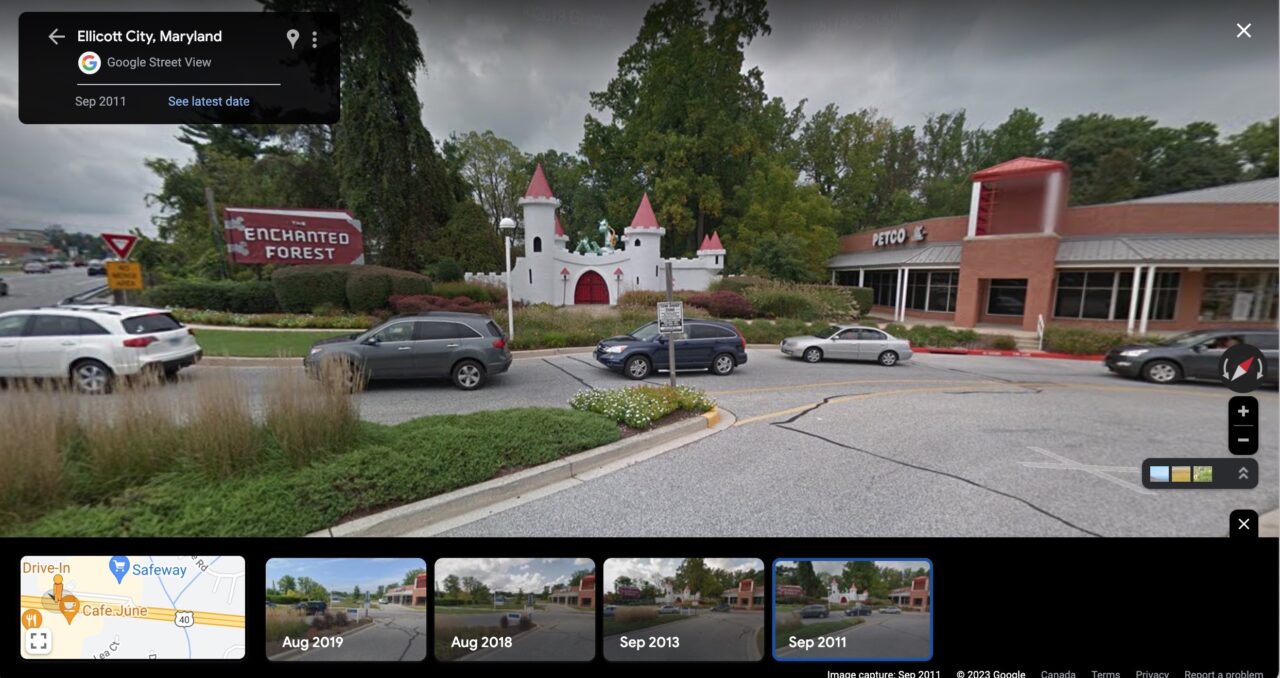 There is a wonderful story of preservation and volunterism that has preserved many of the features and elements of the Enchanted Forest on the Clark Family Elioak Farm. Stop and think about this act of reclaiming cultural history so future generations can appreciate what has been plowed under by progress.
Both Wikipedia articles provide all those side trails with links to old news stories and preservation organizations, a large number of internet fixtures that in a similar spirit of the Clark family, is preserved at the Internet Archive.
But back to my original curiosity as to the fact that the Enchaned Forest opened in 1955 as a non-segregated attraction, I take the rabbit down the tunnel to the article (again preserved in the INternet Archive) from Urbanite magazine (tagline for "Baltimore's Curious") is a fine piece on the Storybook ending of the Enchanted Forest, a tad more about the Harrions behind it and it's opening to all fairy tale fans in 1955:
Opening in 1955 (a month after Disneyland), the Enchanted Forest grew from a promise that Baltimore motel developer Howard E. Harrison made to his grandchildren—to make the fairy tales he read them real. At its height, the fifty-two acre site drew about 300,000 visitors each six-month season. Created in the tradition of "storybook parks" that dotted the country at the time, the forest's paths were dotted with child-sized dwellings inhabited by familiar characters like the Three Little Pigs, Snow White, Sleeping Beauty, and the Old Woman Who Lived in a Shoe (and the shoe itself). Unlike Baltimore's popular streetcar amusement parks—Gwynn Oak, Carlin's Park, and Bay Shore—the Enchanted Forest was integrated from the beginning.

It was not a site for hair-raising thrills. "There are no mechanical rides," Harrison explained in 1955 to the Baltimore News-Post. "We hope that the children will enjoy the make-believe figures that are before their eyes."

https://web.archive.org/web/20081007043500/http://www.urbanitebaltimore.com/sub.cfm?issueID=55&sectionID=4&articleID=808
The circle of story comes later in the article, when it said the Clark family called in for help with the Enchanted Forest features,restoration someone named Mark Cline from Natural Bridge, Virginia.
I remembered that time when I was working in Virginia and Jim Groom suggested a visit to the Natural Bridge Toy Museum as one of those roadside Americana things. It lived up to the Groom vibe, especially the abandoned miniature golf course outside the museum.
But the more wild thing I saw at Natural Bridge (likely a Groom suggestion too) was Foamhenge, a full scale replica of Stonehenge built of Styrofoam.
Foamhenge was created by the same Mark Cline referenced as helping in the restoration of the Enchanted Forest. Like me, Cline notes the influence this park had on him as a child, and so much it's the part of the name of his own web site enchantedcastlestudios.com.
I can resonate with this same Enchanted Forest memory
 "I believed that you grew up and lived in your castle," he says. "As I got older, realities set in, but I kept that dream alive by creating my own enchanted castle."

Mark Cline quoted in Urbanite Magazine, 2007
This thing of preserving the past that Cline does with cast statues and foam structures, well I feel the same about the web, with some word changes, I nod in agreemen:
"It's a labor of love in many respects," he says. "This is part of our heritage, a part of Americana
that's gone, and people are trying to grasp it again."

Mark Cline quoted in Urbanite Magazine, 2007
That's what compels me to be poking down the side alleys of the web, a place much vaster and frankly more intriguing than the front page of Google search or the top trending tags in name your favorite flavor of social media.
I'll take the Enchanted Web any day.
---
Featured Image: My own photos of the postcard my sister sent with superimposed frames (not Vannevar Bush's kind) of our old family movies. Consider it all CC-BY.