How could I resist a title in my RSS Reader from the TED Blog called "Nellie McKay: The Dog Song":
If you need a companion
Just go to the pound
get yourself a hound
and make the dog proud.
That's what it's all about
It's a lot of fun; even downloaded the MP4 to have it on my iPhone.
There are so many things to like about the TED videos- besides an amazing array of top speakers on compelling topics (like dogs!), the fact that they are not long monologues, the way it is provided online, in several formats, is top notch.
But there was more when i was watching the video is how great the video production is– not really my expertise, but some key things about the TED video style:
* Very clear audio nothing breaks a good video than lousy audio, crackly audio, audio levels wrong. TED is perfect quality, IMHO
* Multiple cameras Not something most of us can use- but notice the shifts from a full on shot of Nellie at Piano, other cameras zoomed in on detail such as her finger movements or her sliver shoes at the pedals. and especially, the close cropped views of her face: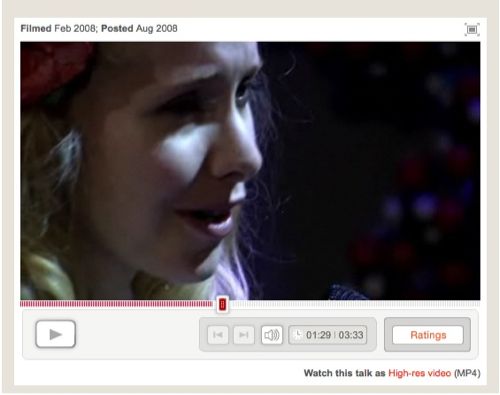 * No Transitions Note the lack of dissolves, wipes, cube spins, all the stuff amateurs like me tend to throw in "because you can"- all the changes between camera views are cuts. It's so subtle you don't notice it. The timing too of the cuts is such that they are not all clips of the same length, but it chnages rather frequently to keep a sense of liveliness, and is keyed to what is happening as Nellie plays
Great Dog Song, great video!