I got something in the mail yesterday that moved me so much, it has taken another day to get to blog about it (is that slow enough for the slow blogging crowd). I have to weave a back story before I get to the punch line about getting something back (not tangible, but emotional) for giving to an organization. We should not be giving to get, but there are things we can get than will feed back into the giving cycle.
If that is not confusing enough, my seven blog readers, then you must be skimming. Slow down and read.
In August I wrote about a different way to make a WordPress plugin (to the four remaining readers, do not gloss over, this is not a post about technology).
Joe Solomon had asked 10 educational bloggers to try out the Possibly Related Classroom Projects plugin. The plugin analyzes the text of a post, and appends links to 3 potentially relevant projects listed among the 14,000 plus ones at DonorsChoose.
DonorsChoose is a place where teachers from disadvantaged schools can post project ideas that need funding (small scale, classroom projects) for materials, with the idea that people willing to donate money can select a project that they would like to support.
I was skeptical, since a lot of what I write here seems to not have much relevance to school projects. But as I wrote in August, a post I wrote about my experience with "moo cards" linked me to three projects, that by title seemed far off, but as I read the project detail, was excited, especially one project for a school in Phoenix (Think Local) was asking for money to stimulate kids interest in reading by buying some classic story books, and one of the books listed was Click, Clack, Moo (and more great books on the project list like Where the Wild Things Are) and that ironically was a book I had just purchased for myself (and enjoyed, even at my supposed advanced age, see my level of literature is about 2nd grade).
This was too much serendipity– my blog post on moo cards to a project in Arizona for kids reading Click, Clack, Moo that I had just bought — I had to donate to the Literacy Pills project.
So back to yesterday. I get a somewhat thick packet in the mail from Donors Choose that is described in the letter as a "thank you package" from the teacher her students.
It includes a detailed one page Project Cost Report that shows exactly where the money went (to buy 17 books!), a chronological Fulfillment Report, that also shows the logistical support DonorsChoose provides- they review the proposal, verify material costs, and even orders them for the teacher.
But there is more.
The teacher who ran the project included an appreciative note:
… Your donation helped me pass on my love of reading to my students, who are at an age where they will learn to either love or hate reading. Thanks to your gift, many of my students love reading and contantly beg to take the books home every night!

When my students finish their work early, they often pick out a book to read. It should be noted that the books you donated are usually the first chosen. It's a delight to see them so excited about reading some classic books that I myself read when I was young. Your donation fueled that excitement, and for that, I sincerely thank you. It thrills me to se that my students do not approach reading as a chore but as a delightful activity. Thank you for making this possible!
Wow, that is really something.
Yet there is more- part of the project funding including giving the teacher a (probably disposable) camera and DonorsChoose processes the photos which I get copies of in my thank-you package: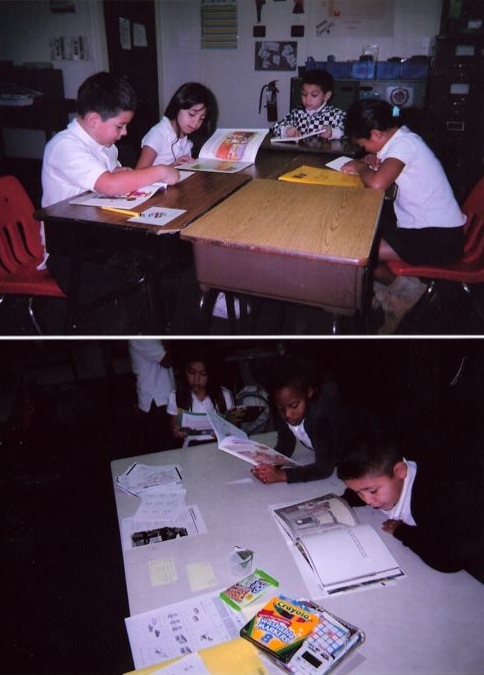 But wait, there is more, much more…
The envelope also includes hand written thank you notes from the students, and there, melt goes my heart reading them. I scanned a few into a PDF to share:
Even if these were done as "Now let's sit down and write letters before recess" they are still so precious and full of that honesty kids have when they are still wide-eyed and full of excitement and enthusiasm (before we school it out of them).
I am very touched.
Wow, do you think I am a bit motivated to give again to DonorsChoose?
You bet,
I gave, and I got, and am ready to give.
Related articles by Zemanta