I have an old JavaScript bookmark tool I made five years ago– it allows me, from no matter where I am on the web, to either select some text in a page (or enter in a box) and run a search for it in my own blog. This came from realizing that the basic wordpress search URL was always something like:
http

:

//www.myfreakyblog.org/index.php?s=cheddar+cheese
And with my mediocre JavaScript tools, I made a site that allows anyone yo make one for their own blog– the Make A WordPress Search Bookmarklet tool — which to my utter surprise, still works.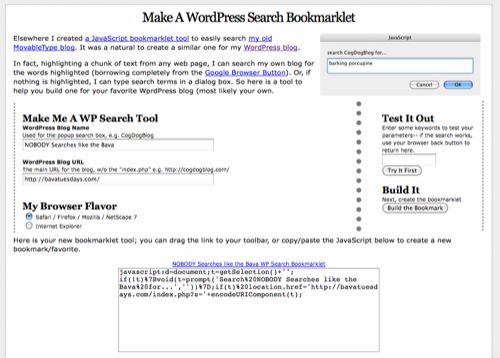 It's prety easy- you enter the name of the blog, its base URL, and click "Build The Bookmark"- drag the generated JavaScript link to your toolbar, and you are done.
So for example, let's say I have some B movie blog I want to make the tool for, I enter its name, the URL (http://bavatuesdays.com/), and shazam, I can search the Bava no matter where I am browsing: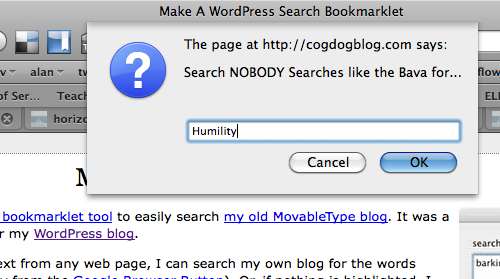 And from there it runs the search for me- oh, what a surprising result!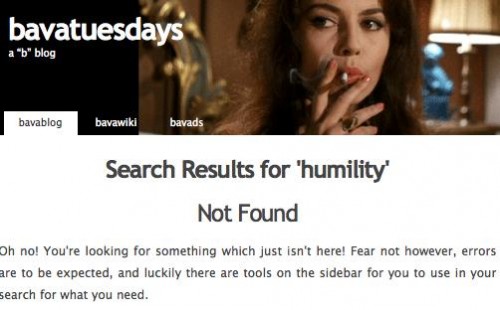 Seriously, Jim, just wanted to share that this is a tool I use all the time as I try to find the old references in my blog.
The post "Ye Old WordPress Blog Search Thingie" was originally assembled from spare parts of a 1957 Chevy at CogDogBlog (http://cogdogblog.com/2010/01/old-wp-search-thingie/) on January 27, 2010.