cc licensed flickr photo shared by ·Music Moves My Feet·
I will definitely show my age era here.
Yes, you kids with your "digital buy a song for 99 cents mix it up on your pod" may have something special you will blog about in 20 years. But for me, in many ways, there was nothing like the music that defined the Album Rock period that ushered me through those teen years.
It's one thing to have a good song, but an Album, for many musicians, was a concept, a whole, and there was not only the music, but the art on the cover, the liner notes, the stamp on the disc… it was a feast. What do you get in an iTunes download?
Just bits.
So I had a hankering to come up with a list of ten albums that were formative to me- not the ten best albums nor the most important, but actually, ten I could recall because of when they occurred in my life. Ten stories.

cc licensed flickr photo shared by Scoobay
But first, I was a little inspired by this book, 1,000 Recordings To Hear Before You Die. I had thumbed through it last April when I was on my sister's boat, and it was a nice surprise when she sent me a copy as a gift.
It's a book you can just pick up and thumb through anywhere, it is arranged alphabetically by artist/group, crossing classical to rock to show tunes to punk to opera to world music. You go from Héctor Lavoe to Leadbelly to Ernesto Leeuono to Led Zeppelin to Peggy Lee to Michael Legran. Author Tom Moon offers clear, non snooty critic like commentary, but it is opinion (how can it not be?).
There's a neat little bit of linkage at the end of each section, almost like hypertext in an old style book. For each album, the author lists "key tracks" from the album; then "Catalog Choices", like a "see also" meaning another album by the same artist; then "next stop" which is something similar by a different artist, and last is "After That" something less related, that might help you branch out in musical style. This is all accomplished in about an inch of print, and it leads to discovery.
So here are my Ten Formative Albums…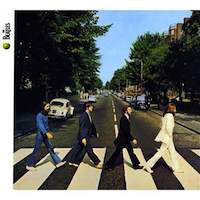 1. Abbey Road (The Beatles)
This was the first rock album in our house, bought by one of my older sisters. The basement of our suburban Baltimore house had shelves lined with my Dad's Philip Sousa, classical music, and Mom's tastes like Neil Diamond or Herb Albert and the Tijuana Brass (Whipped Cream and Other Delights is another story).
We had this old fashioned record player, the thing was in a wooden box, and it had TUBES!
I remember dancing around the basement to the Fab Four, and of course at maybe 7 no concept what the music was about or that there was a concept here. Likewise, I remember being in a car at the Reisterstown Road Plaza when the news came on the radio that the Beatles had split up. I had no idea why my sisters were crying. Or maybe that's how I remember it.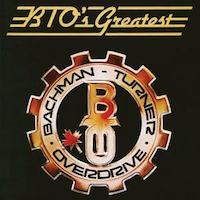 2. BTO's Greatest
Was this my early recognition of my love for everything Canada? Doubtful, but I was influenced by FM radio I started listening to in middle school when98 Rock came on the air waves.
This album was significant for one reason- it was the first album I bought with my own money. Back then, on Saturday's it was my duty to go with my Mom for weekly grocery shopping, one of those duties I may have dragged my feet around in boredom… until the grocery store we went to (I cannot remember which one now!) added on the side a record store! That was amazing, as now I had something to do while Mom shopped.
So with my allowance I plunked down cash to I could listen on my own to "You Ain't Seen Nothing Yet" , "Hey You", and of course their "anthem: if you will- "Takin' Care of Business".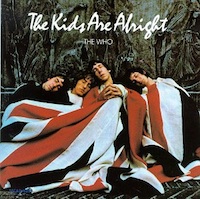 3. The Kids Are Alright (The Who)
This was/is hands down the most influential album in my musical arc. I may have only known of the Who from before via "Pinball Wizard" (see what a nebbish I was), and it was 9th grade, when my new circle of friends (Yo, Kev!) opened my eyes to all kinds of things.
I think we actually went and saw the movie first, after which I rushed out and bought the album, then in about 3 years, every Who album I could get my hands on, then the Pete Townsend solos, then… well I am still a Who junkie.
This double set spans the glory years of the Who, with the opening explosive My Generation along with the Tommy Smothers Brothers opening (documented elsewhere). I can still almost recite the dialogue from memory "That was bowling")– and while I likely did not really "get" the smashing guitars and exploding drums when I first saw it, the power, energy, and attitude propelled me to aim far form the status quo that was high school.
Don't even try to get me to pick a favorite album, but if a gun were held to my head, it would be "Who's Next" and the must under-appreciated "Who By Numbers".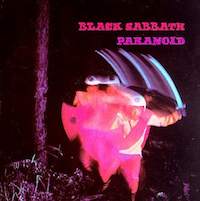 4. Paranoid (Black Sabbath)
Even wanting more to not be like the preppies or popular kids At Milford Mill led our little group (we were the group that did not want to join other groups, kind of like a "Non-Conformist Club") into the darkness of Sabbath, of which one murky night listening to "War Pigs" at Doug's house was some sort of rallying cry– for what I did not know.
Sure "Iron Man" was on the radio all the time, and even I could pick out the 3 note progression on a guitar, but who could help an 11th grader rebel more than a song like "Rat Salad".
I have to add a side note to the intense concert we went to when Ozzy went on his forst solo tour- before the stupid bat biting theatrics, when it was (or it seemed to be) about the music. Randy Rhoads was a freaking guitar genius, why'd you go on that plane and die?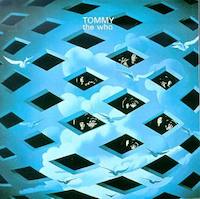 5. Tommy (The Who)
I had to come back for more with The Who.
Few works really define the rock album concept than the Who's rock opera. Opera? Rock? Who would have ever thought? This had to be Pete's musical genius peak, though he had many highs. I still get chills at the Overture, the repeated themes that weave through the 2 record set. And its a whole store, from start to finish.
The real light was that in middle school I had seen the plastic coated movie version, likely due to the insane popularity then of Elton John (oh my). At that young age, I did not even know that the movie was not the original. Thankfully I wised up.
I'm fuzzy on when I first listened, but it was definitely high school in the late 1970s.
Our group was so into it… that when it came time for the senior yearbook, when all those people I could not stand were trying to define the experience, I convinced my friends that in our yearbook listings, we put fake nicknames– from Tommy. So Larry with the curly hair is listed in the 1981 Milestone as "Tommy" and Kev is "Cousin Kevin"… and not even realizing the implications of it, my fake nickname is written there as "Uncle Ernie".
I was interested then in doing anything to go against the high school establishment.
6. Led Zeppelin I
Of course you could not be into 1970s rock without knowing of Led Zeppelin, but I had to groan every time "Stairway to Heaven" played in the radio, which was like every other hour.
So I never got too much into their music til that night we hung out with Jimmy's house– he was the one in our group I had known least well, and he was certainly the most wiling to do something daring or illegal– I can recall sitting in his basement with some bottle of scotch we had snuck out of one of parent's liquor cabinets, and Jimmy smiling that devilish grin as he laid down the needle every so gently on "Good Times Bad Times" right on through to the white british boy blues "You Shook Me" and we played that disc again and again.
Led Zep I is still my favorite of their albums.
Where-ever you are Jimmy… thanks.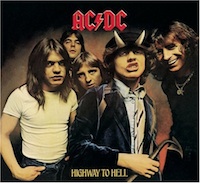 7. Highway to Hell (AC/DC)
If there was ever an album that would shake your parents house and make them want to take away your turntable, it was the bad boys from Australia.
I first heard "Highway to Hell" o FM radio in high school, and my first thought was how crass and cheap that song was (it got a bit much rotation). It was again, my buddy Kevin, who sat me down under the influence of some substance (heck it might have been diet coke) and listen closely to the whole album.
This was power rock if there ever was one. Kevin had a revenge song going, so "Walk All Over You" was always blasting out of his Nova… but if there was any song that got me, i was the bluesy riff of "Night Prowler", stuff you did not even hear on the radio– you had to get the album to hear the real stuff.
It was maybe Freshman year of college that three of our group met up in DC to see them play live. Kevin was unable to get transportation there; and I remember us all afterward recording our impressions for him on a cassette tape– which I think I have somewhere and would be truly embarrassing if it ever saw the light of day.
For me the band was never the same without Bon Scott.
So it was fitting, that when I visited Perth Australia in 2007, that Sue Waters and friends banded together and, with the help of twitter, found Bon Scott's grave (photos)

cc licensed flickr photo shared by cogdogblog
That was a crowning achievement!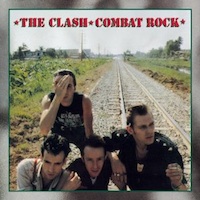 8. Combat Rock (The Clash)
It was a college room-mate with the unlikely name of Mike Wang during my freshman year at the University of Delaware who incessantly played "Rock The Casbah", also in the time of the first years of MTV when they actually played music.
It was not strictly formative at the time– and I really did not think much about who the Clash were– I just remember the cover, Mike's wide eyed look when he played it usually during one of our poker marathons and he slammed a straight flush on the table.
It was not for a long long time later, way past the point that I had a turntable, that I truly got to appreciate the drive and the range of The Clash (I can never get enough of "The Magnificent Seven").
But I'd like to give Mike credit ;-)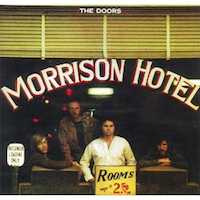 9. Morrison Hotel (The Doors)
You could not have escaped the 1970s without knowing the music of the doors, with staples 'Light My Fire" even crossing over to stations your parents might listen to.
They are another of many 1970s bands I knew first surficially and did not really appreciate until I dug into the tracks the radio stations did not play.
I recall listening to Morrison Hotel (and LA Woman) this a lot (on cassette) on my cross country move in 1987 from Baltimore to Arizona. It was definitely road music, but the division of this disc into the two themed sides of Hard Rock Cafe / Morrison Hotel was always interesting.
Sure Roadhouse Blues was staple radio play, but did yo ever hear 'You Make my Real" or "Waiting for the Sun" on the air waves? But it was always Peace Frog, the driving power chords but also the dark message of revolution, that got me (I must admit I have Peace Frog as a ring tone on my iPhone).
And then after rocking, you flip over and mellow out to "Queen of the Highway" or one of my faves "I'm a Spy"
You can check out but… you can check out.
10. Legend of Cash (Johnny Cash)
I was so musically ignorant for most of my life. I really dismissed Johnny Cash as "country" or old people's music, this "guy in black".
My eyes were opened in a movie theater watching Walk the Line – part of it appreciating the range of music he played, but more so, the whole story behind the story.
Sp I first dug into his music with this "best of" collection, and its still heavy n my listening rotation.
But it was really his cover of.. a heavy metal song by Soundgarden, that clued me into his genius- he turned that song inside out for his own hard edged raw version.
I tried in a few of my edtech presentations to use this as an example- that for some teachers, they are just a cover band- doing faithful renditions of traditional materials, while others, like Johnny Cash, truly taught in a way that re-interpreted previous work in a novel, new way.
I dont think anyone every followed my thinking.
But I did have fun doing a re-mix of the two versions.. http://cogdogblog.com/wp-content/movies/rusty-cage-remix.mov
So those are my 10– any of you other old farts out there want to do your list? If you do, I found http://www.coverhunt.com/ useful for finding album art.
Now all I need to do is oen day drive to Florida, to reclaim by boxes of vinyl Mom is holding for me…. wel and get a turntable… and turn the lights down low, and let the needle drop into the groove….

cc licensed flickr photo shared by danmachold