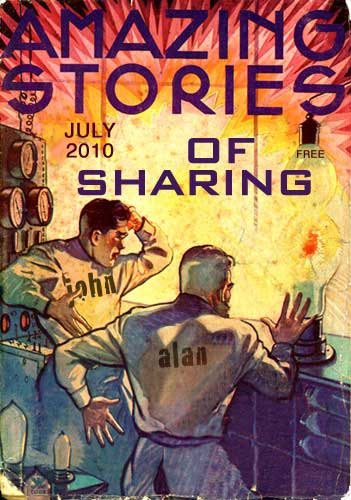 It's me again, asking you, my dedicated readers (Hi Mom) to help paint this really cool white fence. This is for a presentation my friend and colleague John Ittelson asked me to assist with (I bet more of you know John than me, but ask me sometime to tell the story of the lunch we never had in Albuquerque).
Anyhow, John is doing a session July 28 in San Jose for the Adobe Education Leaders, and he asked about doing a reprise of the Amazing Stories of Openness gig I did last year at the Open Education Conference.
It's pretty simple, we are looking for short videos of people telling a story of something un-expected, surprising, or just plain highly coincidental that happened to them just because they shared something openly on the net. If you need an idea, there is a big list of examples people whose flickr photos ended up in museums or books, people who actually got jobs, people who developed friendships or collegial relationships, people who got offered trips, and more.
So if you feel remorseful because you missed the opportunity last year (oh I am full of myself now) or maybe you want to be in the spotlight again, I have some details available at http://cogdog.wikispaces.com/Amazing+Stories+2010 — or here is my own call for stories in YouTube.
All you really need to do is to post a YouTube response video to http://www.youtube.com/watch?v=HmE2EbKxb1A or just post it somewhere and tell us where it is via the Super Amazing Web Form.
But here's the rub- we're on a tight deadline, and we need these hopefully by Sunday, July 26. We will post all of the shared stories on the wiki and every person who participates will receive a valuable gift made of pure 24k gold genuine waves of appreciation.
C'mon, I know there's a story in you; just flip on a web cam, and let it out.